Three good, three bad from the All-Star starters
Three things voters got right and wrong for the All-Star starters.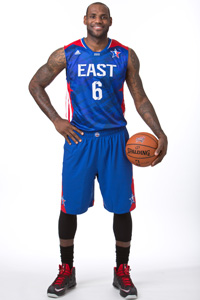 James is All-Star again.
(Getty Images)
It's pretty standard once the All-Star starters are announced. There are so many worthy players, and fans do such a poor job of taking the vote seriously (or maye they don't have that responsibility at all, depending on your perspective), someone's going to get screwed. Here are three mistakes in the 2013 NBA All-Star Starters.
1. Dwight Howard: Howard's numbers are fine. And I'm not one for the argument that "he must be on a winning team." But he's the second most disappointing player on the most disappointing team. There's just no reason for him to be No. 1. He hasn't even ingratiated himself with the Laker faithful yet with his poor rotations and attitude. They just voted for him out of principle. Meanwhile David Lee, Marc Gasol, and Tim Duncan are all off the list. Granted, Duncan doesn't want that spot, but it's still brutal that Howard took it. 
2. Rajon Rondo: You can easily make the argument that Rondo has been less effective than Kevin Garnett for the Celtics, and Garnett is a big question in everyone's mind. Yes, he's averaging 11 assists and shooting 49 percent from the field. But the Celtics haven't been a very good team for most of the voting period. Meanwhile, Kyrie Irving and Jrue Holiday might be on worse teams, but they've given much better efforts and performances. Boston is the L.A. of the East. 
3. Kevin Garnett: Garnett has been fantastic. Don't get me wrong. He's one of the most devastating and consistent players at both ends of the floor. But in terms of production for winning teams, Brook Lopez, Tyson Chandler or Joakim Noah needs to be the hook here. They've just done more for their teams, and their teams have won more. By any measure, this is a close one, but you would have liked to have seen Lopez in particular get the nod. While his star-studded teammates have fluttered and wilted, he's been consistent and great. 
Now three things the voters got right. 
1. Chris Paul over Jeremy Lin: It was close, but disaster was averted. Lin himself said this week that he shouldn't be an All-Star and his selecton would have been disastrous. Lin has gotten much better over the past month and a half after a terrible start -- but come on. It's the Point God. The Clippers are dominant mostly because of Paul, and that's not to knock how good the rest of their team is. That's how good he is. 
2. The Blood Feud East: Dwyane Wade dislocated ondo's elbow two years ago. Garnett completely crossed the line with Carmelo Anthony. Garnett has barked in LeBron's ear while James laughed at him. This is terrific. It's going to be the most awkward All-Star locker room since 92. 
3. Supporting capitalism: Howard, Kobe Bryant, Paul, James, Wade, Blake Griffin, all with major sponsorship deals. These selections show the overwhelming power of commercials. Money talks. U-S-A! U-S-A!
We've got all the scores, top plays and news from a busy NBA Friday

Butler didn't put any pressure on his right leg as he was helped to the locker room on Fri...

Our advanced computer model simulated Saturday's Magic vs. 76ers game 10,000 times
Several playoff contenders could use the services of Ilyasova, who's nearing a buyout agre...

Durant says he probably wouldn't have gone to college because he 'needed the money'

Ball, who has missed the last 15 games with a sprained MCL, will be on a minutes restricti...