Three key storylines headed into Heat-Pacers Game 3
A look at the coaching matchup of the Heat and Pacers, NBA concussion policy, and LeBron's defense.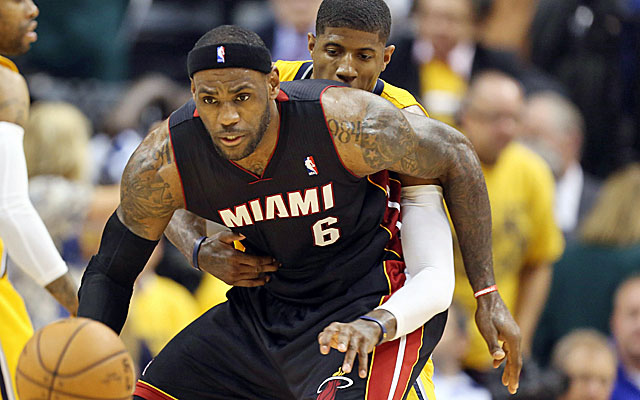 The Miami Heat and Indiana Pacers are set to clash in a pivotal Game 3 of the Eastern Conference Finals on Saturday. Here's a look at three major storylines going into Game 3.
Brain Games
Paul George's concussion is the overriding storyline heading into Game 3, and with good reason. He's been cleared to play, but will he be in top form? If George is off in any way, it could diminish the Pacers' already woeful offense and compromise their defense, particularly on LeBron James who, outside of Game 2's fourth quarter, has yet to put forth a dominant performance in this series.
But there's a bigger question that's being brought up in the context of these discussions. The NBA's concussion protocol expert cleared the Pacers of any wrongdoing in their evaluation of George when he returned to action after suffering the injury in Game 2. According to doctors, George answered in the negative to questions regarding any symptoms, while then telling the press after the game that he "blacked out" after being struck by Dwyane Wade's knee in the back of the head. Anyone watching at home could tell that George was dazed and impacted after the knee, lying on the floor for several minutes and shaking his head to clear cobwebs on the sideline.
Yet, the medical staff had no such access to that footage. Even if it were shown on the jumbotron above, there was no indication that they needed to focus on that rather than George himself. The question then becomes this: If George's responses were compromised by the injury, and the training staff had no other way to know beyond asking him if he was experiencing symptoms (no clear-cut symptoms were evident), then who was going to be able to make the call on whether George should return to play?
Just as dangerous as a medical staff that would possibly fail to conduct proper concussion protocol (which the Pacers' staff did not fail to do), is a medical staff with authority to override a player's agency over his body. That's why ensuring that players understand the severe risks involved in concussions and the urgency of being honest with team personnel is so critical. But beyond that, the real issue here is with technology. Sports tech company Catapult recently announced a deal to work with camera technology company SportVU to provide more accurate readings of players' biometrics in-game to understand injury, fatigue, and performance. It's not hard to see a future where the same kind of technology could help to provide information on synaptic and nerve response after scary collisions like the one George suffered. But we're still a ways from that.
It's important that we neither diminish the league's efforts in responding to concussions nor become complacent with where we are. After all, if the league had no such protocol, we wouldn't even be talking about this issue on this level, and that's important. We've evolved past "rub some dirt on it and be tougher," but athletes still feel the need to put performance above their own personal safety, and that's an attitude that has to be shifted. Until we have the technology to properly examine players' brain function following a blow to the head, the best thing the league and its players can do is to understand the vital, absolute and critical need for precaution.
Watch the Throne (And Not Your Man As He Scores)
One of the stunning turns in this series through two games has been LeBron James' atrocious defense. That's four words I really never thought I would say. But James has in fact been horrible, as evidenced by this in-depth breakdown on FanSided.com:
It wasn't all about LeBron not being physically able to handle West, however. He just wasn't paying attention in many instances, and that included times when he was covering Paul George. The plays in the video below are simply thoughtless defenses lapses. This is James Harden stuff.
LeBron's bad defense wasn't the sole reason the Pacers were able to control Game 1 from tip to buzzer. But his play was a microcosm for the dispirited attack and blitzing-in-name-only that the Heat were doing to Indiana's ball-handlers. As a result, a team that usually struggles to find a groove offensively was able to remain comfortable for nearly all 48 minutes and carve up Miami's easily assailable defense. It was little surprise that Erik Spoelstra completely abandoned the notion of LeBron guarding West in Game 2.
Still, James really wasn't any better covering George and Stephenson.
In Game 2, he continued to roam too far and lose track of his man. He was slow to get around screens. He got beat off the dribble. He gambled in passing lanes. And more than anything, he just stood around doing nothing.
via LeBron is playing awful defense -- but will it even matter? - FanSided - Sports News, Entertainment, Lifestyle & Technology - 270+ Sites.
This kind of stuff from James just isn't like him, and you wonder whether it's fatigue, injury, a lack of urgency or just "one of those things."
One thing I've noticed when watching James, not just in this series but in several high-execution series, is that when you present him with movement and strategy on either side of the ball that he's unfamiliar with, he freezes, just a little bit. This isn't a lack of basketball IQ on his part, in fact it's the opposite. James works through the scenarios of what he needs to do, evaluating risk and reward, making internal analysis of what the correct play is. But if you get him trapped between two negative outcomes, he, at least on the surface, seems to go into kind of a feedback loop.
He did this in Game 1 when the Pacers' adjustments to traps forced him to decide who to rotate to and who to leave open. And the same was true of his offense against the Spurs in Games 2 and 4 of the Finals last year. That's how Boris Diaw had success against him, essentially forcing him into a situation where the jumper wasn't optimal, the drive wasn't optimal, and neither was the pass. That's why he becomes "passive." He's trying to solve the problem.
The answer to this? Same as it ever was. Rely on instinct. So many players in the league operate on gut feeling while James is far more of a surgeon, going through protocol and procedure. But the only real answer to the efforts teams make to catch him off guard is to respond with brutal, unstoppableand unmatchable physical force. When he goes into that mode, the Heat become a different engine entirely. Miami needs that LeBron in Game 3.
Pawns, Knights, and Bishops
Underneath the drama of how much these two teams hate one another, tucked away in a quiet corner away from the headlines and the personalities, is a coaching matchup that might feature the two most underrated coaches in the league. The proverbial heat (no pun intended) that has plagued Frank Vogel's season as the Pacers came unglued has quietly simmered down since his team made the conference finals and took Game 1 of this series. In truth, none would know about the unrealistic expectations placed on young coaches of elite teams more than Erik Spoelstra. It was Spo who was pointed to as the weakness of the Heat in 2011, and in 2012 when the Celtics almost derailed the Heat's title run. Even I, who has been impressed with how Spoelstra has built a versatile team concept from a roster built around an odd three stars, skill-wise, lost faith and said he had to go for the Heat to be great. Seven games later, Spoelstra won his first title.
This matchup pits two very different coaching styles in terms of on-court paradigm but very similar demeanor. Both Vogel and Spoelstra are more "urgers" than screamers, insistent but patient, calm but engaged. They've both found ways to develop young talent and how to integrate and trust veterans. They both earned the respect of their stars and have managed the roles of their lesser players. Neither subscribe to the philosophy of calling out players publicly, and both have created an "us against the world" mentality with their teams.
The main difference may be their philosophical flexibility. Vogel is a near-moral adherent to the idea of playing big. Against Atlanta, against Washington, and against Miami, no matter how many big combinations may be getting run, he sticks to what has brought the Pacers success. This is in part due to personnel limitation, as the Pacers don't have a stretch five to put on the court. David West is a beast but not because of his size. Indiana stays with its traditional lineups through thick and thin. Spoelstra on the other hand is far more likely to pursue not just smallball lineups -- the Heat's bread and butter -- but to go with even smaller lineups with James at the 5 or go big with Chris Anderson and Udonis Haslem. He plays fours as threes, ones as threes, goes triple-guard, dual-forward, and five-out. The Heat's genetic makeup is flexibility, versatility, athleticism, and precise explosiveness. Watching both coaches adapt to those approaches has been a treat.
As retiring players and unproven first-timers get more and more opportunities in high profile job openings, it would be wise for those teams looking for a new direction to consider the examples of Spoelstra and Vogel, NBA coaching lifers who worked their way up and have built themselves into part of the culture of the organization. Then again, guys like these two don't grow on trees.
Simmons was the No. 1 pick in the 2016 NBA Draft but did not play last season

Wade leaving Chicago is reportedly a matter of when, not if

Wiggins might have to find a unique way to sign the paperwork sent to his now former agenc...
The Cavs ultimately got a good haul for Irving, but could have landed the Dubs' All-Star s...

The King acknowledged the mega trade late on Tuesday, calling Kyrie a 'special talent/guy'

Winger reportedly accepted the job after being offered last week