Three-quarters Awards Race: Who is the MVP, DPOY, and more?
We've hit the three-quarter point in the NBA season, which means we have awards to hand out. Here are the winners for Royce Young, Matt Moore and Zach Harper in this season's awards race.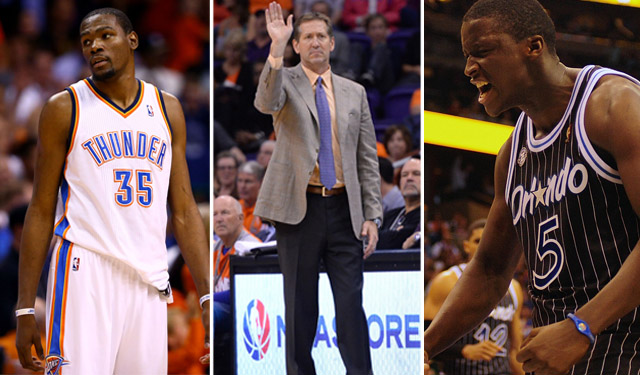 We've hit the three-quarter point in the NBA season, which means we have awards to hand out. Here are the winners for Royce Young, Matt Moore and Zach Harper in this season's awards race:
Rookie of the Year
Royce Young: Victor Oladipo, Orlando Magic
Michael Carter-Williams started the season with a flurry, catching most of the attention. But Oladipo has been far more consistent, and he has this going for him, too: He doesn't play for the 76ers.
Matt Moore: Oladipo, Magic
I'm a little surprised so many have this closer. MCW has tailed off significantly I still think he'll be a good pro and the best Syracuse point guard in recent memory, but Oladipo has actually won them games and has made huge strides. The kid looks like the future of the franchise. 
Zach Harper: Michael Carter-Williams, Philadelphia 76ers
I think by the end of the season I'll probably have Oladipo as my pick for Rookie of the Year. That's where the season is trending. But when you're comparing two rookies on horrendous teams, team success shouldn't win. MCW has better numbers in most categories, and the recency of the Sixers' tanking has made us forget he was winning them games early in the season.
Sixth Man of the Year
Royce Young: Taj Gibson, Chicago Bulls
Did you know: Gibson leads the league in fourth quarter minutes? That's incredible. And that's everything you'd want in a Sixth Man candidate. Not just a guy that stuffs the statsheet with numbers in the second and third quarters, but a guy that makes a considerable impact when the game counts. Gibson hits jumpers, gets offensive rebounds, makes defensive plays, and dunks on people. 
Matt Moore: Gibson, Bulls
He makes such an impact for them, and it's not just hustle plays. He knocks down jumpers, he guards stretch fours, he closes games instead of Carlos Boozer. Gibson has been a huge part of the Bulls' success.
Zach Harper: Jamal Crawford, Los Angeles Clippers
I had Taj Gibson as my winner for this award at the halfway point in the season, but Crawford's presence for the Clippers can't be overlooked because of a stigma his career holds. Doc Rivers has actually made him a not horrendous team defender and his scoring has been incendiary. He just has to start fewer games than he's come off the bench, and he currently qualifies.
Executive of the Year
Royce Young: Masai Ujiri, Toronto Raptors
Back-to-back? In a new place, he's already given the Raptors hope a lot faster than anticipated, making a shrewd move to dump Rudy Gay for bit parts and build the team around DeMar DeRozan and Kyle Lowry. Who knows if it was really all an accident and Ujiri's plan to tank just backfired, but either way, the buttons he's pushed have made the team immediately better.
Matt Moore: Ryan McDonough, Phoenix Suns
Hired the right coach, brought in the right players, got good value for veterans, built a good locker room, built a good culture, and he's got potentially four first round draft picks. I just don't know anyone who's got that kind of current and longterm advantage. 
Zach Harper: McDonough, Suns
This probably wasn't the entire design of what the Suns thought they would be this season, but they quickly accepted how good they are and ran with it. McDonough was asked to turn this team into a winner and he did it with a few trades and hiring a brilliant young coach in Jeff Hornacek.
Most Improved Player
Royce Young: Gerald Green, Phoenix Suns
This guy was out of the NBA two years ago. As in playing in China. And here he is now, a starting shooting guard for a current playoff team, dropping 41 against the West's top team in a must-win game. 
Matt Moore: DeMar DeRozan, Toronto Raptors
Sunday, DeRozan, up against the clock, trapped in the corner, rose and hit a dagger three that put the game away for the Raptors vs.Minnesota on the road. You can call it luck, but it's not that he made that shot that matters to me. It's that when he shot it, I thought he was going to hit it. That's how much the kid's grown. 
Zach Harper: Blake Griffin, Los Angeles Clippers
Too often, we overlook the stars becoming superstars because we want to find the diamonds in the rough that are now being placed in expensive jewelry. Griffin has improved every facet of his game and has become a legitimate MVP candidate, after being dismissed last season as one of the best players in this league. That's a much harder leap to make, in my opinion.
Coach of the Year
Royce Young: Jeff Hornacek, Phoenix Suns
It's a no-brainer vote to me. The Suns were supposed to be a team destined for the lottery, seen lucky to win 25 games. And here they sit, in the playoffs in the West, potentially headed for 50 wins. He's built not just a good team, but a fun one as well.
Matt Moore: Hornacek, Suns
I'm fine with a vote for Terry Stotts, or Gregg Popovich, or Tom Thibodeau, all worthy coaching performances. But I keep coming back to this: Gerald Green is a productive, nay vital member of a playoff team. Jeff Hornacek is a level 50 mage. 
Zach Harper: Gregg Popovich, San Antonio Spurs
This hasn't been an easy season for Popovich to manage. He's had big injuries to key role players like Danny Green, Kawhi Leonard, and Tiago Splitter. He's managed the minutes of Tim Duncan, Manu Ginobili, and Tony Parker beautifully. He's turned afterthoughts Patty Mills and Marco Belinelli into viable options off the bench. It hasn't been easy but Pop's made it look easy, which is why he doesn't have more of these awards (not the reason I'm picking him).
Defensive Player of the Year
Royce Young: Joakim Noah, Chicago Bulls
There just has to be some kind of recognition for what Noah has done this season. He doesn't have the numbers to get legit MVP consideration. But he has been the kind of impactful defender that has anchored the Bulls -- the league's second-best defense -- and he's gone to another level since the Bulls' best wing defender got traded (Luol Deng).
Matt Moore: Roy Hibbert, Indiana Pacers
HIbbert hit a major slump at the exact same time that Serge Ibaka hit one. I wouldn't mind a vote for Andrei Kirilenko an especially wouldn't mind one for Joakim Noah, but I'm keeping with Hibbert for now. 
Zach Harper: Noah, Bulls
It's really hard for me to choose against Hibbert as the top defender in the league this year. But Noah has had a lot less to work with on defense, ever since they traded away Luol Deng, and the Bulls haven't skipped a bit. Noah is also doing a bit more than Hibbert because the Bulls' center can defend the perimeter.
Most Valuable Player
Royce Young: Kevin Durant, Oklahoma City Thunder
Durant has built the total MVP case, combining narrative and numbers. He carried the Thunder without Russell Westbrook, erupting for an outrageous January that may be one of the greatest months of offensive basketball we've ever seen. And he's put together career-highs basically across the board, leading the league in PER while also taking his defensive game to another level. He's been second a lot in the MVP chase. That should end this season.
Matt Moore: Durant, Thunder
LeBron's tail-off post-61 doesn't put KD up front. Neither does how much he carried them with Westbrook out. This is just about how great Kevin Durant has been. This has been a special season for Durant. But then, I got to thinking. What season for KD hasn't been special? Game by game, year after year, since he was a rookie in a Seattle uniform, he's been something else to watch. I'm just glad we get to see him hit his prime. 
Zach Harper: Durant, Thunder
It's still a coin flip for me on deciding this award, but it just seems like the injury to Russell Westbrook, coupled with the team getting better during Durant's insane scoring binge is enough reason for me to decide on him. LeBron James still has a great chance at winning this award, but I'm comfortable giving it to Durant.
LeBron had 29 points, 11 rebounds, and 10 assists in the Cavs' 109-100 win over the Jazz

The montage showed Carmelo's best Knicks moments before playing the Thunder game

KCP can't leave California for 25 days due to the terms of his pleading guilty to a misdemeanor...
Keep it right here for all of the news, notes, scores and highlights from around the leagu...

LeBron tried to keep what he said a secret, but one mic on the court picked it up

SportsLine's Mike McClure, a DFS pro with more than $1M in winnings, gives optimal lineup...