Three reasons for the Pacers' signing of Andrew Bynum
Andrew Bynum has been a disaster the last few years. So why did Indiana sign him as a free agent?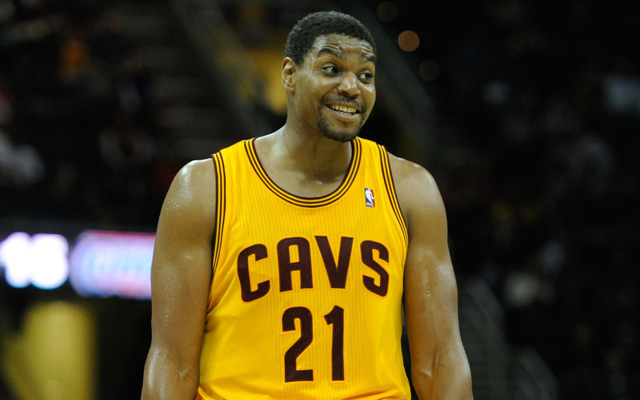 More NBA: Pacers sign Bynum | Latest news, notes
With the Pacers making it official Saturday morning, we can turn now to the impact, of Indiana signing center Andrew Bynum to a one-year, $1 million contract (per Ken Berger of CBSSports.com). 
Here are three lines of thoughts for why this deal makes sense for Indiana:
1. The 'Lotto Ticket' concept: The Cavalierssunk six times the money into Bynum without knowing if he'd ever play again. His experience in Cleveland provides both the confidence to sign him to this deal and a cautionary tale of Bynum. He was limited in the amount of minutes he could play, and when he was bad, he was awful. But when he was good, he was still way too big for any team to handle.
But he still burned his bridges there. He was such a problem that they chose to eat the salary rather than keep him and pay him the full $12 million. So the odds of this working out are not good. He has poor work ethic, a poor attitude, doesn't get along with people, and can't play extended minutes. He admitted to significant pain whenever he played.
This is not unlike playing the lottery once. In this analogy, the Pacers have managed their money well, they don't spend much in the way of extravagances. So their spending $5 dollars on a lottery ticket isn't going to hurt them. It's not a wise investment over time; basic math will tell you that. But it's also not going to hurt anything.
The idea with the Cavaliers was that they had the cap space so it didn't matter what they paid him. I disagreed on that front (though overall I supported the move). I'm always of the mind that even beyond cap indications, you need to get return on investment. Smart teams make the most of the money they spend. A $6 million dollar lottery ticket has the same odds as a $1 million lottery ticket, which is to say, not good. But the hit for Indiana is considerably less.
If they hit, it's a jackpot. If not, it's disappointment, but they have a lot less riding on it than Cleveland.
2. Indestructible locker room: So the big problem with Bynum is that he's a mess in the locker room. He disrespected Mike Brown in LA. He pretty much screwed over the Sixers by getting hurt bowling,for crying out loud. And whatever happened in Cleveland, it was enough for them to suspend and then dump him.
So if you're going to invite that kind of trouble in, why would you feel OK about it?
Because unlike a lot of organizations, the Pacers have a strong enough foundation to withstand any problems he may present. When Larry Legend looks you in the eye and says he's not going to put up with anything, you know it's true. That probably won't set Bynum straight, the guy has a history of just flat-out not caring. It's not as if his time with Kobe Bryant set him on a straight and narrow path. But it does reinforce to others on the roster that they don't have to be bothered by Bynum. They can ignore whatever distraction he may create because of their bond with each other.
That's part of what makes Indiana so good. Not only have they developed great in-house talent (Paul George, Roy Hibbert) but they've built it on character guys. Lance Stephenson is the only player with a significant history of issues off-court, and it's been dead silent on that front with him for two years. You don't have to be a "good guy" to make it in Indiana, you just have to do your job. And with consummate pro David West there, you're not going to have much choice.
They have the components to deal with any Bynum issues. And if he buys in, it's another win for an organization with a lot of them.
3. The Heat Postulate: So did Indiana sign him so that the Miami Heatwouldn't? Was that the plan, to keep a dangerous big man away from Miami to maintain their advantage down low?
Not likely. Miami probably could have found a way to trade for him or made a more compelling pitch if they wanted. And Indiana knows its primary target to counter is Miami, but they're also not going to compromise their own roster just to prevent a guy from signing with the Heat. Plus, Miami already has Greg Oden.
But there are factors to signing Bynum that have to do with the Heat. For starters, there's this: It's six more fouls. The Pacers know they have to foul LeBron James in the playoffs. They know they have to force Miami to the line and discourage the Heat from getting to the rim. Even if Bynum can't make the stellar rotation or block, he can give a hard foul (often too hard). And one of their problems has been foul trouble for Hibbert. With Bynum, they have 18 fouls to give the Heat inside with Hibbert and backup Ian Mahinmi.
Whether Bynum is a legitimate upgrade over Mahinmi is a serious question of debate. But if Mahinmi gives them 10 good minutes instead of 10 good minutes and 5 bad, and Bynum gives them five good minutes, that's still a bonus overall.
Then there are lineup shifts. If Mahinmi is struggling and they don't have Bynum, the Pacers might have to go with a smaller lineup vs. Miami if Hibbert's in foul trouble. But with Bynum, they can maintain their sizeable authority.
Finally, there are the trade implications. If Bynum can play, is not a problem and stays healthy (three big ifs), then the Pacers can look to move Mahinmi at the deadline. They've got the best team in the league, why would they do that? Because this organization remains focused on pursuing whatever it must to topple Miami. If adding another shooter helps them more than having both Bynum and Mahinmi, they'll look at it. Oh, and Mahinmi has two more seasons at a combined $8 million. That's money that can be spent on re-signing Stephenson.
Overall, the move has a lot of positive turns to it. Bynum could be a disaster, as he has been for the last two teams who have paid him. But Indiana can withstand it. If you're gunning for a title, you're going to have to take some chances. Signing Andrew Bynum is just another sign of how serious Indiana is at making a title run this season. 
CBS Sports HQ Daily Newsletter
Get the best highlights and stories - yeah, just the good stuff handpicked by our team to start your day.
Please check the opt-in box to acknowledge that you would like to subscribe.
Thanks for signing up!
Keep an eye on your inbox for the latest sports news.
Sorry!
There was an error processing your subscription.
The Celtics and Warriors opened the season with wins

The depleted Thunder were no match for the Warriors, who got their rings Tuesday

The Celtics pulled away in the second half for a 105-87 win
A theory was raised about why Kevin Durant was announced last during the ceremony

The Celtics beat the Sixers, 105-87 on opening night

The Warriors will receive their rings on opening night ahead of their matchup with the Thu...