Thunder-Clippers Game 6 Preview: Is no comeback safe?
Previewing Game 6 of the second round series between the Oklahoma City Thunder and the Los Angeles Clippers. Will we see another comeback?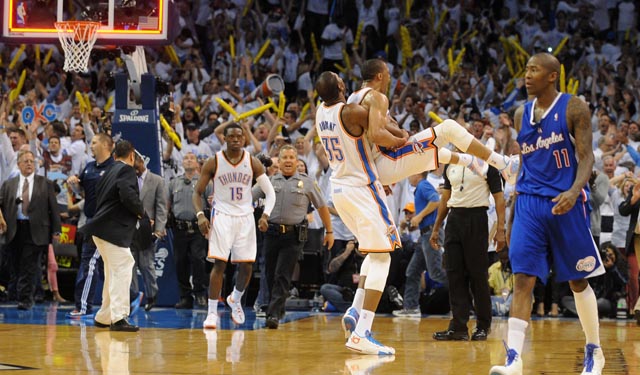 More postseason coverage: Playoff schedule, results | Latest news, notes
Previewing Game 6 of the Thunder-Clippers Western Conference semifinal series.
1. The Facts: 10:30 p.m. ET (ESPN). Follow the action here. Hedo Turkoglu is out with a hairline fracture in his back. The Thunder are healthy.
2. Where We Are: The Oklahoma City Thunder are up 3-2 in this series after an incredible comeback that takes the sour taste of the Game 4 comeback by the Los Angeles Clippers right out of their mouths. The Thunder blew Game 4 in spectacular fashion when Chris Paul started defending Kevin Durant, and the Thunder couldn't figure out how to exploit it. Scott Brooks was under fire. Russell Westbrook was under fire. And after the first three quarters of Game 5, the Thunder looked to be screwed. Kevin Durant was just 3-of-17 from the field and looking like he needed more headline motivation.
Westbrook kept the Thunder within striking distance and some sloppy play in the fourth quarter, coupled with some unreal officiating that left everybody scratching their heads and checking their rulebooks helped the Thunder make a furious comeback. They stole Game 5 on their own home floor and avoided an incredibly stressful scenario. The pressure is off them and back on the Clippers because even if the Clips win Game 6, they still have Game 7 in OKC. Let's just be glad Bennett Salvatore and Tony Brothers aren't officiating Game 6. Oh hello, Ed Malloy...
3. The Big Number: 21.3. In the two games in Los Angeles in this series, the Clippers have been horrendous from 3-point range. They've made just 21.3 percent of their attempts from long distance and are 4-of-32 (12.5 percent) on above-the-break threes. Matt Barnes (1-of-10), Jamal Crawford (3-of-13), Chris Paul (2-of-10), and J.J. Redick (2-of-7) all need to find some better accuracy from 3-point range or stop taking them and get to the free throw line to get their shot back online. The Thunder aren't a great 3-point shooting team, so getting an advantage at the arc is huge in establishing an early lead.
4. Key Adjustment: Don't turn the ball over at the end of the game? The Clippers don't need to do much differently than what they did in Game 5. For 44 minutes of that game, they were in a very good place in terms of mentality and execution. Even 47:15 into the game, they were in a very good place with how they still held a seven-point lead. They got careless with the ball, which almost never happens to Chris Paul. If they can stick to the same game plan of slowing down Durant and putting the onus on Westbrook while playing solid defense, taking care of the ball will ensure they extend the series to a Game 7.
5. The Big Story: What insanity will happen tonight? We've had two straight games of incredible and improbable comebacks in this series, and that might just be Thunder-induced on some level. They had four straight games against the Grizzlies that went to overtime. As constructed and with Brooks as the coach, maybe they're susceptible to both good and bad moments of chaos like this. It's unlikely Donald Sterling will find a way to be a distraction tonight, so the only chaos we'll see is on the court. We just don't know who will benefit from it quite yet.
Trump rescinded Curry's invitation to the White House after Curry said he wasn't interested...

Silver said he was hoping Warriors would get chance to share their views directly with the...

Along with the Thunder, those were the three teams most involved in the Anthony trade talk...
LeBron said he was frustrated by the President's recent actions

A look at the various actors and elements in the latest sensational blockbuster trade in the...

Blockbuster deal doesn't change the Thunder's projected finish in the West