Thunder deciding whether to have gold patch honoring Sonics' title
The Oklahoma City Thunder are undecided on whether or not wear the gold patch on the back of their jersey, which would commemorate Sonics' title.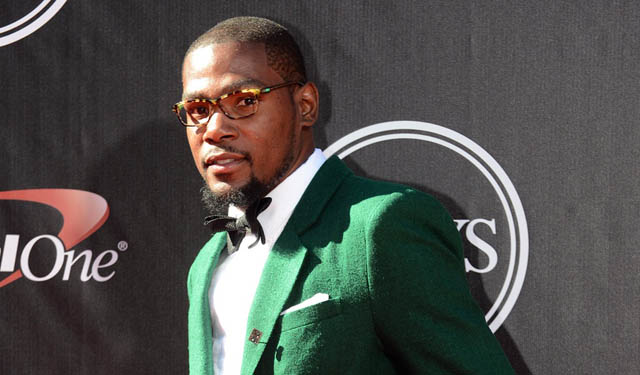 More Offseason Analysis: Coaching changes, news | Free Agency | Draft
The NBA is commemorating championship teams on the back of jerseys with a gold patch that denotes how many titles a franchise has won. The Chicago Bulls' gold patch on the back of their jerseys would have a "6x" on it for the six championships they've won in their history. But for those teams who possibly won titles before being relocated, it's not a slam dunk to just include the patches from another city.
The Oklahoma City Thunder infamously relocated from Seattle, where as the SuperSonics they won the 1979 NBA championship. According to Cody Stavenhagen of The Oklahoman, the Thunder haven't decided whether they'll have the patch on the back of their jerseys to honor the Sonics' title. It wasn't on the jersey shown in a merchandising catalog for Adidas.
Catalog photos show Thunder jerseys appearing without the tab, despite the fact the Sonics won a title in 1979.

However, a Thunder spokesman has not confirmed whether the Thunder will or won't wear the tab. The Thunder does have rights to Seattle's history and records, though the organization doesn't typically take advantage of it as part of branding a new identity.

The Atlanta Hawks franchise won a title in 1957-58 as the St Louis Hawks, and the Sacramento Kings won in 1950-51 as the Rochester Royals. Both team's jerseys do feature the tab in catalog photos.
It's a weird decision for the Thunder and other franchises.
Do the Kings really have anything to do with the Rochester Royals' win in 1951 or are they just ancestors of a basketball era that is far removed from the current version of the Kings? Would it be rude of the Thunder to commemorate the Sonics' title when there are so many who believe Clay Bennett and his ownership group removed the team from the city in an unacceptable manner? Or should the Thunder respect the history of the franchise and have some recognition of that feat despite the differences between the two sides? 
We've got all the scores, highlights and news for Thursday night

The Sixers big man got his first All-Star selection -- and maybe some revenge -- on Thursd...

It appears some players are not entirely taking the All-Star voting process seriously
There were some weird discrepancies between the fan, media and player votes

LeBron and Steph will be the captains for the 2018 NBA All-Star Game

Arron Afflalo was involved in an altercation with Timberwolves big man Nemanja Bjelica on...