Thunder follow up Miami's statement win with one of their own
inadvertent The Thunder played the Houston Rockets Sunday night in their playoff opener and handled business with a 120-91 blowout. But really, they were kind of playing the Miami Heat.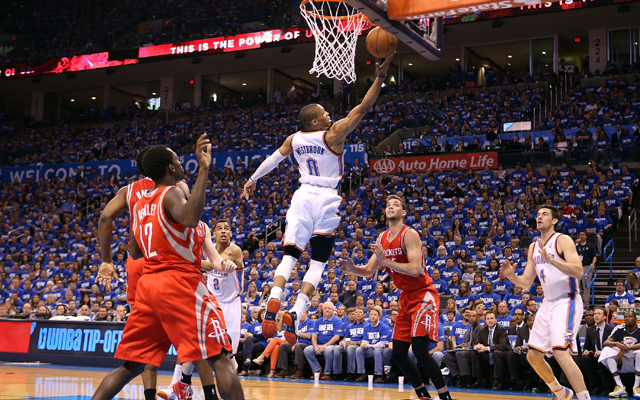 OKLAHOMA CITY -- The Thunder played the Houston Rockets Sunday night in their playoff opener and handled business with a 120-91 blowout.
But really, they were kind of playing the Miami Heat.
OK, that sounds stupid, I realize. Let me explain.
More on Rockets-Thunder
Related links
Following the East's top-seeded Heat's beatdown of the Bucks, it was the West's turn to flex some muscles. And the the Thunder did exactly that, smothering the NBA's top scoring offense, holding it without a basket for almost the first seven minutes of the game.
So it became kind of an inadventent anything-you-can-do-I-can-do-better event. LeBron James, Dwyane Wade and Chris Bosh romped over Milwaukee with a high-flying attack, while Russell Westbrook, Kevin Durant and Serge Ibaka raced and powered their way over Houston.
Both these teams earned their top seed for a reason and entering the postseason, every oddsmaker had a Finals rematch as the most likely scenario. But before either gets to that, there are present obstacles to overcome. Most notably for OKC the one still residing in Houston, and other potential roadblocks in San Antonio, Denver, Memphis or LA. For Miami, New York and Indianapolis.
The Thunder's immediate focus is on stopping old friend James Harden and building on their 1-0 series lead, but there's a long view in play. This postseason for OKC isn't about steps and progress anymore. It's about banners and rings. It's about a game-by-game approach that includes building on the progress from the previous outing.
Take Kevin Durant's postgame comments for example.
"I think tonight we did a decent job. We got to be a lot better though," he said. "We have to do a better job next game."
The Thunder were spectacular defensively, specifically in locking up Harden. The Beard went only 6 for 19 from the floor for 20 points, including only three in the second half. OKC confused the Rockets by switching almost every screen and allowing their ballhandlers to isolate on the Thunder's bigs. It sort of baited Houston into an isolation heavy hero ball style, eliminating ball movement. An excellent defensive adjustment that paid off big time.
"We got stagnant," Rockets head coach Kevin McHale said. "Guys started pressing a little bit. They were switching stuff and guys were trying to take people as opposed to trying to make a quick, hard drive, pass, pass. We didn't get a lot of pass-pass combinations. We didn't have a whole lot of flow offensively."
On the other side, the Thunder relied on the relentless attacking style of Russell Westbrook, who put up a near triple-double in just 30 minutes (19 points, eight rebounds, 10 assists). He assaulted the paint constantly, putting pressure on Houston at every opportunity.
"There's nobody like this guy," Durant said of Westbrook. "The kind of pressure he puts on other point guards, how strong he is, how quick he is. He never stops."
Then there was maybe OKC's most obvious playoff X-factor, Serge Ibaka, dominating the interior and setting the tone early with an emphatic swat of a Harden floater. The Thunder's Congolese power forward, maybe intent to make a statement against the player so many perceive OKC to have "chosen" him over, was a beast on the glass and provided an offensive punch.
When those things are clicking, the Thunder get scary looking.
Obviously,  Durant and the Thunder's attention is on the Rockets and the necessary preparation there, but really, there's a long view in play. The Thunder way is to get better every day -- players repeat this ad nauseum -- but the reason for it is because they know they need to improve to get over the championship. Especially with the Heat potentially looming again.
It's like keeping your eye squarely on a target, but allowing it to wander a bit out of the corner. The Thunder aren't overlooking anyone, nor are the Heat. But in some ways, there's a feeling of inevitability here and based on initial returns, the Thunder and Heat are locked in.
Gobert, who missed 11 games earlier this season with a knee injury, will have an MRI

Get all the latest scores, news and highlights from Friday's NBA games

Porzingis is questionable for Carmelo Anthony's return to MSG on Saturday
The Spurs and Rockets will renew their in-state rivalry on Friday night

Anthony will play at Madison Square Garden on Saturday for the first time since being trad...

SportsLine's Mike McClure, a DFS pro with more than $1M in winnings, gives optimal lineup...