Thunder get the best of The Beard as Oklahoma City rolls the Rockets
The Thunder welcomed back James Harden, but certainly weren't very hospitable on the court.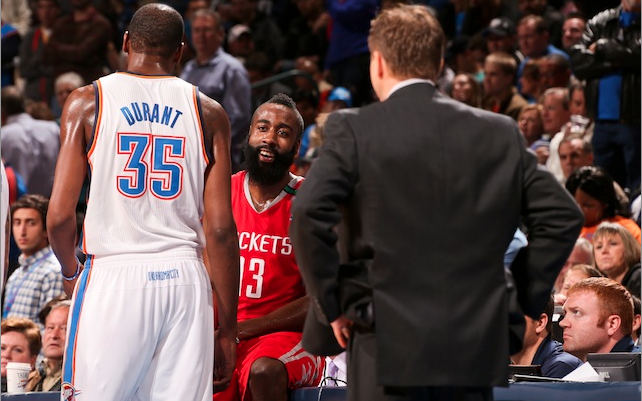 It might've been awkward to see Harden, but the Thunder didn't take it easy on their old friend.
(Getty Images)
OKLAHOMA CITY --Before tip-off, Scott Brooks had a little conversation with his former sixth man, James Harden.
"Just the normal things. Pleasantries," he said. "And we're not going to let you score tonight."
Harden's response: "Good luck."
End result: Harden went just 3-of-16 for 17 points and the Rockets lost to the Thunder 120-98.
Advantage: Brooks.
"James had an off night, that's the bottom line," Brooks said. "He missed some shots he normally would have made."
I guess it's pretty easy to be nice after the fact.
The Thunder swarmed, surrounding and frustrated Harden the entire night, making him the entire focus of their defensive effort. Thabo Sefolosha and Kevin Durant took turns on him and the mission was clear: Stop the guy with the beard.
It didn't take some special gameplan for it. The Thunder know Harden's game better than anyone. They know his tendencies, his style, his moves, his favorite spots. And they also had a little extra motivation. The build-up to the game had players and coaches saying it didn't mean anything more, but after it was over, they started to come clean.
"Pride gets in and definitely you don't want to be the one where he scored 30 against you," Sefolosha said. "So definitely."
Here's how much it meant to Kevin Durant: He said he couldn't sleep last night because he was thinking about playing his former teammates, or "brothers" as he called them. It's been only a month since the Thunder dealt Harden (and Daequan Cook and Cole Aldrich) to the Rockets in exchange for Kevin Martin, Jeremy Lamb and picks. And it's the first time everyone's gotten to see each other again.
"It was crazy. Seeing him before the game, in chapel, in a different uniform, it was a little different," Durant said. "But we moved on past it man, happy to see him, glad he's doing well out there in Houston."
It's hard to underscore how strange it really was seeing Harden in another uniform opposite the Thunder. He wasn't just some player in OKC. He was as beloved as any, a core piece to a young group built to contend for multiple years.
But on Wednesday, he was the enemy. And the Thunder treated him as such. The home fans cheered him loudly as his name was announced in pregame introductions. But after a small scuffle with Hasheem Thabeet in which Thabeet drew a technical foul, Harden was booed lustily while he took the technical free throw.
It was the appropriate response from the home crowd. You're not with us anymore. You're against us. And you're messing with one of our guys.
"I knew that they would cheer. We've got great fans. They're very respectful and classy and did the right thing, cheer him on," said Brooks. "But once the game started it was us versus them. Our fans have the same mentality we have: We're respectful, we compete fairly, we compete aggressively. But we're not here to make friends with our opponent."
It was pretty clear the Thunder weren't sentimental towards Harden early on. Early in the first half, Russell Westbrook caught Harden from behind and swatted his jumper from behind into the first row. Two possessions later, Serge Ibaka got Harden too, throwing his layup attempt into the stands. There wasn't anything chippy or dirty thrown at him, but Durant did mimic Harden's "3s down" move after hitting an and-1 four-point play right in his face.
"Paying homage to the guys that we used to have here," Durant said. "I wasn't talking trash man. Just paying homage."
For any player, on either side, these homecoming games are always an emotional hurdle to overcome. But for the Rockets and Harden, it was increased by the events of the day. The team attended coach Kevin McHale's daughter's funeral in Minnesota earlier in the day before traveling to OKC for the game that night. Add that on top of the other stuff and you had a pretty tough game to get ready for.
"It feels good to compete against these guys and finally get it over with," Harden said. "Now I can continue on with the season."
Everyone can move on now, and yeah, it's just one win for the Thunder and one loss for the Rockets. But one thing's for sure: Kevin Durant is going to be sleeping a lot easier toight knowing that.
Trail Blazers guards Damian Lillard and C.J. McCollum have been pushing for Anthony to join...

Anthony reportedly gave the Knicks an expanded list of teams he'd waive his no-trade clause...

The Suns will also receive a second-round pick in the deal
Kerr noted Warriors are deeper than the NBA championship team of last season

The Dubs will make a decision as a team on visiting the White House, but Steph would vote...

Wolves are an up-and-coming NBA squad, but this region knows heartache too well