Thunder GM Sam Presti: Scott Brooks did 'excellent job'
Scott Brooks is not on the outs in Oklahoma City.
• 1 min read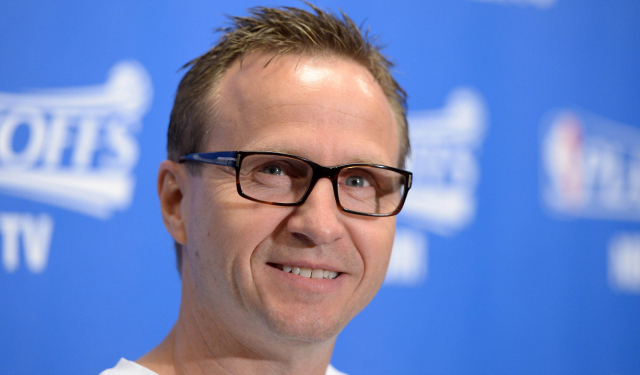 More Offseason Analysis: Coaching changes, news | Free Agency | Draft
Oklahoma City Thunder general manager Scott Brooks met the media on Thursday and praised head coach Scott Brooks, via the Oklahoman's Darnell Mayberry:
Presti on Scott Brooks: "Scotty, I think, did an excellent job."

— Darnell Mayberry (@DarnellMayberry) June 5, 2014
Brooks said "Scott will come back a little bit better." He's safe.

— Darnell Mayberry (@DarnellMayberry) June 5, 2014
There was speculation about Brooks' job being in jeopardy following the Thunder losing to the San Antonio Spurs in the Western Conference finals, but that never came from inside the organization. Brooks has taken criticism throughout his tenure in Oklahoma City for an unimaginative offense and an over-reliance on veterans. Presti and the players, though, have been nothing but supportive. Kevin Durant and Russell Westbrook endorsed him on Sunday, while Brooks said he didn't even think about job security.
Kevin Durant when asked if he endorses Scott Brooks: "That's our guy. I'm riding with him."

— Darnell Mayberry (@DarnellMayberry) June 1, 2014
Westbrook on Brooks: "Ever since I've been here & Scotty became the head coach, he's done a great job of having confidence in me personally"

— Darnell Mayberry (@DarnellMayberry) June 1, 2014
Brooks has been a part of shaping the Thunder into title contenders, and Durant, Westbrook, Ibaka and Reggie Jackson have all developed on his watch. There's no shame in losing to a great team like the Spurs, either.
While the big picture looks good, there have always been questions about how he manages the rotation and organizes the offense. If Oklahoma City falls short of its lofty goals next season, and Brooks doesn't make any big changes, this will likely become a topic of conversation again. That's what comes along with coaching a team this talented. 
Oklahoma City has reportedly offered the MVP a five-year extension worth over $200 million

The big man was a big part of the Warriors' championship run last season

The Cavs jokes were out in full force after Golden State reportedly agreed to sign Antonius...
New York seems to be at the top of Irving's list of preferred destinations

Is it just a normal workout, or is LeBron continuing his recruiting efforts?

Chris Bosh answered on the spot about the LeBron James and Kyrie Irving situation