Thunder-Grizzlies Game 1: Memphis loses but hangs tough on the road
Memphis showed it can hang with OKC in the Thunderdome on Sunday, and the loss shouldn't affect the Grizzlies much.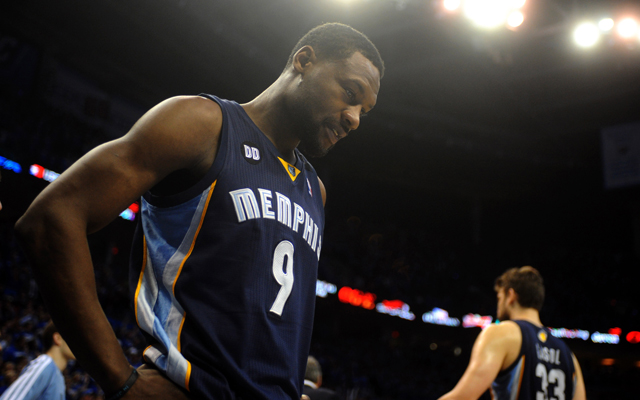 So Memphis lost Game 1 of its second-round series against the Thunder. The Grizzlies blew a double-digit lead on the road and lost on a Kevin Durant jumper with 11 seconds to go, and then on missed free throws when they drew a three-shot foul to tie. Thirty-six hours after beating the rival Clippers, they had a chance to take a 1-0 lead on a reeling OKC team and instead watched the game get ripped away. 
So why wasn't this a bad loss? 
Memphis showed a lot of what it wants in this game. The Grizzlies forced the Thunder defense to react to them, created open looks and forced a lot of misses. This was a Grizzlies-type game: grinding, tough defense, slow-pace, low-scoring, and ugly. 
More on Grizzlies-Thunder
Column

Related links
More NBA coverage
Memphis didn't get Zach Randolph as involved as it needs to, and if the Grizzlies continue to struggle in that area, it will be a problem. But they got bench contributions, got control of the game, and established what they wanted to. 
The end result didn't work out, but on the road with as quick a turnaround as they had, it's not a loss that will bother them, and it might encourage them.
Bear in mind that after the Clippers drove a dagger into Memphis' heart with a Chris Paul runner in Game 2, the Grizzlies responded with four consecutive victories. The Grizzlies weren't bothered by that kind of gut-punch loss, and it's unlikely losing this first one will have much of an impact. 
There are certainly encouraging signs for the Thunder, as well. Serge Ibaka won't shoot so poorly again, and Kevin Martin looks like a real matchup advantage for them. Reggie Jackson was good without pushing beyond himself. They have a lot to feel good about. 
Memphis didn't let one get away. Lionel Hollins said the Grizzlies didn't let it slip, the Thunder earned it. That's right. But it also means Memphis was right where it needed to be.
The Grizzlies can credit the Thunder with the victory and feel good about their ability to make the adjustments as the series goes on. For a team that had just exorcised its demons, it wasn't the perfect start. But Memphis has learned this entire season, all the way through the first round, that it's not about one game. It's about how the series plays out.
And all Game 1 showed is that the Thunder and Grizzlies are wrapped in a tight matchup. 
The Dubs will make a decision as a team on visiting the White House, but Steph would vote...

Wolves are an up-and-coming NBA squad, but this region knows heartache too well

The Bucks will be the sixth team since 2011 for the 31-year-old Green
Green helped KD through the tricky situation but not without enjoying his teammate's blund...

Vonleh reportedly suffered a shoulder strain during a pick-up game at the team's facility

OKC and Westbrook have until October 16 to agree to the deal