Thunder-Grizzlies Game 4: KD finds out how lonely it is on his own
Kevin Durant goes 2 for 13 in the fourth quarter and overtime in a Game 4 loss to the Memphis Grizzlies.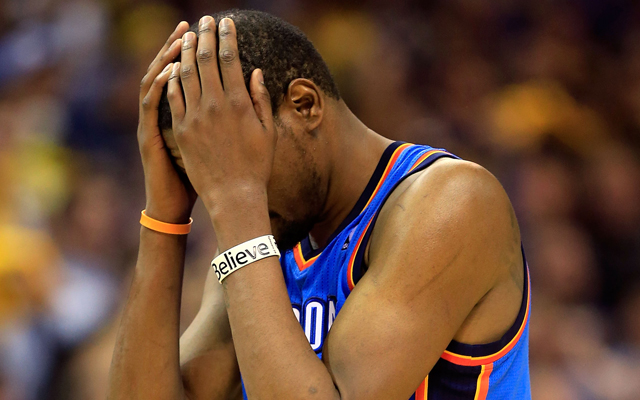 Not to beat a theme to death, but we're going to have to go to the shot chart on this one. 
Here's Kevin Durant's 4th quarter and overtime in the Thunder's Game 4 loss to the Memphis Grizzlies. 
So that's not ideal. 
Here's how this shakes out. When LeBron James wilted in fourth quarter after fourth quarter from 2009 until 2012, he was roasted and dissected. When Carmelo Anthony plays badly in the fourth, he takes the wrath. So how can we defend Durant under similar circumstances? 
Well for one, pinning any close loss on one player is almost always flawed. It takes a village to screw up a party, so to speak. It wasn't all on LeBron James, it's not all on Melo an it's certainly not on Kevin Durant. 
The Grizzlies very specifically targeted Durant with multiple defenders late in the 4th quarter. They would have Tony Allen tail him, busting through screens and dragging on his arms coming around curls, then immediately front with the screener's man, and bring help, usually from Mike Conley. 
Tony Allen. Marc Gasol. Mike Conley. That's three members of the All-Defensive teams, geared to stop one guy, in the 46th minute of the game.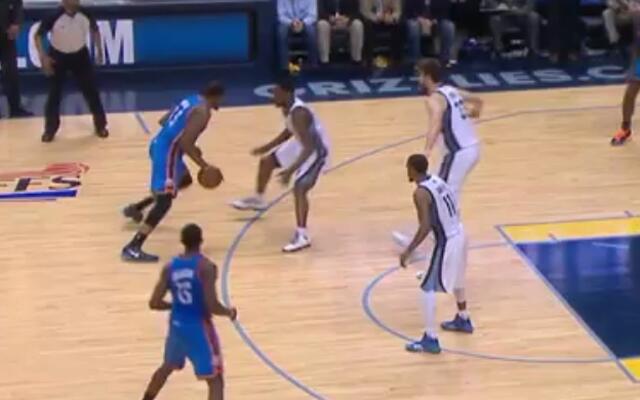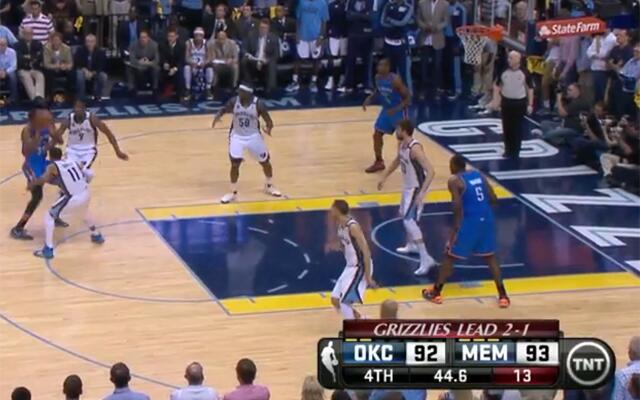 There's just no way to do it alone. 
Durant has been one of the best clutch performers the past two years. You have to wonder now how much of that has to do with the ability of Russell Westbrook to force the defense to stay honest and not approach him like this, how much of it is was Durant being able to rest as Westbrook took over, and how much of it is an elite defense playing him perfectly. 
We expect superstars to be larger than life, to be flawless. But they have to be put in the right position to live up to those lofty expectations. The Thunder aren't able to do that with Durant anymore, not with Westbrook out, and not with the Grizzlies closing closer and closer. Great players step up and make great plays, but they have to have the opportunity. What Durant is facing is more like what the Spartans faced. 
It's a seven-nation army and it is geared to hold Durant back. 
And so Durant will deal with the same questions so many worthy stars have faced before, about his ability to "carry a team." All the while, few will recognize that the real reason beyond Westbrook's absence is that when you give a disciplined, intent team a clear roadmap of what's coming at them, they're going to stop it. Durant may be unstoppable when he gets going, but the Grizzlies, especially in Game 4, have made the superhuman mortal, and shown him something he never asked for: how lonely it is on his own.
Davis left the Pelicans' game against the Nuggets in the third quarter

Popovich was upset about an out of bounds call

Wall went 3-for-12 from the field, and had just eight points in the Wizards' loss
Noah was reinstated from his 20-game suspension on Monday, but is yet to play for the Knic...

In his first season with the Cavs, Rose has not played since Nov. 7

Keep it right here for all your Friday NBA scores, updates and highlights