Thunder-Grizzlies Game 4 Preview: Don't put KD in a corner
Previewing Game 4 between the Thunder and Grizzlies, which is kind of sort of a must-win for OKC.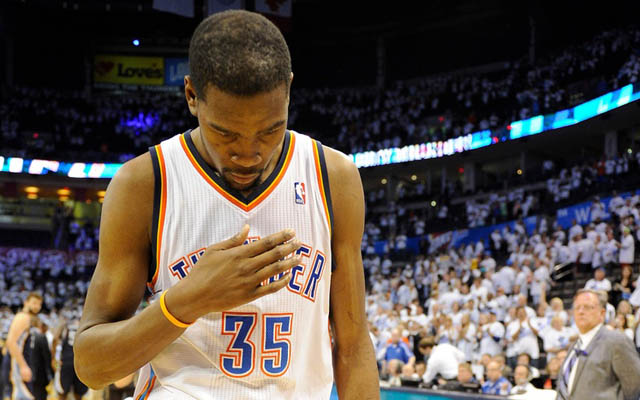 More postseason coverage: Playoff schedule, results | Latest news, notes
Previewing Game 3 of the Thunder-Grizzlies first-round series.
1. Where We Are: Game 3 was a swing game, and the Grizzlies rode the wave to capture a 2-1 lead. For a second game in a row, they survived a furious Thunder comeback that featured theatrics, drama and of course, four-point plays. Game 3 was almost a carbon copy of Game 2 in a lot of ways in that the Grizzlies suffocated the Thunder's potent offense, and then hung on for dear life in overtime. 
The situation is clear for the Thunder -- win Game 4. It's not over, officially, if they don't, but coming back to Oklahoma City for Game 5 having to win three straight games is a big ask, especially when you're playing a team you've had considerable issues with. 
The Grizzlies have disrupted the Thunder's offense by essentially inviting them to almost entirely rely on Kevin Durant and Russell Westbrook. A lot of times, that can backfire because of the talent and power of the duo, but instead, those two combined to shoot 53 of the Thunder's 87 total shots in Game 4, and that one-dimensionality of OKC cost it. 
But here's the other factor: Durant hasn't played near to his ability. Tony Allen has done terrific work on him, but Durant is missing shots he routinely makes, and seems to be pressing a bit. Durant and the Thunder have been backed into a corner, and they have to respond. He's going to be named the league's MVP in a couple weeks; it's time to play like one.
2. The Big Number: 11. That's the number of total passes the Thunder had in the fourth quarter of Game 3. They had 22 possessions, and passed the ball 11 times. They only had 230 passes for the entire game, per SportVU. The Thunder have never been an impressive ball movement team, but they have completely stalled out against Memphis. The ball is sticking with Durant and Westbrook, and the fact the team had 13 total assists in Game 3 tells a big story.
3. Key Adjustment: Involve Serge Ibaka. The Thunder have a secret offensive weapon that they are almost refusing to use. Ibaka had a career offensive season, averaging 15.1 points on 53.6 percent shooting. In the three games against the Grizzlies, he's taken only 28 total shots, and only had one in the fourth quarter and overtime of Game 3. Ibaka's ability to create some natural spacing out of the pick-and-roll at the elbows is a critical element of the Thunder's offense, except he seems to have been largely ignored. 
Plain and simple: Ibaka needs to be a focal point of the offense.
4. The Big Story: If the Thunder lose Game 4, and fall into a hole they may not be able to dig out, the pressure on Scott Brooks is going to start reaching boiling point levels. His seat has always been mildly warm because any time you're in charge of a team with stars and expectations, if you don't succeed, that stuff catches up to you. But with the Thunder a clear favorite in the West, a first round exit could signal trouble in Oklahoma City. So the question is: Could Brooks be coaching for his job?
5. The Facts: 9:30 p.m. ET. Quincy Pondexter is out for the Grizzlies with a season-ending injury.
There was some explosive guard play this week in the NBA's rookie class

With half of the season in the books, there were some clear favorites for our Midseason Aw...

SportsLine's Mike McClure, a DFS pro with more than $1M in winnings, gives optimal lineup...
Zack Cimini is 12-3 on picks for or against the Pistons ATS and locked in a play for Frida...

Both Washington and Detroit will try to snap losing streaks Friday night

The Hornets are reportedly looking to move their franchise point guard