Thunder-Grizzlies Game 6 Preview: Rely on Kevin Durant
We preview Game 6 of the series between the Oklahoma City Thunder and the Memphis Grizzlies. Will Kevin Durant come through?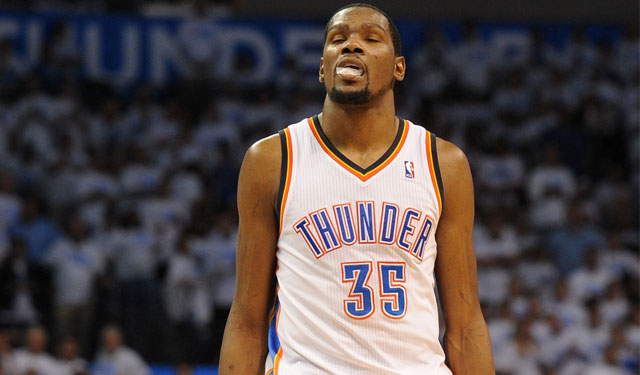 More postseason coverage: Playoff schedule, results | Latest news, notes
Previewing Game 2 of the Bulls-Wizards first-round series.
1. Where We Are: The Memphis Grizzlies, somehow, someway, have not only brought this thing back to the Grindhouse for a Game 6, but have a chance to eliminate the Oklahoma City Thunder for the second year in a row and move on to the second round as a No.7 seed over the No. 2 seed. 
Kevin Durant has been called "Mr. Unreliable" by his hometown newspaper. He has shot 36 percent with Tony Allen on the floor in this series. He's in danger of becoming the first MVP to have to receive his award not at a game in the second round, but in an awkward ceremony since Dirk Nowitzki. 
Memphis hasn't just won these games, they've dragged the entire series into where they want it. It's been ugly, it's been chaotic, it's been slow and low-scoring. These two teams have gone to overtime a playoff record four straight times, with Memphis winning three of the contests, the last coming on Serge Ibaka's tip in being a half-second late. It does not get any closer, and yet, Memphis is the team that has played with firm control since the Game 1 blowout. 
This is it for OKC. A loss could set off major changes in the roster and coaching staff. A win and they head back to the Thunderdome with a chance to put all this away. But they have to survive the Grindhouse. Memphis cannot, absolutely cannot let OKC off the mat and back to Oklahoma. They had a chance to bury the Thunder in Game 4 and missed when their offense misfired. 
This game... is huge. 
2. The Big Number: Plus-13.3. That's how many point per 100 possessions the Thunder have been in the fourth quarter than the Grizzlies. Essentially the series has had huge Grizzlies third quarters, and monumentally disasterous fourth quarters, and OKC has had those flipped. The Thunder can either put all doubt away with a strong close if they can manage not to do won in a hole with that kind of performance, and Memphis can look at that number and realize that if their last 12 minutes throughout this series had been any decent at all, it's already over. 
3. Key Adjustment: Just one? No way. How about five. 
1. Kevin Durant needs to shoot the ball better. He just does. Fouls, mind games, internal pressure, external pressure, whatever. The best scorer on the planet cannot be this limited when his team needs him to this degree. KD has almot always responed when his team needed him. His team needs him and they need him now. 
2. More Beno Udrih for Memphis. Mike Conley is playing heavy minutes and the cost has been deadly turnovers late in tight games. Memphis can't afford any more. Meanwhile, for a team that can't score, Udrih is driving relentlessly (he's driven 15 times in five games in 15 minutes per game relative to Kevin Durant's 19 drives in over 48 minutes per game -- that's right, KD is averaging over 48 minutes per game in the first round) and creating offense. The Grizzlies offense is 6.6 points per 100 possessions better with almost no change defensively. 
3. More transition pick and roll stuff for Memphis. The post game has been largely neutralized by Serge Ibaka and Kendrick Perkins. Zach Randolph is shooting horribly and the offense has died with Marc Gasol on the court. It's OK to use those players to force the issue and create offense, but the Grizzlies had a lot of success in Game 5 in creating offense by using picks in mid-transition situation and having Mike Conley reject the screen. 
4. Feed Ibaka. Serge Ibaka has been arguably the best player overall in this series, and he's barely touching the ball. OKC has to get him involved in multiple ways. 
5. Let it fly. Memphis has to punish the interior attention drawn by the bigs in the post with three-pointers. Mike Miller and Courtney Lee not only have to make their shots, they have to be willing to shoot freely. A three-point attempt is better than a shot clock violation in all instances. 
4. The Big Story: "Mr. Unreliable." Somehow, the most dangerous scorer on the planet has become the anti-clutch. It's not inconveivable that this response lifts Durant to a new level, he comes uncorked and goes for 50 in Game 6. If he loses, the same questions that unfairly plagued LeBron James are going to become his story. This game was about two collosal teams meeting in the fifth straight streetfight, close, tight, and mean. But now it's become about one thing: defining Kevin Durant's career arc to this point. 
History says bet on KD. 
5. The Facts: 8:00 p.m. ET. Quincy Pondexter is out for the season for Memphis. Everyone else is good to go. 
Wade's days with the Chicago Bulls appear to be numbered

Misty Suri will reportedly keep his job with the New Orleans Pelicans

The MVP has better things to do with his time, but the former NFL receiver isn't taking 'no'...
Randolph was arrested last week in Los Angeles on felony marijuana charges

Bagley wants to be in the 2018 NBA Draft and should be the No. 1 overall pick

Durant helped build the court in Manhattan as part of his community outreach program