Thunder-Grizzlies: Serge Ibaka is missing shots he typically makes
Oklahoma City Thunder big man Serge Ibaka is struggling against the Memphis Grizzlies, even though he's taking good shots for him.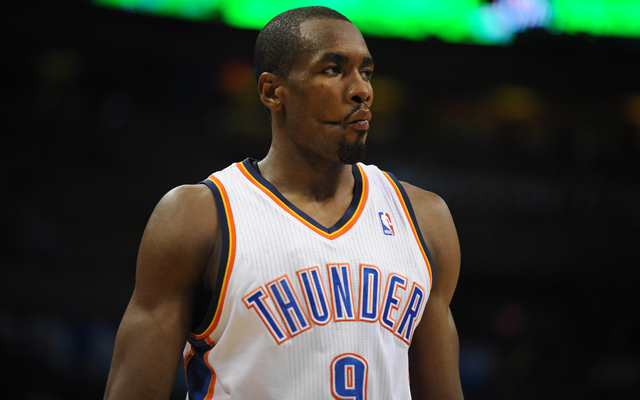 It looks like Kevin Durant is all alone right now. 
Russell Westbrook is nursing the knee recovery during games, and the combination of Kevin Martin and Serge Ibaka just aren't doing enough to help the Oklahoma City Thunder right now. Against the stellar defense of the Memphis Grizzlies, it's not easy to score. They take you out of your comfort zone and force you into shots that you just aren't used to knocking down. And with so few points given up by the Grizzlies throughout any given game, the pressure to knock down shots could grow exponentially when it's an important time like the playoffs.
As of right now, Ibaka has been completely detrimental to the Thunder's offensive attack through the first three games of this second-round matchup. He can't make jumpers. He can't make shots inside. He can't even complete dunk attempts right now. Ask Ibaka if it's starting to get into his head a little bit, and he won't shy away from that assessment. Via The Oklahoman:
A day after Kevin Durant said Serge Ibaka's shooting struggles were all in his mind, Ibaka admitted that his confidence is waning.

"Yeah," Ibaka said. "It's normal, man. It's normal. A little bit. But that does not mean my confidence is way down because after all the shots I missed, after the (missed) dunk, I was still playing defense. I wanted to still help my teammates. I wanted to still try to be aggressive. But it's normal like he said. Of course, that happens to everybody."
Ibaka isn't the first guy to go into a shooting slump, and he certainly won't be the last. But when it extends to him missing multiple open dunks and badly missing a put-back shot a foot away from the basket, then it's easy to assume he has a mental block going on right now. He's often been used as a safety valve within the Thunder's attack. Durant draws attention, and he has the option to hit the open Ibaka for an easy bucket. When Westbrook was flying around the court, he always seemed to do a great job of opening up space to Ibaka.
He's also right about the fact that he was still playing defense even though he was in a shooting slump. With Ibaka on the court in this series, Zach Randolph has made just 38.2 percent of his shots. In Game 3, Randolph was down to 36.2 percent when Ibaka was in the game. His defensive presence has been quite valuable to the Thunder, but they still need some offensive production out of him.
Is there a difference in the way that Ibaka is playing against the Grizzlies or the way they're playing him? Is he simply just missing good shots, or is he taking bad shots because of the pressure that Memphis puts on opponents?
Let's take a look at his missed field goals from Game 3 to try to pinpoint just what's going on with Ibaka.
It's hard to watch that video and think he's taking bad shots. He's getting a lot of the same high percentage shots that he got during the regular season, but he's simply just not able to connect on a lot of them. He was long on both dunk attempts. On the put-back attempt, he went hard off the backboard for no reason like he's Dwight Howard on the block, and he hesitated on countless open shots. 
Is it possible the open shots are harder for him to concentrate on?
"Most of the time when you're open that's when it's tough to make shots because you try to get some different focus than normally when some guys try to contest your shots," Ibaka said. "So that's happened."
In the two attempts near the top of the key in which he was wide open, he hesitated both times. The first time, he passed it away in order to get a pass back to take a much more contested shot once Randolph recovered defensively. Maybe that was a rhythm thing to him, and receiving the initial pass from Kendrick Perkins just wasn't something that he was ready for. On the second hesitation, he still ended up taking the shot but threw his timing off by stalling before he pulled the trigger.
If you look at the breakdown between his regular-season shooting chart and his shooting chart through the first three games of this series, he has a serious case of the Darkos going on right now.
Ibaka has made just four shots outside of the restricted zone this series, and he's shooting just 4 of 25 (16 percent) away from the basket. That's a pretty big drop from the 48.3 percent that he shot outside of the restricted zone during the regular season.
He's not the only player on the Thunder not supporting Durant enough. In Game 3, Thunder players not named Kevin Durant shot 33.3 percent from the field. For the series, Thunder players not named Kevin Durant are making just 36.0 percent of their shots. It's a huge problem that has caused the Thunder's superstar to take more of the load on his shoulders and try to carry the team to victory like he hasn't had to do consistently throughout his career.
Before Westbrook went down, Durant always had a sidekick to either complement him or take charge while Durant played off him. Now, he has to create the majority of his looks by himself and doesn't have the benefit of resting while another All-NBA talent attacks OKC's opponents. Durant's usage rate (percentage of team plays used by a single player) has jumped from 29.8 percent in the regular season to 31.9 percent in the second round of the playoffs. 
There are lots of players who have to play better on offense in this series, where points are at a premium. Martin, Reggie Jackson, Derek Fisher and Nick Collison all have to find a way to join Durant in giving some offensive production. It isn't just all on Ibaka to step up in Game 4.
But unless Ibaka can give the Thunder's superstar some relief by becoming that safety valve on offense again, this Thunder team will be watching the playoffs with the rest of us very soon.
(H/T - Ball Don't Lie)
* -- Statistical information for this article obtained from basketball-reference.com, nba.com/stats and nbawowy.com
Cavs star chose to be very secretive when talking to Lakers rookie after Thursday's game

New York announced Porzingis would not return shortly after star forward left game

Teletovic missed the final three months of 2014-15 season with Nets recovering from same i...
Keep it right here for all of the news, notes, scores and highlights from around the leagu...

The NBA's City edition Nike jerseys are bold and very different

The Wolves may be smoke and mirrors, but the Pacers have the look of a team that can hang in...