Thunder-Grizzlies series: Gasol's aggressiveness paves the way
Marc Gasol being aggressive was a huge key for Memphis in its win over Oklahoma City on Saturday.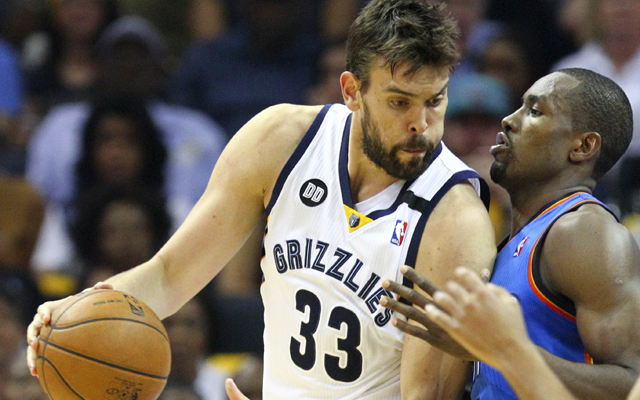 Marc Gasol always looks to make the right play. Whatever it is that makes gunners and volume scorers shoot without remorse or hesitation, he doesn't have it. But in the playoffs, game by game, he's taking a more active role in the Grizzlies' offense and it's making a huge difference for Memphis. 
In Game 3, Lionel Hollins felt compelled to bench Gasol for much of the second quarter due to two fouls. The Thunder managed to close and take the lead. The Grizzlies' offense was a mess for most of the day. But when Gasol took over the second half, he made the Thunder pay for any decision that they made. They played off or covered him one-on-one in the post, he hit shots. They geared to stop him; he made the right pass. 
More on Thunder-Grizzlies
Related links
Sixteen points on 10 shots and six rebounds for Gasol in the second half, and that was honestly the difference in the game. The Thunder and Grizzlies were both looking for someone to step up offensively, and for Memphis, Marc Gasol was able to lead the way. 
It does take a change of approach for Gasol, though, in being more aggressive and looking for his own shot. But Memphis needs it. The Thunder defense is so geared to stop Zach Randolph with multiple paint defenders and help pressure, Gasol being able to score from his post or in the high-low game disrupts that and frees Randolph to attack the glass. 
In nine games in the playoffs, Gasol is averaging 2.8 more points in wins than in losses for Memphis. He takes about the same number of shots, but there's a clear level of intensity differential. 
The Grizzlies are built on a sound defensive approach and a dedication for mucking up the works while capitalizing on offensive rebounds and play inside. But if they want to keep this ride they're on going, they need that aggressive Gasol. He's the difference for Memphis. 
Even when it goes against his instincts. 
The Rockets are gunning for their 10th consecutive win

Victor Oladipo just wants to live his life and enjoy his breakout season with his new team

Keep it right here for all of the news, notes, scores, and highlights from around the Asso...
LeBron has a player option for next season, and is expected to opt out and become a free a...

The Pistons will be looking to snap a five-game losing streak when they host the Celtics on...

Bryant offers some advice for Ball and other rookies about having a sense of urgency in the...