Thunder make simple yet key adjustments in Game 3
Desperate for a win, the Thunder played exactly that in Game 3 against the Spurs. With a suffocating, frantic, relentless defensive attack that forced 21 San Antonio turnovers, the Thunder stormed to a 102-82 win to climb back into the series against the Spurs.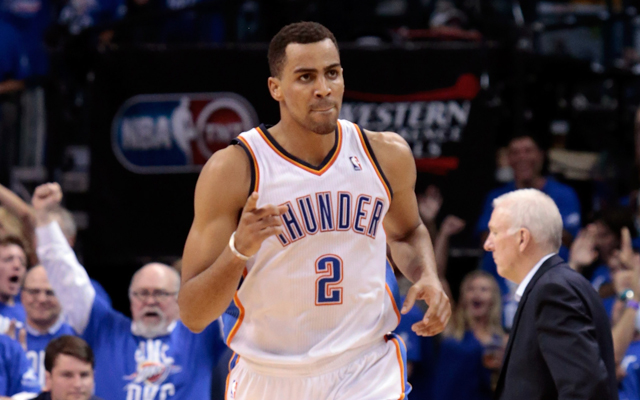 Who would've thought it, but Thabo Sefolosha stole the show in Game 3.
(Getty Images)
OKLAHOMA CITY -- The move was always there. And it's one the Thunder have used in the past.
But for whatever reason in Games 1 and 2, Scott Brooks and the Thunder resisted using ace defender Thabo Sefolosha on Tony Parker.
In Game 2, Sefolosha played 15 total minutes. In Game 3, he played 15 minutes in, well, 15 minutes. And those first 15 set an incredible tone for the Thunder. Sefolosha picked up four steals, a block, a couple rebounds and made it pretty clear from the tip that Parker wasn't going to have it easy.
"That was Scott [Brooks]'s idea," Sefolosha said of the switch. "But I think the whole time we were thinking about it and we made the adjustment tonight and it worked out good."
More on Spurs-Thunder
Related Links
Good? How about freaking wonderful awesome great terrific? Parker, who went for 34 on 16-21 shooting in Game 2, was held to 16 on 6-12 shooting. Sefolosha allowed only a single mid-range jumper for Parker and kept him out of the paint.
Sefolosha has always been known as a quality defender, a guy that is in the mix each season for All-Defense honors. But the reminder Thursday was his versatility. Don't forget: This was lightning fast point guard Tony Parker Sefolosha was checking here. Not some 6-8 swingman.
"I think my length bothered him," Sefolosha said. "Again, I rely on my teammates a lot and they did a great job of helping me. We switched some of the pick-and-rolls and I think that helped us."
It's a very key point. Because for Thabo's defense to be great, he needed help from the Thunder's big men that had been recently torched by San Antonio's clinical pick-and-roll. But Kendrick Perkins, Serge Ibaka and Nick Collison stepped up and defended it about as well as they ever have.
"They did that in the past," Parker said on Sefolosha guarding him. "OKC put Thabo on me last year or two years ago. Nothing different for me. I just have to choose my spots and keep being aggressive."
(It also needs to be noted that not only did Sefolosha play a tremendous defensive game, but he also hit four 3-pointers and scored 19 points. Which is basically the equivalent of finding $100 in an old pair of jeans and then unfolding it only to find $1000 wrapped up inside of it.)
For once, the Spurs looked like a lost cause offensively. They turned the ball over 21 times, the Thunder picked up 11 steals, nine blocks and held the Spurs to 39.5 percent shooting. And here we all were just a few nights ago bowing at the alter of San Antonio saying this was basketball as it was meant to be played and that they might not ever lose.
Things change in the playoffs, and quickly. Especially when you make wise adjustments as Brooks and the Thunder did.
"I thought Thabo did a good job, but I thought the biggest adjustment, we played better," Brooks said. "We played better basketball. That was the game plan going in. To play much better basketball."
That kind of sounds like an oversimplification, but it's also very true. The Thunder have this sort of game in them from night to night. Some seem to have forgotten that Oklahoma City has a pretty spectacular blend of talent and ability and by no means was overmatched by the Spurs. The Thunder let Game 1 slip away, and nearly found a way back in Game 2. The Spurs still have a firm grip on the series at 2-1, but the Thunder proved a point -- they're not going quietly.
"We knew what we had to do," said Kevin Durant. "We knew that we're not going to lay down and roll over just because we're down 0-2. We're going to keep fighting. Coach just said we need to play harder and that's what guys did tonight. I can't keep emphasizing enough that we just play harder on both end of the floor."
It was clear the Thunder were desperate. And they played like it. A loss meant 50 days since the Spurs had fallen and the Thunder were going to have to find a way to beat that team four straight time. Something that wasn't going to happen. But they've given themselves life, and a shot of confidence that it can be done.
The adjustments were key. The changes were needed. But as Brooks said, the Thunder played
better
. They played a complete game, end to end, a full 48. And when they do, they can be scary in their own right. There's been a lot of gushing and drooling over this Spurs team (rightfully so) over the past two months, but Oklahoma City isn't going quietly into the night. The Thunder played a brilliant game and reminded everyone that they're a pretty good team.
And that the Spurs aren't invincible.
Another day, another social media beef for Embiid

We have all the latest scores, highlights and news from Wednesday's NBA games

Thomas spent a day with a 10-year-old girl whose family is also new to Cleveland
Barkley did not hold back with his opinion of the Big Baller Brand patriarch

LaVar Ball also made it clear he thinks his sons are being placed in 'a great situation'

The Thunder are just 12-14 on the season, despite the addition of Paul George and Carmelo...