Thunder-Spurs Game 1: Did anything work for the Thunder?
Looking at lineups in Game 1 and some surprising data about going big for OKC.
More Spurs-Thunder: Spurs 122, Thunder 105 | Court Vision | Spurs dominate paint
So, that didn't go great for Oklahoma City in Game 1. The Thunder were blown out by the Spurs in the opening game of the Western Conference Finals, 122-105. It was their first game without Serge Ibaka, and his absence was felt early and often.
But he's gone, and despite what the Spurs may believe, he's not coming back.
"You know, we're a no-excuse team," Scott Brooks said. "Serge is out. He's not coming back. We have to play better. We have to play better."
So how do they do that? For starters, what can they take from Game 1 as proof they can?
The Thunder's approach without Ibaka boils down to two approaches: going small and ultra big. They don't have another viable stretch four option (sorry, Perry Jones). Brooks opted to start with Nick Collison and Kendrick Perkins. And in the first quarter, it was a disaster. That unit was outscored by 11 in seven minutes. So a total disaster?
Well, OK, not really. See, in the third quarter, the Thunder crawled all the way back to take the lead, with that exact same unit, outscoring the Spurs by four, and by .31 points per 100 possessions. That was what got them back into the game, and it was never seen again. From there, the Spurs broke the game open again and never looked back.
Overall, that lineup got trounced? So should they go with the small ball approach? Nope. That lineup featuring Caron Butler and Derek Fisher with Steven Adams was worse. The only one that really succeeded was the completely insane lineup of Westbrook-Fisher-Jackson-Butler-Durant. But let's forget overall success and look at how they won. The big lineup held the Spurs to a 105 offensive efficiency. For comparison? The Spurs rocked a 125 mark for the whole night.
The lesson? The Thunder got blitzed out of the gate by going big, but once they settled down, and this is important, they played the way they need to to beat San Antonio. They're never going to outscore San Antonio in a shootout. They have to manufacture a defensive presence without Ibaka.
They figured that out in Game 1. Kind of. Whether that holds will determine whether Oklahoma City can keep up in this series. They also don't have any margin for error. They have to find solutions before the hole gets too big to climb out of.
Data provided by NBA.com.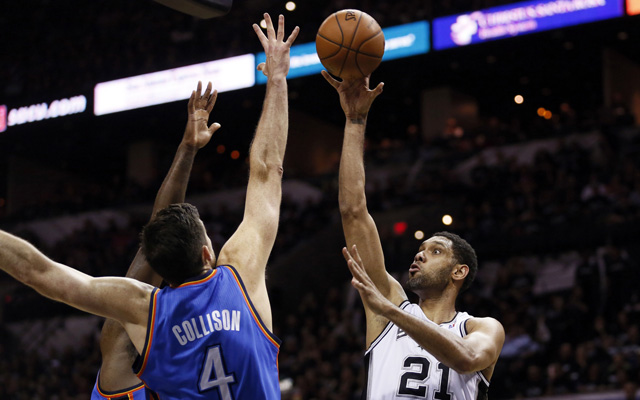 Our advanced computer model simulated Saturday's Thunder-Cavs game 10,000 times

The Jazz are reportedly looking into trading Rodney Hood before the Feb. 8 NBA Trade Deadl...

The Cavaliers are ready to reset everything if they have to. Their interest in Lou Williams...
It sounds like the Cavaliers are going to be active before the NBA trade deadline on Feb....

We've got all the scores, highlights and news for Friday night

George Hill, who is unhappy in Sacramento, could be a solution to Cleveland's backcourt si...