Thunder-Spurs Game 1: Kawhi Leonard coming into his own
Spurs forward makes plays beyond the box score to help the Spurs take a 1-0 series lead.
More Spurs-Thunder: Spurs 122, Thunder 105 | Court Vision | Spurs dominate paint
His line doesn't say much. Kawhi Leonard's 16 points on 16 shots, six rebounds, two assists and three steals in Game 1 doesn't leap off the page at you in San Antonio's 122-105 victory against Oklahoma City in the Western Conference Finals opener.
But if you were to have seen the game, to have watched how this game -- in which the Thunder somehow stormed back from 15 down to take a third-quarter lead -- turned into a Spurs blowout, you would see the difference. And you would know what his impact means for the Spurs. The Thunder are the more athletic team, the younger team, the one that plays with fire and converts incredible moves into points. The Spurs are the steady, deliberate, fundamental team.
But in recent weeks, Leonard has evolved into something else entirely. I've likened it to a species evolving to the top of the food chain, as a predator becomes stronger, faster, with more weapons. Leonard has been a terrific player since he came into the league. But even last year in the Finals, he was a specific tool for the Spurs to use. Corner treys, pump-fake and drives, a few postups, spot-up shots, tip-ins. He wasn't an individual weapon.
In a preseason scrum, I asked Spurs coach Gregg Popovich what Leonard had focused on or developed over the summer. Popovich said Leonard hadn't had that opportunity, because he was rehabbing a knee injury suffered in the Finals (which he played through). That showed in his season. He was largely the same player he was last year. There was no jump.
He's made that jump in the playoffs, since Game 6 of the Mavericks series. He's confident enough to gamble on defense now, and that's converting turnovers into points. He's added enough moves to where he can create in isolation situations.
Manu Ginobili is having a great postseason. Tim Duncan was dominant Monday night. Tony Parker was lethally efficient. But the Spurs expect all that, the Thunder expect all that.
Leonard becoming this apex predator, this beast that is starting overpower the other superstars on the floor, and is able to defend at an elite level? That's a whole other problem for OKC that's got nothing to do with Serge Ibaka and has everything to do with OKC seeing what happens when another team's young superstar comes into his own.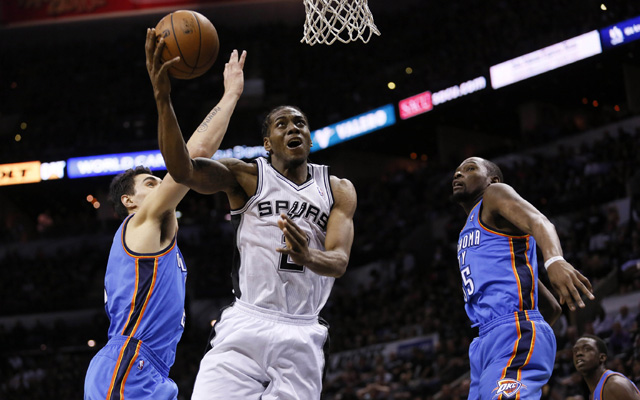 Is this rock bottom for the Cavaliers because it sure feels like it is

Wade, as he's done so many times in his career, threw it up to LeBron for the thunderous f...

The Warriors coach added there should be no shame in being picked last since everyone's an...
We've got all the scores, highlights and news from all of Saturday's games

The two teams have reportedly not had any substantial discussions to this point

Oladipo may be getting most of the shine, but this second-year big man has been phenomenal...