Thunder-Spurs Game 2 Preview: Can anything stop San Antonio?
The Spurs can take a 2-0 lead in Game 2 vs. the Thunder. Can OKC find a way to adjust?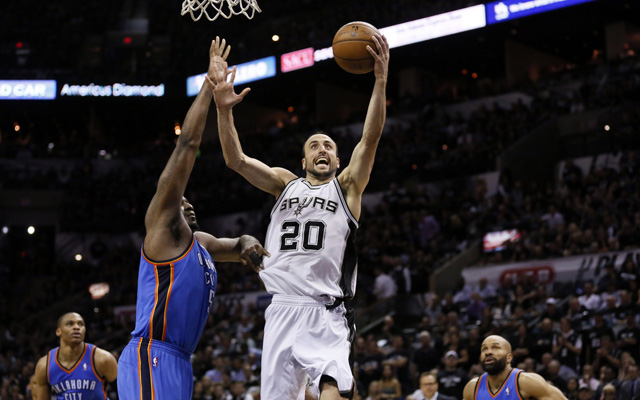 More postseason coverage: Playoff schedule, results | Latest news, notes
Previewing Game 2 of the Thunder-Spurs Western Conference Finals.
1. The Facts: 9 p.m. ET (ESPN). Follow the action here. Serge Ibaka is out with a Grade 2 calf strain.
2. Where We Are: The Thunder found out early how much they're going to miss Serge Ibaka as the Spurs pounded OKC inside by going to the rim over and over. Manu Ginobili took over, Tim Duncan had 27, and a one-point Thunder lead in the third turned into a fourth quarter blowout. 
Oklahoma City had some success here and there with big lineups and one crazy ultra-small lineup with Kevin Durant at center, but overall, they were outpaced badly. Their defense was torched in Game 1, with San Antonio finishing with an offensive efficiency of over 120 points per 100 possessions. They were torched on the outside, they were pounded on the inside and they had nothing they could do to stop it. 
Can the Thunder figure out a way to change this? Can they find rim protection through scheme if not through personnel? That's a hard thing to produce out of thin air in a few days. OKC has to correct course and they don't really have the resources to fix the area of concern. The Spurs being awesome is really the biggest problem here. 
3. The Big Number: -19.2 per 100 possessions. That's the net efficiency of the Thunder with Russell Westbrook and Kevin Durant on the floor. They were outscored by .19 points per possession. They turned the ball over 20 percent of the time with those two on the floor. Even if your defense isn't good (and it wasn't, 120.6 points per 100 possessions). But their offense was a nightmare. They shot decently (46 percent from the floor as a team) but turned the ball over and couldn't keep pace. 
The Thunder have to win every minute those two are on the floor. They have to get points to allow them to get back on defense. Then they have to get stops to create transition offense. If they don't create that dynamic, they're not going to survive. They can't stagger Westbrook and Durant too much, and they have to dominate when on the floor together. It's their only chance. 
4. Key Adjustment: Find a way to attack Manu Ginobili. The Thunder's defense on Ginobili was a mess in Game 1. He torched Reggie Jackson, just blowing by the young guard as Jackson kept trying to jump screens. He blew up Russell Westbrook who inexplicably kept leaving him open on the perimeter. And Thabo Sefolosha, the Thunder's best shot, got caught behind screens. 
The Thunder can live with Tony Parker lighting it up, and they can live with Tim Duncan going nuts (Duncan had 27 but only six in the second half). 
They can't live with Ginobili taking over and beating them inside and out. They have to attack him and trap him off the screen. They have to try and deny him the ball all the way out on the perimeter. And they have to attack him if he gets to the rim. They have to make a lot of adjustments rght now. 
5. The Big Story: Can anything stop San Antonio? Oklahoma City? Miami? Indiana? The marines? Aliens? Anything? 
That's the story now, with Ibaka out. The Spurs have gotten everything to break their way since getting past Dallas. Maybe last year was the price they had to pay for this season's success. Because they look absolutely unstoppable right now and it doesn't look like any other team has enough to slow them down. 
SportsLine simulated Monday's Pelicans vs. Rockets game 10,000 times, with some surprising...

The Raptors will try to continue their run of dominance.

The Rockets are still the NBA's hottest team, but don't sleep on the Spurs now that Leonard...
Kevin Garnett has no interest in working with Glen Taylor, but he'd gladly buy the Timberwolves...

LaVar Ball formed a pop up shop in New York to sell Big Baller Brand merchandise. The results...

The Cavaliers players took a stand against bullying on social media