Thunder-Spurs Game 2 Preview: Harnessing emotion
Previewing Game 2 of the Spurs and Thunder Western Conference Finals.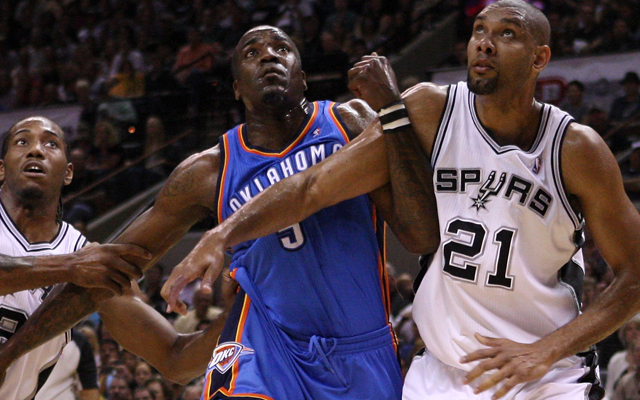 Kendrick Perkins has to stay out of foul trouble in Game 2 for the Thunder.
(Getty Images)
Previewing Game 2 of the
Spurs
and
Thunder
Western Conference Finals. 
1. Where We Are:
Spurs lead 1-0 after they played relatively poorly for three quarters, then jetted by the Thunder for a 30-11 run in the fourth. Whether the effectiveness of the Thunder's defense for the first three quarters is sustainable will go a long way to determining if they can tie this series up headed back to the Sooner State.
2. The Big Number:
.521. That's the effective field-goal percentage differential between the third and fourth quarter for the Spurs. The Spurs went from having a below-average shooting night to one of the hottest in the playoffs. If the Spurs shoot like they did the first three quarters, they'll lose. If they shoot like they did in the fourth, they'll win. Since neither of those is likely, which side of the teeter-totter between the two will determine the winner of Game 2.
3. Key Adjustment:
Scott Brooks benched
Thabo Sefolosha
and
Serge Ibaka
for much of the fourth quarter, instead opting for an offense-heavy lineup featuring
Russell Westbrook
,
Derek Fisher
,
James Harden
and
Kevin Durant
. The result was a parade to the rim from
Manu Ginobili
. The Thunder can't win this game trying to out-score the best offense in basketball.
4. The Big Story:
The Thunder know they missed an opportunity, and they're not happy about it. The Thunder play with a lot of emotion. That can be a good thing or a bad thing depending on how they react to that anger. If they play focused and determined, it can be a good thing. If they play reckless, just running at the rim, they're in trouble.
5. The Facts:
8 p.m. EST tipoff; no significant injuries.
SportsLine simulated Monday's Pelicans vs. Rockets game 10,000 times, with some surprising...

The Raptors will try to continue their run of dominance.

The Rockets are still the NBA's hottest team, but don't sleep on the Spurs now that Leonard...
Kevin Garnett has no interest in working with Glen Taylor, but he'd gladly buy the Timberwolves...

LaVar Ball formed a pop up shop in New York to sell Big Baller Brand merchandise. The results...

The Cavaliers players took a stand against bullying on social media