Thunder-Spurs Game 6: Where do the Thunder go from here?
How does a team that is so talented, but has taken steps back since the 2012 Finals return to elite form? The answers to that question remain murky Saturday night.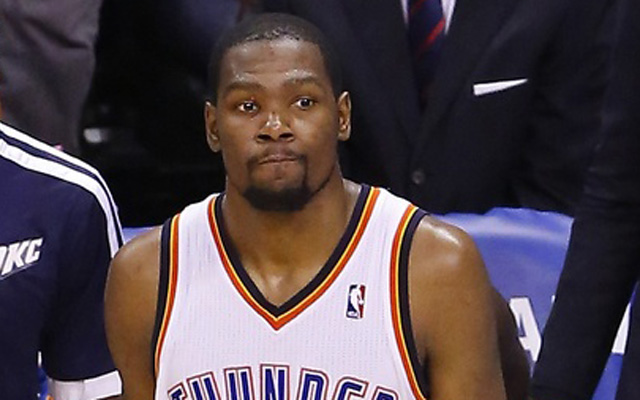 Spurs win WCF: Spurs 112, Thunder 107 (OT) | Instant reaction | Court Vision
OKLAHOMA CITY -- They'll talk about it as not being their year, that the core is intact. They'll say they like the team as is, and that they're still growing, getting better. That the window is still firmly open. They'll say all these things in the morning. After the immediate pain that showed on their faces Saturday night has been dulled and rationalized over. But somewhere tucked away from the light in the labryinths of the Oklahoma City Thunder's brain trust there will be the same concern that exists outside of it.
The Thunder weren't good enough this year, losing 112-107 to the Spurs as San Antonio advanced to its second straight Finals. But the serious question is this: Did the Thunder peak in 2012 and are they suddenly on the decline, even with such a young roster?
Oklahoma City made the Finals in 2012 with a healthy Serge Ibaka and James Harden. They weren't ready then, still bright-eyed. They weren't as hardened by playoff disappointment, by the rigors of NBA life year after year. Despite the loss, the thought in 2012 was that OKC was building their own version of the Spurs. An annual contender, and that it would only be a matter of time. But since then, they exited in the second round when luck and health did not go their way. That could have been considered a blip. But this?
The Thunder weren't beaten because of injury, though Ibaka's calf will provide them with a reasonable rationalization. The Spurs aren't headed back to the Finals because of inexperience, though the Thunder's lack of depth and needing to rely on Jeremy Lamb, Reggie Jackson and Steven Adams had its impact. Oklahoma City lost because the Spurs were better, and significantly so. Six games does not reflect how apparent the Spurs' superiority was. San Antonio adjusted to Ibaka's return in Game 5, and that was that.
And that was the Thunder's season.
So, now what? The Thunder haven't regressed every year. But they have also not returned to the Finals as expected. It's just two years. They're still the Western Conference runners-up. The Spurs can't stay at the top forever.
But maybe OKC isn't the Spurs. Maybe OKC is more like the Mavericks, trying year after year with a transcendent star and illustrious scoring guard but never able to make the leap. The Mavericks made climbed year after year, finally making the Finals in 2006 and losing ... to the Heat. Then an early departure and the Mavericks faded into "just one of those good West teams" for years, until things finally came together in 2011. The Mavericks were built around a transcendent scoring force and featured a roster of dangerous young players like Devin Harris and veterans.
Is that what the Thunder are headed to?
It was too early for the Thunder to think about such things Saturday, the pain was too visceral for them. Serge Ibaka sat at his locker hunched over and his sighs seem to blow down the locker doors. Steven Adams had become infamous for taking elbows to the head and not flinching, but fought back tears as he talked about how the Thunder had responded from so much postseason adversity only to come up short.
"Even now, we've got really good leaders on the team," Adams said, "and they've counseled us even now, on how to move on. But ... it's tough. It's just ... it's tough."
One of those veteran leaders, Caron Butler, was crushed once again coming up short after joining the team midseason.
"(Winning a championship) is why I came here," Butler said. "I don't know (where I'll go from here), I'll have to sit back and think about things."
The Thunder will have to think about things as well, and try and find a way to make this team better. Jeremy Lamb had moments, Adams is a quality rotation player and may be the starting center of the future. But the absence of Harden was felt, no matter whether OKC had to trade the now-Rocket superstar or not. The Spurs punished Derek Fisher, who the Thunder have stubbornly stood behind year after year. Butler didn't play in Game 6. Thabo Sefolosha, in what may have been his last game with the Thunder, played just five seconds.
All of these things point you in the direction that the Thunder know their future lies elsewhere, but all of it starts and ends with Russell Westbrook and Kevin Durant. Neither have faced the traditional star frustration of not having another star beside them. They've had one another since Westbrook's first season. And it still hasn't been enough.
Westbrook was optimistic.
"I mean, it's difficult," the guard said, "but we always find a way to get through it. You know, it's been a long season for myself and Kevin and the organization, and we still fought throught it and got here. We're definitely not going to give up. Come back next year, and be better and be stronger, be wiser, and we're coming back."
But coming back better, how? Trade for a fourth star? Try and develop one? Draft one? Clear space and sign one? Fire the coach that's made the conference finals three times in four years? 
That's the problem, there's no clear answer.
"To be honest I haven't really thought about that right now," Durant said. "It's hard to say. Just reflect back on the season, a great season. Losing like this is tough. Get better individually I guess. But losing like this is tough, man."
Durant is right. It is tough losing like this, finally coming up short with no silver lining. But more concerning is how there doesn't appear to be a clear path to sunlight.
An Alabama native, Barkley campaigned for Jones leading up to Tuesday's election

Kerr knew just what to say after Jones pulled off an upset in Alabama

The future of the league was on display on Tuesday night
Check in throughout the night for the latest news and highlights from NBA games

The Lakers legend details why the NBA popularity will continue to rise

SportsLine's Mike McClure, a DFS pro with more than $1M in winnings, gives optimal lineup...