Thunder trade Hasheem Thabeet to help avoid luxury tax
Oklahoma Center deals No. 2 pick who is expected to be waived.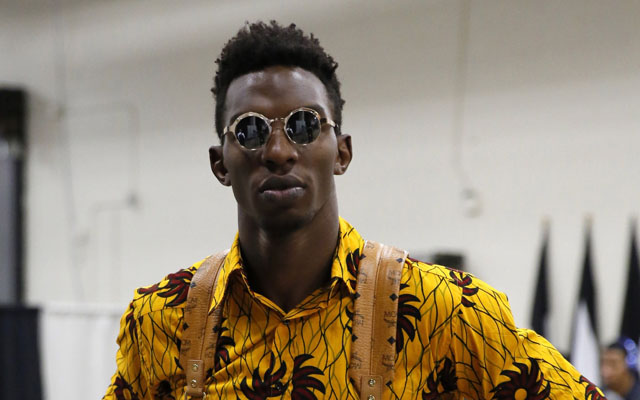 The Oklahoma City traded center Hasheem Thabeet and cash to the Philadelphia 76ers Tuesday for a protected second-round pick and a trade exception. The move clears room for the Thunder under the luxury tax, making more room for them to add a key component and not get buried by the tax if they find a deal, or, more importantly for them, avoid the repeater tax.
The Sixers, according to multiple reports, plan to waive Thabeet. One would think this is the last stop for Thabeet after five seasons in the NBA for the former No. 2 overall pick. Thabeet has played just over 39 hours of gametime total in five seasons, or the total amount that I've played the video game Assassin's Creed II and Assassin's Creed: Black Flag.
But, he's tall, and billed a a rim protector, so he'll probably get another shot somewhere. By waiving Thabeet, the Sixers ... save even more money. They're on the books for only $24 million next season. The cash they picked up will help out with not only what figures to be a terrible year in revenue, but to cover the differential in the salary floor that they'll have to pay back to the roster by being under it.
Oklahoma City had kept Thabeet as an emergency center, but with Steven Adams' emergence and the drafting of Mitch McGary, OKC just didn't need him around anymore.
Thabeet goes down as a testament to two factors: One, you can't teach size but you also need to be able to teach some skill. And two, there are some players who really need two legit years in the D-League just to be serviceable. Who knows what would have happened if the Grizzlies had sent Thabeet down and stuck with a plan to develop him, but that's where the league needs to get to.
A report last week indicated Charlotte is looking to move Walker, along with one of its hefty...

Barea responds by claiming that none of Wall's teammates like him; the Wizards continue to...

Cousins finished with 44 points, 24 rebounds, and 10 assists
Love left Saturday's game, which the Cavs lost 148-124, due to illness

Kidd was fired by the Bucks on Monday afternoon

We've got all the scores, highlights and news from an NBA Monday