Thunder's Perkins reflects on Celtics years, uses lessons in role with OKC
OKLAHOMA CITY -- As Kendrick Perkins prepares for Game 2 of the NBA Finals between the Oklahoma City Thunder and Miami Heat, he reflects on his days in Boston with the Celtics and wishes his "brothers" the best.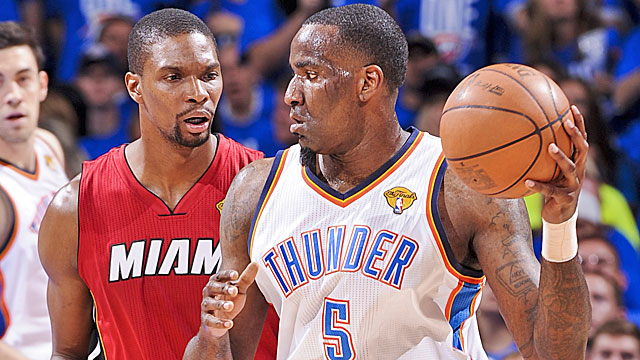 Kendrick Perkins looks for room to against Chris Bosh during Game 1. (Getty Images)
OKLAHOMA CITY -- As the
Heat
and
Celtics
battled to the bitter end of their seven-game series in the Eastern Conference finals, one guy in these parts was paying particularly close attention. A few makes instead of misses here, a few bounces of the ball there, and
Kendrick Perkins
would be facing his former team in the
NBA
Finals.
More on NBA Finals
Related content
"I love them like brothers," Perkins said. 
Thunder
GM Sam Presti has done a lot of things right, but the bold move to trade for Perkins at the 2011 trade deadline was the strongest indication yet of where Presti thought this team had a chance to go. Presti had the young stars and the athleticism, but knew that the Thunder weren't going to get near the Larry O'Brien Trophy without defensive adhesion and toughness.
Perkins has brought both, along with Finals experience, his infamous scowl on the court and delightful, folksy mannerisms off it. Oklahoma City couldn't be farther from Boston, but in some ways, Perkins feels right at home.
"I always remind the guys how great this situation is," Perkins said. "We can't take it for granted, how great our fans are, how great the community is. I think that's part of the reason why we go out there and do what we've got to do, why we compete hard and go to work every day. We don't want to let ourselves down, and we don't want to let the community down."
When the Thunder returned to OKC down 0-2 to the Spurs in the conference finals, hundreds of loyal fans waited at the airport to greet them. Had the Celtics returned to Boston down 0-2 in a series, Perkins said, it would've been a slightly different scene.
"Pressure, must win," Perkins said. "We'd probably be getting smashed in the paper."
After his first full season with the Thunder, though, Perkins is beginning to see some similarities between what they're building in OKC and when he experienced in Boston with the Celtics.
"The only difference is age," Perkins said. "Guys were kind of on their way out in Boston and now guys haven't even reached their prime. So that's the only difference I see is just the age. As far as the will of going out and wanting to compete, it's all the same."
Despite the comfort zone Perkins has found in the heartland, you get the sense a piece of him died when the Celtics fell to the Heat in Game 7. Perkins spoke with his mentor,
Kevin Garnett
, a couple of days ago and came away with a couple of distinct impressions: 1) KG is conflicted about retirement, and 2) He won't play for any coach other than Doc Rivers.
"He's caught in between what he wants to do," Perkins said. "This is his 17
th
year, so I don't know. ... But I wouldn't be surprised if they do give one more go at it, just knowing their hearts and their competitiveness. They might go out there and give it another shot."
Garnett and
Ray Allen
are both free agents, and the prevailing opinion among rival executives is that Allen is gone. Garnett is a wild card; Rivers might be able to persuade him to suit up for one more season.
"I don't know if he wants to play for anybody but Doc," Perkins said. "That would be the thing. He doesn't want to play for anybody but Doc."

In Oklahoma City, Perkins is building a different sort of bond with a different kind of coach. The Thunder's Scott Brooks doesn't have the commanding presence of Rivers -- few coaches ever have -- and yet he's found a way to connect with a team that has grown up together and brought Perkins along for the ride.

Speaking of rides, Perkins was floored the first time he saw his new coach roll up to the practice facility.

"He drives a Corolla," Perkins said. "I mean, ain't nothing wrong with it, but what NBA coach that you know [does] that? I mean, seriously. He's so down to earth that it's crazy. The main thing that sticks out about him, he wants to learn and stay down to earth and try to get better."

When asked if Brooks really, in fact, drives a Corolla, Perkins said in his Karl Malone, country vernacular, "Yeah, he do." 
And it's great that Perk thinks that, even though it's a Prius.

As Perkins and the Thunder prepare for Game 2 of the Finals against the Heat, they don't have to worry about facing the togetherness and championship experience exuded by the Celtics. In fact, in a different way and at a different time, the Thunder are starting to exude some of those same traits.

"I feel like guys that get along outside of basketball, it carries over to the court," Perkins said. "I feel like if you have a great relationship with guys outside of basketball -- we do a lot of hanging out together -- it carries over. It means you genuinely care about each other and it carries over to the court."

In some ways, Perkins is far from Boston and those Celtics days, but in others, he's not so far at all. And if you were to ask him if he feels as comfortable here as he did back East, Perkins would undoubtedly say he do.
 
Ersan Ilyasova isn't quite the player he used to be, but maybe the 76ers can bring the best...

LeBron James speaks his mind and that's part of what makes him a superhero to Gregg Popovi...

Dan Fegan was once considered as one of the most influential agents in the NBA
We've got all the scores, top plays and news from Sunday's NBA games

Stephen Oh has his finger on the pulse of Wizards basketball and released a play for Sunda...

The Warriors don't have any interest in winning a popularity contest. They're fine winning...