Thunder's Russell Westbrook is still getting over his injury
For the first time since his surgery, Russell Westbrook talked to reporters about his rehab, what he's going through and how he's coping.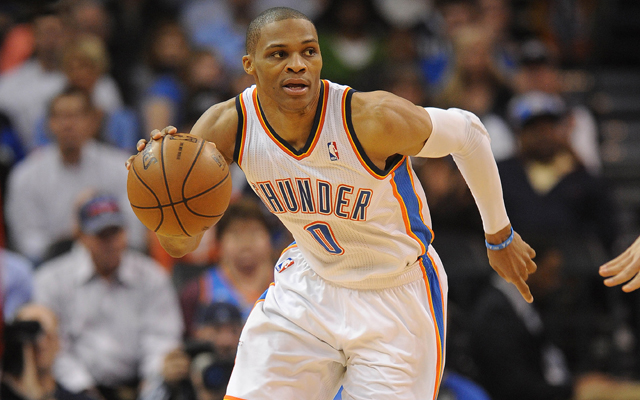 OKLAHOMA CITY -- For the first time in his basketball career -- high school, college or professional -- Russell Westbrook has had to sit and watch his team play. 
After colliding with Patrick Beverley in Game 2 against the Rockets in the first round, Westbrook suffered a torn meniscus and had surgery, which knocked him out for the remainder of the postseason. It was obviously a devastating blow to the Thunder, who might've seen their championship hopes vanish, but also to Westbrook, who is dealing with having to watch idly as his team tries to push on. 
For the first time since his surgery, Westbrook spoke with reporters Thursday and said the decision to shut it down was tough, but the right one.
"It's tough, man. I don't want to let my team down. I wanted to compete. I love playing," he said. "I want to play in every game as long as I'm able to and able to walk. But this time I wasn't able to walk or run like I'm supposed to."
Westbrook injured his knee in the second quarter of the game, but continued playing on it anyway, thinking it was only a bruise. 
"When I was playing on it, man I was basically playing on one leg," he said. "Kind of just hobbling around. You could probably notice, kind of just hobbling around trying to find a way to do what I can to help my team win. But at the same time I was in pain."
Note: Westbrook played 29 minutes and scored 20 points after he tore the meniscus, sparking a key Game 2 win for the Thunder. Even on one leg, Russell Westbrook is better than most players. 
Westbrook said he felt a lot of pain in the knee and knew something was wrong, but wanted to push on that night.
"Half of it because it was halftime and once it got halftime, it got real stiff," Westbrook said. "So it was tough for me to come back and start running again and jumping. But as the game went on and the crowd was going I continued to play and find a way I could help."
The play it happened on became a very big point of discussion about whether it was dirty or not. Beverley lunged to try to steal the ball from Westbrook well after a timeout had been signaled and the whistle was blown. Beverley inadvertently banged Westbrook's knee. The play really wasn't dirty, because dirty implies intent. Though Westbrook was obviously upset and angry about it after, does he think it was dirty now, two weeks later?
"I've seen it numerous times," he said. "That's really something I can't answer. I know I just hope it wasn't a dirty play. I'm just moving forward, getting better, rehab and come back better."
Westbrook doesn't have a real timetable as of yet, but says he's on crutches for another four or five weeks. Once he gets off those and his knee isn't immobilized anymore, he'll get a firmer understanding of when he'll be back. He's already started his rehab, mostly working his quad muscle and keeping his legs strong, and is doing the work in Oklahoma. 
"I think when I get an opportunity to sit back, this is my first basically seeing the game from a different view," Westbrook said. "I may sit out for a few minutes here and there, but to watch a whole game when I'm not playing is different. This is my first time doing it and I think it's something that can help me. To see some of the things that maybe you guys see, or somebody may see. The crazy shots I shoot at times, I can sit back and see different things, so I think it's good for me."
Westbrook has made sure to stay in constant contact with his teammates, particularly Kevin Durant, saying he's texting him at halftime to tell him things he's seeing. He's also trying to mentor second-year guard Reggie Jackson, who is serving as he current fill-in. 
But he can't help on the floor. Without him, the Thunder are 3-3 and have struggled to find their way. Durant has been magnificient, and other teammates have stepped up, but the void left by not having Westbrook is as big as an aircraft carrier. 
"It hurts not to help, not to be out there and help my team," Westbrook said. "Even though I'm out, I still have a voice. I can still help my team, still find a way to communicate things to guys. Maybe they don't listen, maybe they do, but I can still use my voice and try and help my team."
The Thunder are tied 1-1 with the Grizzlies in the second round, and though they clearly aren't as stout without Westbrook, there's still a good team in place. Can they get through the Grizzlies? Can they get back to the Finals? Could they win a title without him? Westbrook thinks so.
"They're tough. I think we have a tough group of guys finding a way to win," he said. "The group of guys we have, I think we have enough to get a ring. My honest opinion."
Stephen Curry, who grew up in North Carolina, wants to be part of the next Panthers ownership...

Vince Carter is destined for a Raptors reunion; he doesn't know when it'll happen

Thomas has a target date for his return, and with the Cavaliers scorching, this could be h...
LeBron James once again is using his platform to be socially active

Not many games, but still plenty of action and intrigue Sunday in the Association

Kobe Bryant had a solid piece of advice for back in 2016 when he left OKC for Golden State