Thunder's Serge Ibaka fined $25,000, won't be suspended for Griffin hit
Oklahoma City Thunder big man Serge Ibaka will not be suspended for his hit to Blake Griffin's groin, but he will be fined $25,000.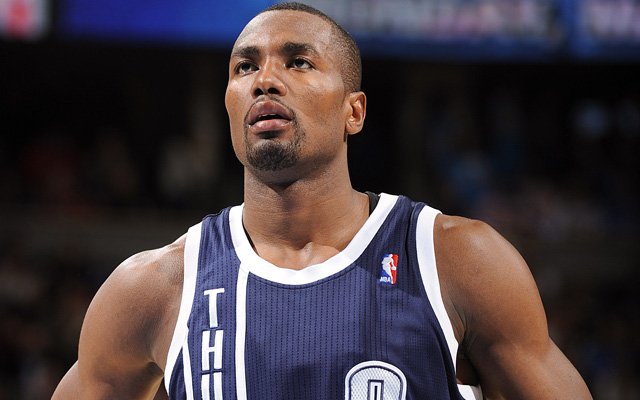 Serge Ibaka will be punished but not suspended for Sunday's 'groin' shot on Blake Griffin.
(Getty Images)
Oklahoma City Thunder big man Serge Ibaka needs to learn to keep his hands to himself. He was caught on camera slapping down/karate chopping/hitting Los Angeles Clippers' power forward Blake Griffin in the "groin" in Sunday's nationally televised game, and while he is being punished by the league for the attack, he won't be forced to miss any games. He simply has to write a check.
The league announced Tuesday afternoon that Ibaka will be fined $25,000 but won't be suspended.
Serge Ibaka of the Oklahoma City Thunder has been fined $25,000 for striking Blake Griffin of the Los Angeles Clippers in the groin area, it was announced today by Stu Jackson, NBA Executive Vice President, Basketball Operations. 

The incident, which was called a Flagrant Foul 1 on the floor and upgraded to a Flagrant Foul 2 upon league office review, occurred with 1:52 remaining in the fourth quarter of the Thunder's 108-104 win over the Clippers on Sunday, March 3 at Staples Center.
The first question that comes up with it being upgraded to a Flagrant Foul 2 is why isn't Ibaka getting suspended for at least one game? A Flagrant Foul 2 is an automatic ejection from the game, but it doesn't mean the player automatically gets suspended. Here is an excerpt on Flagrant Foul reviews from NBA.com:
The League Office will consider the following factors (as well as any other relevant facts and circumstances) in determining whether to classify a foul as Flagrant "1" or Flagrant "2", to reclassify a flagrant foul, or to impose a fine and/or suspension on the player involved: 

1. The severity of the contact; 
2. Whether or not the player was making a legitimate basketball play (e.g., whether a player is making a legitimate effort to block a shot; note, however, that a foul committed during a block attempt can still be considered flagrant if other criteria are present such as recklessness and hard contact to the head); 
3. Whether, on a foul committed with a player's arm or hand, the fouling player wound up and/or followed through after making contact;
4. The potential for injury resulting from contact (e.g., a blow to the head and a foul committed while a player is in a vulnerable position); 
5. The severity of any injury suffered by the offended player; and
6. The outcome of the contact (e.g., whether it led to an altercation).
The NBA certainly leaves itself plenty of wiggle room to decide if a suspension or fine should be imposed, but it's not a guarantee for either. If they felt the listed criteria didn't need to result in a suspension, then that's a decision they're allowed to make within their own guidelines. But a player getting a shot to the onions is going to elicit a much stronger reaction from fans, whether it was an intentional target or not.
Since the play happened in the final 1:52 of the Clippers-Thunder game, even though Ibaka would have been ejected from that final minute-plus, would it be fair to eject him from the next 48-minute game on the schedule just to make up for the time left in Sunday's game? Some people would certainly say it is, but the league felt differently in this case.
Thomas spent a day with a 10-year-old girl whose family is also new to Cleveland

Barkley did not hold back with his opinion of the Big Baller Brand patriarch

We have all the latest scores, highlights and news from Wednesday's NBA games
LaVar Ball also made it clear he thinks his sons are being placed in 'a great situation'

The Thunder are just 12-14 on the season, despite the addition of Paul George and Carmelo...

The then-Heat teammates squared off during the 2011 ECF, but Erik Spoelstra put a stop to the...