Thunder's Thabo Sefolosha out 4-6 weeks with calf strain
Oklahoma City Thunder wing Thabo Sefolosha is out four-to-six weeks with a calf strain.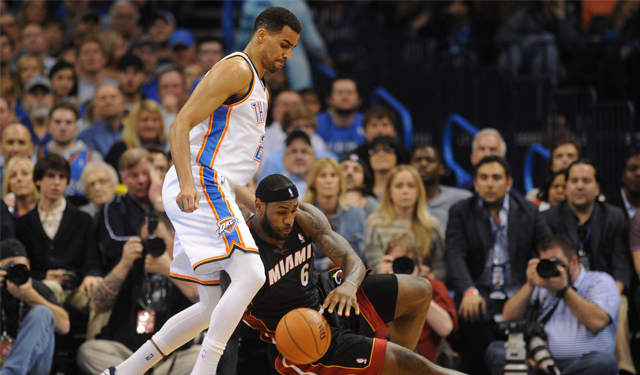 More NBA: Scoreboard | Standings | Schedule | Stats | Injuries | Expert Picks
The Oklahoma City Thunder just signed Caron Butler after he was bought out from his contract with the Milwaukee Bucks. It may have been just in the nick of time too. GM Sam Presti told the media on Sunday that Thunder wing Thabo Sefolosha had an MRI on his calf injury. Sefolosha will be out for four-to-six weeks with a calf strain.
Presti said an MRI confirms a calf strain on Thabo Sefolosha and "we're probably going to be without him for a while." Says 4-6 weeks.

— Darnell Mayberry (@DarnellMayberry) March 2, 2014
Sefolosha has been one of the lineup fixtures for the Thunder this season. He's fourth on the team in minutes and has averaged 26.4 minutes. While his scoring and production certainly don't jump off the page at you, his role is very important for a team looking to get back into the NBA Finals. Sefolosha averages 6.7 points and 3.7 rebounds while shooting 42.5 percent from the field and 33.8 percent from 3-point range.
The Thunder need Sefolosha to knock down corner 3-pointers and to defend the best wing scorer on the other team. He should be back around the time of the playoffs, according to the timeline given.
The Pacers believe the Lakers tampered with Paul George before they traded him

Among the questionable decisions by Jackson was signing Noah to a long-term, lucrative dea...

This Akron store doesn't want their hometown hero to leave again
Milwaukee's star did not get cleared to play for his national team due to a painful knee i...

Ball, the second overall pick in the NBA Draft, is receiving even more hype

Rap mogul supports the vision the outspoken father has for his brand and sons