Thunder's Westbrook has surgery, out until after All-Star break
Oklahoma City Thunder guard Russell Westbrook underwent successful surgery on his knee and will be out until after the All-Star break.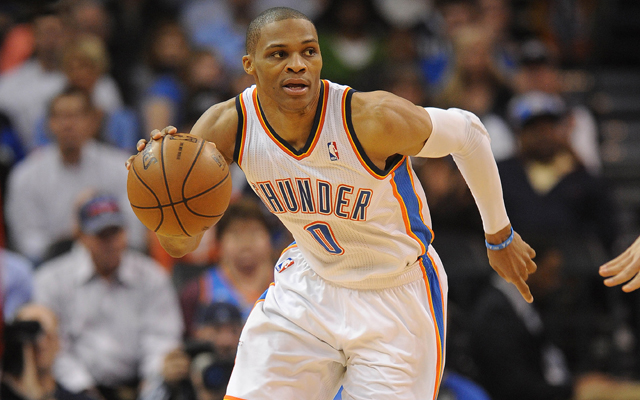 Russell Westbrook of the Oklahoma City Thunder had to undergo arthroscopic surgery on his right knee right before the preseason due to a loose stitch from a previous knee surgery. He missed all of two regular season games before returning to the Thunder. After a rough November in which he was basically undergoing his own preseason, Westbrook returned to form in December and has helped lead the Thunder to one of the best records in the league at 23-5. 
The Thunder will be without Westbrook for a much bigger stretch of regular season games after the team announced he underwent another arthroscopic knee surgery Friday. He is expected to return after the All-Star break but was not given a more specific timetable than that. From the Thunder:
Oklahoma City Thunder guard Russell Westbrook underwent successful arthroscopic surgery on his right knee earlier today, Thunder Executive Vice President and General Manager Sam Presti announced. 

"Russell has been playing pain free, but recently had experienced increased swelling. After consultation and consideration by his surgeon in Los Angeles, a plan was established to monitor the swelling that included a series of scheduled MRIs," said Presti. "On the most recent MRI it was determined by the surgeon that there was an area of concern that had not previously existed, nor was detectable in the previous procedures, and it was necessary to evaluate Russell further. The consulting physician determined that arthroscopic surgery was necessary to address the swelling that was taking place. We know that Russell's work ethic and commitment will help him return to the level of play that we have all come to appreciate."

Westbrook is expected to return post All-Star break.  
This is a big blow to the Thunder after winning 18 of their previous 20 games, only one of those without Westbrook. In the month of November, Westbrook has averaged 21.4 points, 8.1 assists, and 6.9 rebounds while shooting 45.4 percent from the field. Reggie Jackson will once again be asked to fill in as the starting point guard, taking away some depth from the rotation that has been praised this season as the second unit progresses. 
The Thunder will have Derek Fisher for backup point guard duties and Jeremy Lamb to handle some of the scoring load off the bench while Westbrook is out. The Thunder play 17 games in January with 10 of them coming on the road. 
If Westbrook does in fact come back right after the All-Star break, which seems like the best case scenario, his next game will be February 20 when the Thunder host the Miami Heat. 
The Warriors rookie threw down an off-the-backboard dunk while up 25 late in the fourth qu...

The third member of the club might come as a surprise

LaVar said Lonzo won't lose again this week, and Marcin Gortat found that pretty funny
Eric Bledsoe is going to be traded at some point and these tweets will explain how it got...

Curry's outburst will cost him some money, but he won't miss any games

A look at the ups and downs for various suitors as Bledsoe has left the team.