Tim Duncan (chest contusion) is doubtful for Friday against Lakers
San Antonio Spurs legend Tim Duncan suffered a chest contusion in the season-opener against Memphis and is doubtful for Friday's game against the Lakers.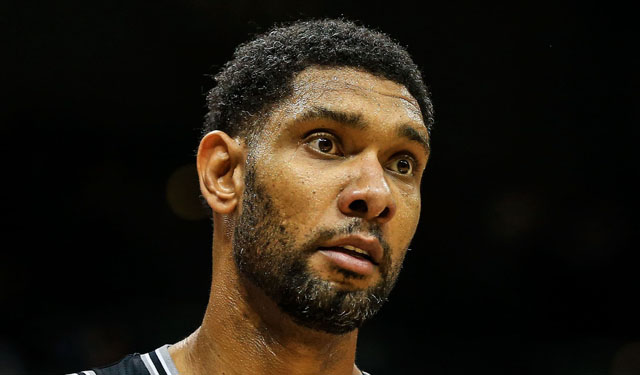 During the third quarter of the San Antonio Spurs' season opener against the Memphis Grizzlies, Spurs legend Tim Duncan took an elbow to the chest and left the game. Grizzlies guard Tony Allen came flying into the lane and connected with the future Hall of Famer, causing him to leave the game in the Spurs' 101-84 victory.
Duncan didn't return to the game or even come out of the tunnel after the injury. He underwent a CT scan on his chest this morning, revealing a chest contusion and not a more serious injury. The team announced he's day-to-day and doubtful to play in Los Angeles against the Lakers on Friday. He will travel with the team on the road trip.
Spurs forward Tim Duncan underwent a CT scan this morning in San Antonio which confirmed that he has a chest contusion. He suffered the injury during the third quarter of last night's Spurs-Grizzlies game. His status is day-to-day and he is listed as doubtful for Friday night's Spurs-Lakers game. Duncan will travel with the team this afternoon when the Spurs depart for a three-game trip that begins in Los Angeles.
With it being just a chest contusion, it's not a huge deal for Duncan and the Spurs. San Antonio has a back-to-back this weekend with the game against the Lakers on Friday and a game in Portland against the Trail Blazers on Saturday. The Blazers are a tougher opponent so if it's a decision to play in one of those games, playing in Portland makes more sense for the Spurs.
Or he could miss both games and possibly not play until the game in Denver against the Nuggets on Tuesday.
McCollum hurled a clever insult at the French forward

Hosts Bill Reiter and Reid Forgrave are joined by Blazers guard CJ McCollum

Check back throughout the night for the latest updates from Monday's NBA games
Garnett has worked with Maker and says he is reminded of himself

It might be a good time to place a bet on the Boston Celtics

SportsLine's Mike McClure, a DFS pro with more than $1M in winnings, gives optimal lineup...