Tim Duncan on retirement: taking it 'game by game'
Spurs legend says his retirement process is game by game. Will we get a chance to say goodbye to an all-timer?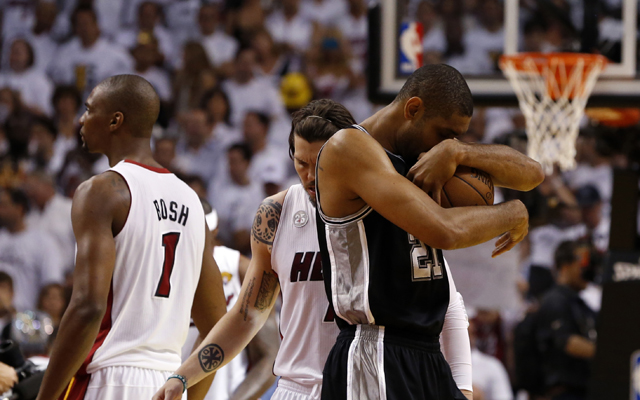 More NBA: Power Rankings | Expert Picks | Latest news, notes
Yahoo Sports leads its power rankings with this little nugget from Spurs forward Tim Duncan. The future Hall-of-Fame big man said in response to whether he'll play out his contract or retire: 
When asked if he'd honor his contract through next season, Tim Duncan said he's taking it "game by game."
via NBA Power Rankings: Heat looking for traction - Yahoo Sports.
This is the issue with Duncan. He doesn't want any sort of attention, even when he leaves. At the Western Conference Finals last year, Duncan ducked out to get something from his car in front of reporters waiting for Popovich outside the locker room. He nodded to a few scribes on his way out. Someone yelled "There goes Tim Duncan's retirement press conference." Duncan gave a thumbs up over his head and walked out the door. 
That's pretty much what it's going to be like. 
Duncan't not going to give anyone the opportunity to honor him. There will probably not be a farewell tour. He'll simply be playing in the NBA one day, and not be playing in the NBA the next. And we'll likely never hear from him again, ouside of a short speech at his Hall of Fame induction. 
In some ways it's a shame, but in other respects, it serves the authenticit of Duncan's quiet, unstated brilliance. 
Eric Bledsoe will not be playing against the Kings. Could there be more to come?

J.R. Smith back in the starting lineup after Dwyane Wade's early struggles to start the se...

Travis Schlenk, a former Warriors exec, told CBS Sports' Bill Reiter that Golden State tanked...
The ex-Warriors assistant GM shares his philosophy on scouting and why Golden State had so...

The Suns have been doomed for awhile now it just finally came to a head this season

Andre Drummond is making his free throws now, and Pistons coach Stan Van Gundy says this is...