Tim Duncan's not going anywhere in free agency: 'I'm a Spur for life'
Tim Duncan says he is a 'Spur for life.'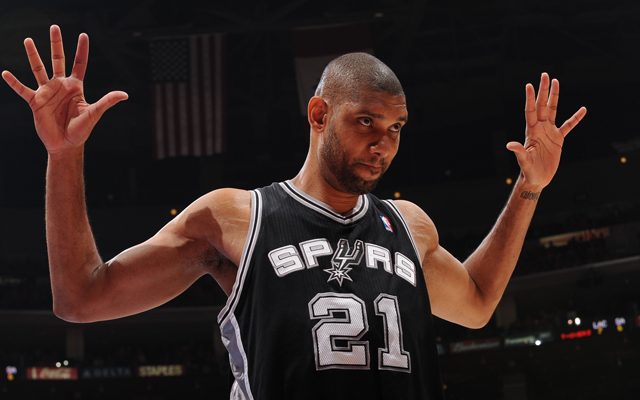 Tim Duncan isn't going anywhere if he can help it. (Getty Images)
This will come as no shock to you, but
Tim Duncan
 has already made it clear, publicly in an interview with Yahoo Sports, that he's not going to be going anywhere when he hits the free-agent market this summer. 
Duncan now says it's realistic to expect him to play another year or two. Three or four years, he thinks, would be a stretch, even in his improved condition. This much is certain: He has little interest in testing the free-agent market when his contract ends after this season, negotiating leverage be damned.

"Though I shouldn't say that; I have to threaten them that I'll leave," he joked. "No … I'm not going anywhere. You can print that wherever you want to. I'm here and I'm a Spur for life."
via Tim Duncan's Spurs still unshakeable to their core after 15 seasons, rally by Thunder in Game 1 - Yahoo! Sports.

You have to love that Duncan won't play the stupid games that players do with free agency. Their agents always ask them to say, "We'll see what happens" or "I'm keeping my options open." But Duncan knows that there's no way he's going to go try something else after how long he's been with San Antonio and what he's accomplished.

If the Spurs were to win the title, there would be a lot of questions. What more would he have to acccomplish? A sixth title? Any way it happens, you know one thing: 

Duncan's going out on his terms.  
LeBron said he'll give 'passion, commitment, and inspiration' while he's wearing a Cavs un...

SportsLine's computer model simulated Celtics vs. Cavs 10,000 times with surprising result...

There are a lot of rumors, but Irving is keeping quiet about his motives for leaving Cleve...
From the Warriors to the new superteams to the Sacramento Kings, get ready.

Brett Brown said recently that Embiid's minutes would likely be in the teens to start the...

According to D'Antoni's specific plan, Houston's All-Star duo will play 18 minutes together...