Tim Hardaway Sr. to join Stan Van Gundy's coaching staff in Detroit
Tim Hardaway Sr. is leaving his position as a Heat scout to become a Pistons assistant coach.
• 1 min read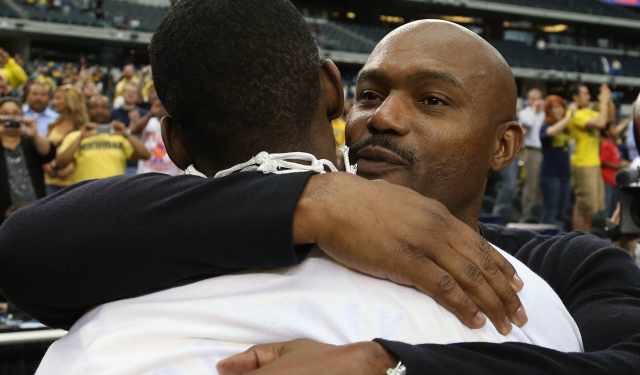 Offseason: Free Agency | Latest from Ken Berger | Rumors
Tim Hardaway Sr. is leaving his job as a scout and community and corporate liason for the Miami Heat to become a Detroit Pistons assistant coach under Stan Van Gundy, he said to Miami Herald's Barry Jackson.
"I'm ecstatic," he told me this afternoon. "It's something I wanted to do. It's all about teaching. I'm good at teaching and understanding players."

And he was comfortable with Van Gundy, who was an assistant coach during Hardaway's time with the Heat. "Stan and I have great rapport. [Heat president] Pat Riley said it's a great thing for me and he's happy for me."

Hardaway --- who will join Brendan Malone, Bob Beyer, Charles Klask and former Heat forward Malik Allen on Van Gundy's staff --- said a coaching job on Erik Spoelstra's staff wasn't realistic because "there are guys before me here and I didn't want to take anything from them."
Hardaway played for Miami from 1996's trade deadline until the end of the 2000-2001 season, and was named to three All-NBA teams as a member of the team. Van Gundy served as an assistant coach under Pat Riley during that time. 
The Heat are known for being loyal to their former players, and Hardaway said it would be bittersweet to leave the organization. If he wants to work with players, though, this is definitely the right career move.
Van Gundy also will reportedly add former players Quentin Richardson and Malik Allen to his staff.
The Pistons put out a long list of details regarding their new uniforms

The Pacers traded the forward to OKC for two former lottery picks who have yet to reach their...

Gilbert said what was expected, but didn't necessarily sound all that confident
Altman addressed the media about Irving during his introductory news conference

Toronto's center has an uncertain future; can we still talk about this 25-year-old's poten...

Oakley was vague with his response on when he'd attend another Knicks home game