Tim Leiweke denies report he'll leave MLSE, which owns Raptors
A report indicated that Maple Leaf Sports & Entertainment president and CEO Tim Leiweke would be stepping down.
• 2 min read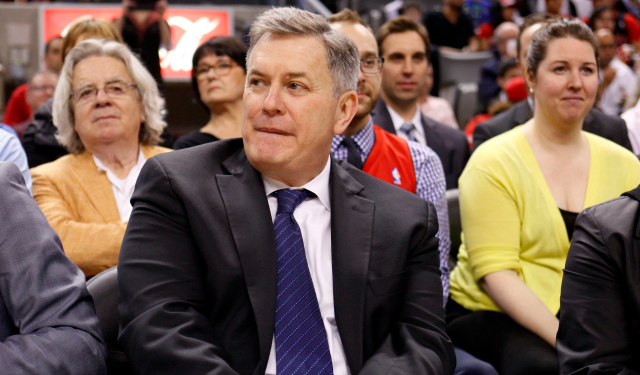 Offseason: Free Agency | Latest from Ken Berger | Rumors
Tim Leiweke, the president and CEO of Maple Leaf Sports & Entertainment -- the corporation that counts the Toronto Raptors as one of its properties -- is stepping down "soon," according to CBC's Elliotte Friedman, but he denied this to the Globe and Mail's Cathal Kelly.
Hearing MLSE president/CEO Tim Leiweke will be leaving the company soon. (1/2)

— Elliotte Friedman (@FriedgeHNIC) August 19, 2014
Not sure of where he's going, but hearing the reason is he is looking for a new challenge.

— Elliotte Friedman (@FriedgeHNIC) August 19, 2014
I've heard Leiweke has been eyeing the exit door, just in case. Been reframing expectations for a while. And his family hated the winter.

— Bruce Arthur (@bruce_arthur) August 19, 2014
Just talked to Tim Leiweke re: rumours he's leaving MLSE: "It's not true. 100 per cent not true. I'm fully committed to the season at hand."

— cathalkelly (@cathalkelly) August 19, 2014
Leiweke joined MLSE in June 2013. He was formerly the president and CEO of AEG, which owned part of the Lakers, all of the NHL's Kings and tried to bring an NFL team to Los Angeles.
MLSE owns the NHL's Maple Leafs and MLS' Toronto FC, but Leiweke was vocal from the start about how much he cared about basketball and wanted the Raptors to turn things around. He's been the public face of MLSE and made bold claims about winning championships in Toronto, so the initial report was pretty surprising. 
Despite the denial, there are already rumors that he will return to LA with a different team:
Leiweke about to move back to LA to run the Clippers? Whisper won't go away. Wife moved back to So. Cal. already. #wehatewinter

— Bob McCown (@FadooBobcat) August 19, 2014
Speaking to the Globe and Mail, Leiweke committed only to this coming year, but it looks like he's not staying for the long haul:
"I've had people come at me. I've said 'No' in every instance. I am completely focused on this organization."

…

It's an open secret within the organization that Shanahan is being groomed to take over Leiweke's spot once he decides to leave. That's why this denial rings true. It's very difficult to believe the 45-year-old Shanahan would want that job only a few weeks into his first senior management position.
Leiweke reportedly is dealing with "tension" within the MLSE board of directors, which makes sense considering it includes Bell and Rogers, two competitors in the Canadian telecommunications industry. He has also been frustrated with the government getting in the way of some of his plans. 
At a press conference before last season started, Leiweke spoke about the importance of the 2016 NBA All-Star weekend in Toronto. Now you have to wonder whether he'll be there to see it.
The investigation detailed a hostile workplace environment

Cousins suffered a torn Achilles tendon on Jan. 26, and will miss the rest of the season

Ingram has become one of the team's go-to players with Lonzo Ball sidelined with an injury
Giannis skipped EuroBasket last summer, and has missed four games this season with knee so...

Some of the best and worst from the league as we head into the home stretch of the season

Cuban acknowledged that tanking is 'brutal' and that he will no longer do that after this...