Timberwolves' Ricky Rubio cleared to play Saturday vs. Mavericks
Minnesota Timberwolves guard Ricky Rubio is set to play Saturday night against the Dallas Mavericks.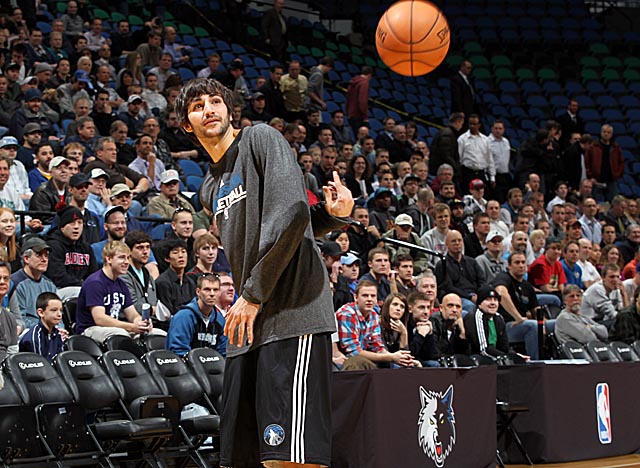 Rubio should be slinging passes Saturday night.
(Getty Images)
The reports were true. The Minnesota Timberwolves announced Saturday that point guard Ricky Rubio has been cleared by doctors and will be in uniform Saturday night against the Dallas Mavericks.
Rubio has missed nine months with tears of his ACL and LCL, and the Wolves have badly missed his spectacular playmaking and defense. In a statment, Rubio said:
"I'm excited to get back on the floor with my teammates and play in front of the best fans in the NBA at Target Center. After a long recovery, this is the first step in me getting back on the court and helping my teammates. Thank you to the fans for their support over the last nine months."
The 11-9 Timberwolves face the Mavericks on the heels of Kevin Love's comments this week indicating frustration with the management and direction of the franchise, yet again.
Rubio averaged 10.6 points and 8.2 assists in his rookie season, but his impact on the floor was much greater. After his injury, the Wolves lost all momentum, eventually slipping back into the lottery. Getting Rubio back is a huge boost in both talent and morale. As the second-best player on the team, he is known for making his team better overall with his savvy and creativity.
We'll have to see what kind of conditon Rubio is in after that kind of knee trauma, but there's no denying the excitement around the return of the kid.
Deciding who to watch on League Pass can be difficult, but these rankings promise to help

Veteran forward signed a one-year deal with the Knicks in offseason

Knicks forward had his truck stolen out of his driveway
The Celtics will send No. 34 to the rafters in Boston when they take on his old rival

It's never too early to look at June's NBA Draft

Cousins uses some colorful language to get his point across