Timberwolves sign Andrei Kirilenko after completing 3-team trade with Hornets, Suns
The Minnesota Timberwolves, New Orleans Hornets and Phoenix Suns completed a 3-team trade that included Robin Lopez, Hakim Warrick and Wesley Johnson.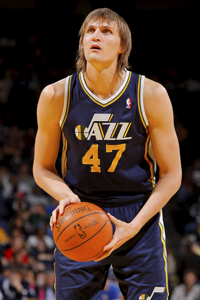 Andrei Kirilenko has signed with Minnesota.
(Getty Images)
The deal is done after days of reports and the AK-47 signing has now been made official.
The Minnesota Timberwolves, New Orleans Hornets and Phoenix Suns completed a 3-team trade on Friday which paved the way for Russian forward Andrei Kirilenko to sign with Minnesota
Here are the deal's terms, as announced by the Hornets.
The Hornets receive: center Robin Lopez, forward Hakim Warrick and cash considerations from the Suns.

The Suns receive: guard Jerome Dyson and center Brad Miller from the Hornets plus Wesley Johnson and a first-round pick from the Timberwolves.

The Timberwolves receive: the Brooklyn Nets' 2013 second-round pick and their own 2016 second-round pick from the Hornets and the Los Angeles Lakers' 2014 second-round pick from the Suns.
By moving Johnson and his $4.3 million salary, the Timberwolves were able to create sufficient salary cap room to sign Kirilenko. Earlier this week, the Timberwolves and Kirilenko reportedly agreed to a 2-year, $20 million contract with a player option on the second season.
Minnesota officially announced Kirilenko's signing on Friday.
"We are pleased that Andrei has decided to resume his NBA career with the Minnesota Timberwolves," president David Kahn said, in a statement. "Over his time in the NBA he has proven to be one of the best defensive players in the world. His ability to play multiple positions and big-game experience will be wonderful assets to our team. He is coming off an MVP season in Europe, on what many believe was the best team in Europe, CSKA Moscow. We are excited to see him in a Timberwolves uniform and wish him well in the upcoming Olympics, where he will be the star player for the Russian National Team."

"I'm excited to be returning to the NBA with the Minnesota Timberwolves," Kirilenko said, in the statement. "The Wolves have one of the best coaches in the league in Rick Adelman and I feel my game fits in well with his style of play. I also like the talent that Minnesota has on the team with star players like Kevin Love and Ricky Rubio." 
Minnesota paid a significant price -- a former No. 4 overall pick and a future first-round pick -- to acquire Kirilenko, but he figures to be an excellent fit. Minnesota's wing play has been atrocious in recent seasons and they get a tested, tough veteran to plug in alongside All-Star forward Kevin Love. The Timberwolves have made it clear they want to make a playoff push after not reaching the postseason since 2004. Kirilenko helps them immediately and isn't tied into a long-term contract. He spent the 2011-12 season with CSKA Moscow in Russia due to the lockout after spending eight seasons with the Utah Jazz. 
For the Hornets, this trade is all about adding size to protect No. 1 overall pick Anthony Davis, who is blessed with immense potential but will be adding weight and strength to his frame over the next two or three seasons. Lopez, 24, isn't anything to write home about, but he's a big body who isn't afraid to deliver a hit and he averaged 5.4 points and 3.3 rebounds in 14.0 minutes off of Phoenix's bench last season. After the departure of Chris Kaman in free agency, the trade of Emeka Okafor to the Washington Wizards and the trade of Gustavo Ayon to the Orlando Magic in a sign-and-trade for Ryan Anderson, the Hornets clearly had a hole to address. 
The Suns, meanwhile, continue to spin their wheels. Acquiring the first-round pick for their troubles in agreeing to this deal is probably the highlight. They also get to take a flier on Johnson, 25, who hasn't shown much in his two NBA seasons. He started for Minnesota last year but posted averages of 6.0 points and 2.7 rebounds per game. It's not clear that there's untapped potential there either. Moving out of Warrick's $4 million per year deal is fine, but they were the ones to over-pay him in the first place. 
Miller, 36, is expected to retire. 
LeBron and Durant both responded to a newswoman's recent comments, telling them to 'shut up...

Mitchell's Slam Dunk Contest win was the icing on the cake of an incredible run of success

Dennis Smith Jr. had a great dunk contest, but the judges didn't feel the same way
Mitchell was awesome, but Larry Nance Jr. and Dennis Smith Jr. had some serious moves of their...

Silver noted that there are many factors at play with the issue affecting both the NBA and...

Jazz rookie Donovan Mitchell came in as a replacement and ended up winning the whole thing