To make the playoffs, Lakers need someone besides Bryant to step up
After a 109-95 loss to the Clippers on Sunday, the Lakers face a five-game push to make the playoffs. If they're going to get in, they need someone other than Kobe Bryant to display the kind of urgency that the moment requires. And that someone needs to be Dwight Howard.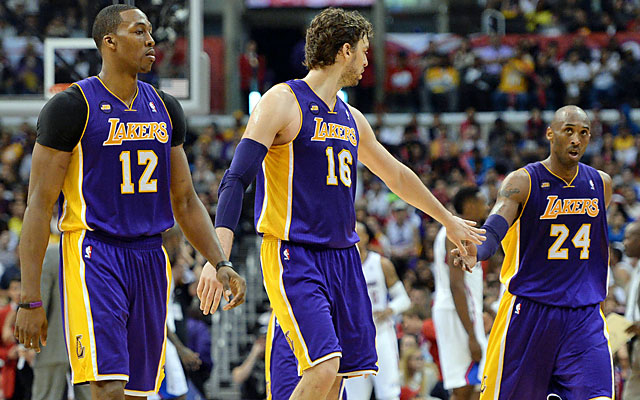 UPDATED 10:31 p.m. ET
Much will be made of the poetry that goes along with the Clippers clinching their first division title in franchise history on Sunday at Staples Center, at the expense of the true owners of that place, the Lakers. And why not? The Clippers have been the most productive tenant all season, and clearly are the only team from Los Angeles with a chance of advancing deep into the playoffs.
With visions of Blake Griffin dunking in (and on) their heads, the Lakers limp into the final five games of this strange, exhausting regular season a half-game behind Utah for the eighth playoff spot in the West. The Jazz, of course, hold the tiebreaker by virtue of winning the season series. So the Lakers need to beat them outright for admission to the postseason.
Five games left for the Lakers: four at home, and one in a place -- Portland -- where they've won only three times in the regular season since 2005 (3-12). In all likelihood -- and to no one's surprise, the way this drama-filled Lakers season has unfolded -- their fate will go down to the wire. With Utah winning at Golden State in the first of its five remaining games, it's quite possible the Lakers will be playing Game 82, at home against Houston in 10 days, needing to play their way into the playoffs.
More on Lakers-Clippers
Column

Related links
More NBA coverage
Of course they will. The basketball gods and show business would have it no other way.
Here is the problem with the Lakers, who scored a key victory over Memphis Friday night and are 23-12 since their season bottomed out with a loss at Memphis in late January: They still can't stop anybody, and they're waiting for Steve Nash to return from another injury to save them from themselves.
Of course, when Nash returned in late December from a six-week absence, he couldn't save anything. In fact, for long stretches while Nash has been healthy, the Lakers have relied on Kobe Bryant to be the trigger man in their offense. They have relied on Kobe to score and unleash his still-dizzying array of offensive artistry. And they have relied on Bryant to be the playmaker, too, with Nash settling into far more of an off-the-ball role than he's ever occupied during his 17-year career.
Bryant, even at 34, has pushed toward the finish line this season with a vengeance and a level of determination that has moved the needle even for him. He again logged at least 47 minutes for the third time in four games in Sunday's 109-95 loss to the Clippers. As admirable as Bryant's efforts have been, it is clear that he alone won't be enough for the Lakers to push into the postseason and start all over.
It won't be Bryant or Nash who will save the Lakers and get them out of this hellish regular season and into the playoffs. It will be Dwight Howard; or at least, it must be.
Howard is the Lakers' future, the face of the franchise once Bryant retires. (Or, at least that's the plan.) The Lakers have no choice but to accelerate that timeline and make Howard their focal point now, or risk a playoff berth slipping away.
Howard finally appears mobile and healthy after a long road back from back surgery. He's shown glimpses of his past dominance, such as a 24-point, 15-rebound, five-block performance at Sacramento and a 24-point, 12-rebound effort against Dallas. But nine points, five fouls and four turnovers against Memphis on Friday night? Twenty-five points and four blocks but only four rebounds -- four rebounds!?! -- against the Clippers on Sunday?
With Nash's impact during this five-game sprint for the playoffs unknown and Bryant huffing and puffing his way through 47-minute efforts that tax even him, the Lakers need Howard. They need him at his best, at both ends of the floor, every night the rest of the way.
The true superstars of this league have their teams positioned for deep playoff runs. In Miami, LeBron James has left no doubt about his stature as the most dominant player in the sport. In Oklahoma City, Kevin Durant is poised for another run to the Finals. Even in San Antonio, 36-year-old Tim Duncan is putting the Spurs on his back at a time when his team needs him most. 
In New York, Carmelo Anthony is on another scoring binge and has the Knicks on a 12-game winning streak after taking out the Thunder in Oklahoma City earlier on Sunday.
The Lakers are getting these kind of heroic efforts from Bryant, but they need more. They need Howard. If they don't get his best, every night during this final five-game push for the playoffs, the postseason berth that is somehow still there for the taking might just slip away.
Keep it right here for all your Friday NBA scores, updates and highlights

Russell has not played since injuring his knee against the Jazz on Nov. 11

Isaiah Thomas loves revenge games and he wants one against the Celtics in the playoffs
SportsLine's advanced computer model simulated Pelicans-Nuggets 10,000 times, with surprising...

SportsLine's Mike McClure, a DFS pro with more than $1M in winnings, gives optimal lineup...

This was supposed to be a guaranteed strength for a Thibodeau team