Tom Thibodeau says Joakim Noah's minutes will be limited
Bulls center has dealt with plantar fasciitis two of the past three years, needs a breather. Will Thibs actually help his big man out?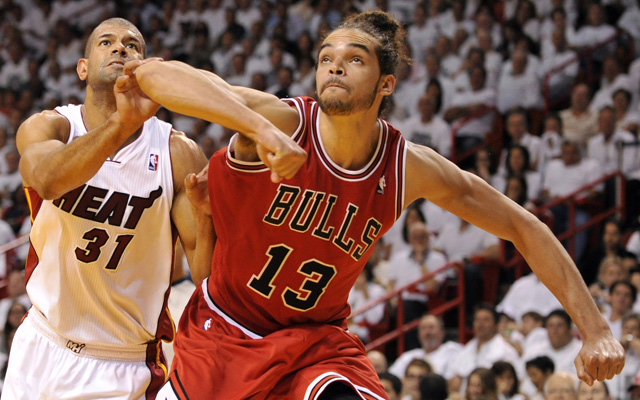 The Chicago Tribune reports that the plan this season is to limit Chicago Bulls center Joakim Noah's minutes in an effort to avoid a recurrence of the painful foot condition plantar fasciitis which has bothered him in two of the last three years.
After training with everyone from Hall of Famer Kareem Abdul-Jabbar to surfer Laird Hamilton in the summer of 2012, Noah enjoyed another free-spirited offseason. He toured China with Yao Ming. He again spent time in Africa, where his father's family has roots.

Through it all, he said he trained with no effects from the plantar fasciitis that has plagued two of his last three seasons. Thibodeau has said dropping Noah's minutes is a priority, so both the All-Star center and the Bulls are hopeful the recurring problem becomes manageable.
via Chicago Bulls: Five questions as Chicago Bulls enter training camp - chicagotribune.com.
My initial response to this: "Riiiiiiiiiiight." 
Noah played 37 minutes per game last season on a bad wheel that wound up keeping  him out 16 games. Thibodeau is notorious for not giving his heavy-minutes guys a break. If he's serious, though, that could really help with getting the maximum production from Noah, who was already at an All-Star level last season. The Bulls have a better roster than last year, despite not much in the way of big man depth, so that could help convince Thibs to focus more on keeping everyone in shape for the playoffs as opposed to last season when they were forced to kick on the afterburners just to stay in the top-five in the East.
 Either way, maybe this will be a less exhausting year for Noah, if Thibs is really serious about this. We're dubious, but hopeful. 
Victor Oladipo just wants to live his life and enjoy his breakout season with his new team

Keep it right here for all of the news, notes, scores, and highlights from around the Asso...

LeBron has a player option for next season, and is expected to opt out and become a free a...
The Pistons will be looking to snap a five-game losing streak when they host the Celtics on...

Bryant offers some advice for Ball and other rookies about having a sense of urgency in the...

Burks has stepped up in a big way for the Jazz, averaging over 20 points per game since Rodney...