Tony Parker, after signing extension: I want to 'be a Spur for life'
San Antonio guard Tony Parker signed a three-year extension and has no plans of leaving, ever.
• 1 min read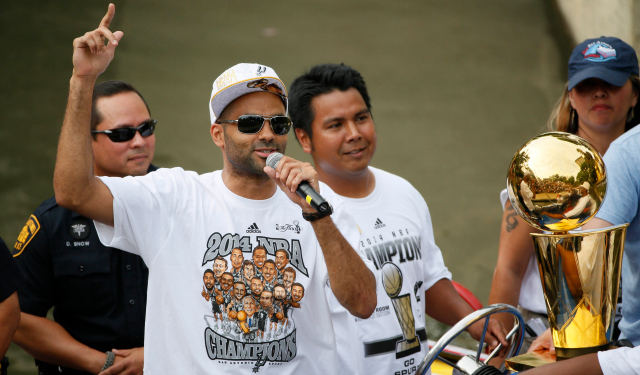 Offseason: Free Agency | Latest from Ken Berger | Rumors
Tony Parker has been with the San Antonio Spurs since he was 19, and his reported three-year, $43.3 million extension will keep him around until he's 36. The Spurs quietly worked out the deal and announced it on Friday while no one was really talking about Parker going into the last year of his contract.
One of the reasons negotiations were so easy is that the point guard has no desire to go anywhere else. San Antonio general manager R.C. Buford, in turn, wanted to keep the championship-winning team together and not worry about Parker's free agency. From the San Antonio Express-News' Jeff McDonald:
"I want to play for the Spurs my whole career, and be a Spur for life," Parker told the Express-News on Friday. "I love San Antonio and want to live here when my career is over. I love the city, I love the people and our great fans. I couldn't be happier."

…

"I'm so happy R.C., Pop and (chairman) Peter (Holt) put that trust in me, and have given me this opportunity to play my whole career for the Spurs," Parker said.
It's been discussed to death, but it really is remarkable how the Spurs have done what they've done. It's so rare for one player to spend his whole career with the team that drafted him, and it looks like we're going to see it happen with three future Hall of Famers in Parker, Tim Duncan and Manu Ginobili. 
For the time being, Parker will still be the guy who drives San Antonio's offense. Years from now when he's done, it's easy to picture him sitting courtside and cheering the team on like fellow Spur for life David Robinson does now.
Westbrook's late layup gave the Thunder a 109-108 victory

LeBron became the seventh player in league history to reach the milestone

There were a few things that stood out from Tuesday's All-Star selections
Here are three players from each conference who had legitimate claims to make the game

LeBron achieved the milestone in the first quarter Tuesday

Here are the full lineups for the 2018 NBA All-Star Game