Tony Parker giving back to Spurs by sitting out FIBA World Cup
San Antonio Spurs' point guard Tony Parker is sitting out of the FIBA World Cup out of respect for the Spurs. France will play without him.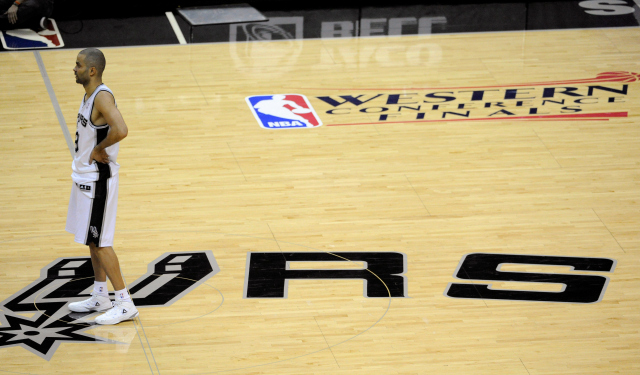 More Offseason Analysis: Coaching changes, news | Free Agency | Draft
Tony Parker is the most important basketball player in the history of France. He's been their greatest winner and most successful player, while also being a great ambassador for the country's basketball program. In 2013, he played in the FIBA EuroBasket tournament, winning MVP for France as he led them to the gold medal. However, after winning his third NBA championship for the San Antonio Spurs, he won't be leading France in the 2014 FIBA World Cup in Spain.
Dan McCarney of the San Antonio Express-News tells us Parker's decision to sit out the World Cup is a tough thing for Parker to do, but it's the correct decision for him. He also says it's a way to give back to the Spurs after they've been so understanding with him playing internationally in so many summers over his career.
So as much as Parker would love to be with Les Bleus getting ready for the World Cup, he's more than happy to have some time off.

"Obviously it's always tough to see my teammates start without me," he said. "It feels like my second family is playing right now. But I have to be smart. I think it's the right decision for me, for the Spurs if I want to play a long career. I want to play two more summers (with France) and then I'll be done.

"I think for all those years, being with San Antonio, (Spurs coach Gregg Popovich) has always been great with me and the national team. I felt like this was a summer I can give back to the Spurs."
Parker played in just 68 games this past season, due to injury and normal Spurs-mandated rest throughout the campaign. He's battled various nagging leg injuries over the past couple of seasons, as well. He missed 16 games in 2012-13 but has played in 44 playoff games over the last two postseasons. He's played in many FIBA world and European tournaments, along with the Olympics during his career. The summer off for him will allow him to rest for once and come back for 2014-15 ready to attempt a back-to-back run for the Spurs.
He averaged 16.6 points and 5.7 assists in 29.4 minutes in 2013-14. He's often asked Gregg Popovich to play him more because he has fresh legs, but these deep playoff runs take their toll. At the age of 32, Parker is finally giving in a little bit and letting his fellow countrymen play without him.
The Trail Blazers almost traded for Charles Barkley, but when they didn't, it put them in debt...

The self-proclaimed ASG snub Williams may be bitter about Butler requesting to sit out Sun...

The commish said they were overly conservative with the decision this year, but that should...
A dive into the NBA history books for every result from every NBA All-Star Game

James set the tone during practice that this year's All-Star Game was going to be differen...

The 76ers center handled 'mismatches' like they were nothing