Tony Parker: 'I was not 100 percent'
Tony Parker was questionable coming in to Game 4, but decided to take a risk and play on a strained hamstring anyway.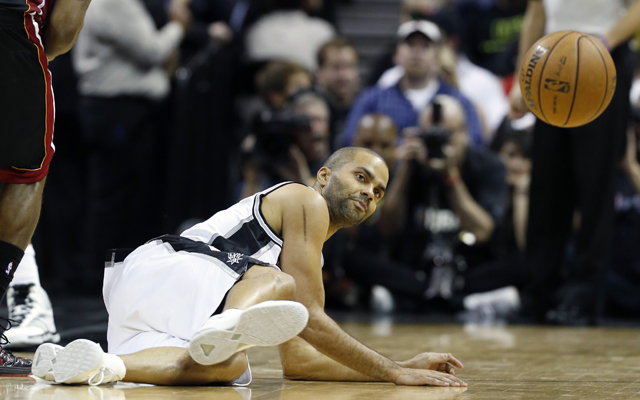 SAN ANTONIO -- Tony Parker called playing in Game 4 a "risk."
Because of a strained hamstring, he was questionable up until he and Gregg Popovich said he was "ready to go" at shootaround earlier in the day. Really, he was actually still questionable despite that, as Parker said he was really more just testing it than anything else. 
"[My hamstring] was kind of weak," he said. "I didn't know what to expect. So the first three, four minutes, I was testing it. And the first half, it felt OK. And the second half I think I got fatigued a little bit. But overall, I'm just happy I didn't make it worse. That was the goal, to not try to get hurt because Pop was not really happy, meaning I wanted to play and took a little risk. So I'm happy I'm not worse."
The Spurs are a team that don't really take risks, especially when it comes to the health and long-term view of their players. 
But Parker said he promised Popovich he'd be honest about how he felt and wouldn't unnecessarily take a chance on it. 
"I told Pop, let's see how it feels in the first quarter," Parker said. "And I told Pop I'll be honest with him if it doesn't feel good after the first quarter. We'll shut it down and not take a risk and get a tear."
Parker was pretty much spectacular in the first half, racking up 15 points on 7-of-12 shooting with six assists. But he was slowed in the second half, being held scoreless on 0-4 shooting, in part because of fatigue, which was as a result of favoring the leg. 
"Obviously I got fatigued in the second half," he said. "I was not 100 percent."
Game 5 is Sunday, which gives Parker two days to rest and heal. 
"It's going to be huge for me," he said. "Those two days I'm going to make sure I do a lot of treatment and get to 100 percent. ... By Sunday, that's my goal, to be good to go."
Markieff Morris was already in line to miss the start of camp due to a pending assault cas...

The 76ers should hopefully get a lot of play out of their young guys this season

Okafor's been on and off the trade block for over a year and doesn't seem to be in Philly's...
Fisher is the fourth NBA player to compete for the Mirror Ball trophy on the show

Barkley commends the NBA, sarcastically, for extending the season and reducing back-to-back...

Enes Kanter isn't seeing much comedy in the Kevin Durant social media situation