Tracking Trends: Is Kevin Love the frontrunner for MVP?
Two weeks down in the NBA season and things are starting to piece together. Like, is Jeff Teague becoming a star and can Kevin Love win the MVP?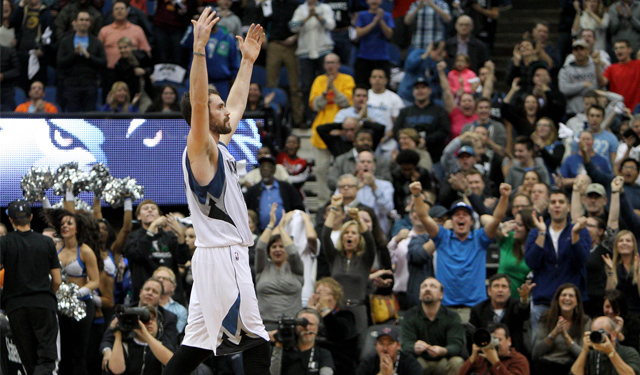 The 2013-14 NBA season is two weeks old now, which still means drawing any significant conclusions is classified as "too early to tell," but can absolutely fall in the "let's keep an eye on this" category. 
For example, at this time last season we were all asking, "Is something wrong with the Lakers?" and while it was too early to say at the time, they were already on their way to firing Mike Brown and in the end, something was very, very wrong with the Lakers. We could see it, but things just needed to play out a little more to confirm it. 
So let's check in on the week two trends:
Can the Clippers be the best on one end, and the worst on the other?
Doc Rivers' calling card in Boston has always been his defense, but now that he's replaced Kevin Garnett with Blake Griffin, he's not seeing the same kind of results with the Clippers. Offensively, the team is a juggarnaut, averaging 109.0 points per 100 possessions, second in the league only to the Heat. 
But defensively, they're 28th, allowing 106.0 points per 100. What's the deal here? 
Well, for starters, DeAndre Jordan isn't really the Defensive Player of the Year candidate people were trying to make him out to be. And with the fast pace and energy they're playing with, they're just not committing to the halfcourt shell. The game is open and explosive, rather than methodical. 
Oh, and there's also this: The Clippers have played eight games, with two of them being against Houston (sixth in offense), one against the Warriors (eighth in offense), one against Miami (first in offense) and one against Minnesota (15th in offense). So some of it might be more coincidental than anything else. 
Can Kevin Love win the MVP?
I'm just going to keep repeating it until everyone else starts agreeing with me: Kevin Love is the best power forward in basketball, and really, it's not even all that close right now unless you want to convince me LeBron James is really a 4 now. 
To win an MVP, or even truly compete for it, you have to be on an elite team. As Tom Haberstroh of ESPN.com researched while making an early case for Anthony Davis, the average number of wins an MVP's team has is 61.6. And while the Wolves are solid, they aren't winning 60 games. 
But look at Love's production: 26.4 points, 15.0 rebounds, 5.0 assists and the second best PER in the league. The Wolves are 5-3 and undoubtedly better than they were last season, and they're almost entirely centered around Love. There's a very real probability that assuming he plays all 82 games this season, Love will record 82 double-doubles, and with the way he's passing the ball, probably a few triple-doubles too. 
Let's say the Timberwolves win 50 games, grab the sixth seed in the West and Love finishes averaging 26-15-5 the entire season. You know who's averaged that in a season? Wilt Chamberlain, Elgin Baylor and Kareem Abdul-Jabbar. And no one since 1976. 
Winning is an important aspect of the MVP trophy, but sometimes, sustained excellence is more important. And if Love can keep this up -- and why wouldn't he; he averaged 26-13 in 2011-12 -- he may just have put up too good of a season to ignore. 
You're doing it wrong, Suns
Did you guys not watch Tuesday night's double-header featuring Jabari Parker, Andrew Wiggins and Julius Randle? 
The Suns are 5-2, have a +4.3 margin of victory and aren't just suprisingly decent, but they're really fun, too. Eric Bledsoe is a blossoming star, Gerald Green is becoming a more-than-capable role player and there's the incredible emergence of Markieff Morris, who has not only wrapped up the title of "Best Morris Twin" but he's exploding into a real-deal NBA stud. 
Check this: Top five PERs in the league: Anthony Davis (29.52), Kevin Love (29.24) Kevin Durant (28.88), Chris Paul (28.54) and DeMarcus Cousins (27.89). Right outside? Morris, who has an astounding PER of 27.44. 
He started the season slowly, scoring six points against the Jazz and six points against the Thunder, but in his last four games he's averaging 22.7 points... on 69.8 percent shooting! Obviously he's not going to sustain this over the course of the season, but Morris is establishing himself as an early contender for Most Improved, and turning the fun-and-gun Suns into a pretty good team. 
OK, for real now, what's up with Derrick Rose?
Before the Thunder's game on Sunday against the Wizards, Derrick Rose's PER was lower than Kendrick Perkins'. Let that sink in. 
At what point is it not about the rust? 
Physically, he looks as good as ever, bouncing around the court, jump-stopping, cutting, elevating, exploding, attacking -- he looks terrific. He just can't make anything (33 percent from the floor) and he's turning it over all the time (4.2 a game). 
Rose's shot selection has been a tad questionable as he's almost been too aggressive in attacking rather than letting the game naturally flow. He can get into the paint at will, but he's not finishing quite so well at the rim. This season he's only 20-52 in the restricted area (38.4 percent), which is down from 52.9 percent in 2011-12. 
For Rose, the rust quits becoming an excuse pretty soon and it just becomes more about his playing poorly. He's got to settle into his game and quit forcing.
The Nuggets are on the verge of becoming lottery fodder 
They're 2-4, they're playing bad offense and they just lost JaVale McGee for an extended period of time. We all knew this wasn't going to be the same team that won 57 games last season, but their fall appears to have been quick, and harsh. 
Last season, this was one of the fastest, best passing teams in the league. Now they've dipped severely in assists (19th so far this season) and they're playing quite a bit slower (97.0 possessions per game). 
Can the Celtics keep this up?
The Celtics started 0-4 and appeared poised to be this season's tankmasters. Now they're 4-4, which included maybe the most incredible win for any team this season, a 111-110 stunner over the Heat in Miami.
What's happened here?
Pretty simple thing, actually: Brad Stevens switched up his lineup. He moved Jordan Crawford to the starting five and put Gerald Wallace on the bench, allowing Avery Bradley to flow between running point guard and playing off the ball. It's paid off, as the Celtics have seen their offensive efficiency go from a pathetic 93.2 to a solid 106.2 since the switch was made. Defensively, they've remained mostly the same, but it's now that they're scoring points at a decent rate. The old starting lineup was producing only 80.3 points per 100 possessions, while the new one has increased to 89.8. Still not great, but once that new lineup subs on rookie Kelly Olynyk, they score 111.9 points per 100. 
Questions are, 1) can they keep it up and 2) do they want to? Rajon Rondo will be back at some point and when he returns, he should be able to fit exactly into the lineup as intended, with Bradley staying off the ball and Rondo taking over control of the team. The starting five will improve and the bench will get deeper. 
And with the Eastern Conference open on the back end, the Celtics could absolutely continue to win some games, pushing for a postseason spot. Still, what's the point of it? 
Hey guys, look at Jeff Teague
The Hawks are often a forgotten team for whatever reason, whether it's because of their lukewarm fanbase of their last six years of being good but never great, but Jeff Teague is off to a fantastic, All-Star level start. 
Through seven games he's averaging 17.1 points and 10.1 assists, and while his shooting numbers are a little light (just 40.2 percent from the field, and a true shooting of 49.6), he's maybe been Atlanta's best player so far this season. There was a lot of talk about rookie Dennis Schroder preseason, but Teague has firmly put his hand on the starting point guard duties in Atlanta. 
If he sustains this, where does he fall in the hierarchy of Eastern point guards? With Rondo hurt and Rose struggling, is he an All-Star candidate? You've got Kyrie Irving, John Wall and Deron Williams, plus Rose and Rondo, so making that push would be tough. But Teague is on the verge of breaking down that barrier much in the same way Jrue Holiday did last season. 
When will the Jazz win a game? 
Their best opportunity for a while is probably going to be tonight against the Pelicans who visit Salt Lake. Lose that one, and the Jazz have the Spurs, a home-and-home against the Warriors, at the Pelicans, at the Mavericks, at the Thunder, the Bulls and a home-and-home against the Suns. That's potentially dropping to 0-18. 
So you should probably win tonight, Jazz. 
Fergie: 'I'm a risk taker artistically, but clearly this rendition didn't strike the intended...

Victor Oladipo had a successful R&B album over the offseason and Jamie Foxx is a fan

Klay Thompson makes sure he stands out during All-Star Weekend
There's no shortage of moments to choose from

The Trail Blazers almost traded for Charles Barkley, but when they didn't, it put them in debt...

The self-proclaimed ASG snub Williams may be bitter about Butler requesting to sit out Sun...