Tracy McGrady feels bad for Kobe Bryant after watching the Lakers
Former NBA star Tracy McGrady was watching the Los Angeles Lakers Tuesday night and feels bad for Kobe Bryant when he returns to action.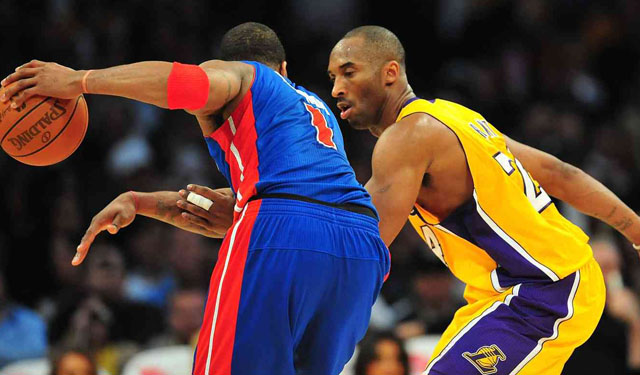 The Los Angeles Lakers are probably in for a tough season. They replaced star center Dwight Howard with Chris Kaman, and they've replaced Metta World Peace with Wesley Johnson. They still have talent on the team, but Steve Nash and Pau Gasol's injury concerns from last season are keeping most people from believing the Lakers will be able to provide enough consistency to wait out the return of Kobe Bryant from his torn Achilles' injury.
Even when Bryant does return, nobody can know for sure how he'll respond and recover from such a devastating injury. If Bryant returns to his old self we saw last season, the Lakers should have plenty of offense to be competitive but their defense projects to be a huge issue. Regardless of how he returns, former NBA star Tracy McGrady feels bad about the team that Kobe will be returning to.
Sitting here watching the Lakers, and I feel sorry for my boy Jellybean when he comes back!

— Tracy McGrady (@Real_T_Mac) October 23, 2013
McGrady is referring to the game between the Lakers and Utah Jazz from Tuesday night. The Lakers actually won that game by 14 points, but there were moments in which looking at the core of the Lakers didn't exactly blow your socks off. The Lakers received a big effort from the bench in order to secure the victory. Not to mention, it's preseason and you can't take results of those games all that seriously. 
This could be McGrady taking a little jab at a former rival star or this could be him recognizing the lack of talent this Lakers' roster has. We're used to seeing loaded Lakers teams ready to compete in the playoffs. I'm guessing if McGrady had to predict a fate for the Lakers this season, it would not come with playoff expectations.
Thomas spent a day with a 10-year-old girl whose family is also new to Cleveland

Barkley did not hold back with his opinion of the Big Baller Brand patriarch

We've got all the latest scores, highlights and news from Wednesday's NBA games
LaVar Ball also made it clear he thinks his sons are being placed in 'a great situation'

The Thunder are just 12-14 on the season, despite the addition of Paul George and Carmelo...

The then-Heat teammates squared off during the 2011 ECF, but Erik Spoelstra put a stop to the...