Tracy McGrady says he may return to China next season
Tracy McGrady says that he'll consider a return to the Chinese Basketball Association next season.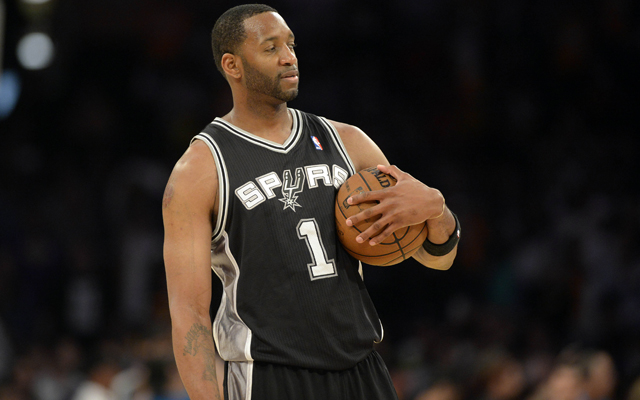 So close. Tracy McGrady finally got to the Finals this season as a bench-riding non-factor for the Western Conference Champion Spurs. He was 28 seconds from a championship ring. But alas, the Heat prevailed, and now McGrady continues to ponder his future. 
Over the weekend at an event in China, McGrady told reporters he may consider a return to the Chinese Basketball Association, where he spent most of last season. 
In a pre-game press conference in Nanning, McGrady said he might come back to China Basketball Association (CBA) league despite its under par competitive environment.

"For those who have played years in NBA and still want to prolong their career like me, CBA is a great alternative," said McGrady who played a whole CBA season before he joined the Spurs, clutched 25 points, 7.2 rebounds and 5.1 assists per game, and his all-star performance help him sustain his highly respectable status in China.

McGrady still enjoys great support from Chinese fans. According to media, in the Yao Foundation Charity Game he attended, spectators made several attempts to invite him on the court, yelling "T-Mac" , "T-Mac" throughout the last quarter of the game.

"China is a huge market. Last season when I played for Tsingtao Doublestar, the fans were incredible. I had a great time there," said McGrady.

But he didn't reveal much about the next stop of his career. "I am happy to be home with my wife and kids. But if possible, I may come back to CBA. I haven't really thought about that," said McGrady.
via Possibility of McGrady's return to CBA not ruled out - China.olrg.cn.
So not exactly a ringing endorsement or a pledge to return to the CBA, but it's at least on the table. It mostly depends on whether McGrady wants to hang around in suits and be a locker room guy or go on a fun tour of China, make more money, and have a comfortable life for another season. 
There's also nothing stopping him from doing what he did last season and play in the CBA for the year, then hop on to a playoff team when the CBA season ends. As long as he wants to play, that might be the best of both worlds, and it provides us for the exceptionally entertaining moments of "Tracy McGrady: Victory Cigar." 
Players getting older like this is kind of weird. 
HT: HoopsHype
Cavs star chose to be very secretive when talking to Lakers rookie after Thursday's game

New York announced Porzingis would not return shortly after star forward left game

Teletovic missed the final three months of 2014-15 season with Nets recovering from same i...
Keep it right here for all of the news, notes, scores and highlights from around the leagu...

The NBA's City edition Nike jerseys are bold and very different

The Wolves may be smoke and mirrors, but the Pacers have the look of a team that can hang in...