Tracy McGrady says he wouldn't have clashed with Shaq like Kobe did
Tracy McGrady has retired, which means he now heads into the phase where he gets to say things.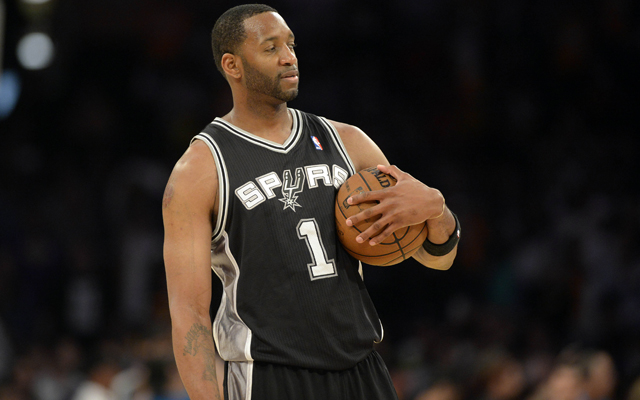 Tracy McGrady has retired, which means he now heads into the phase where he gets to say things. 
There's no arguing that in his prime -- and when healthy -- McGrady was as good a pure scorer as the game has ever seen. His combination of size, speed, athleticism and perimeter touch made him maybe the toughest cover in the league. 
And during an interview with Fox Sports Radio, via Larry Brown Sports, McGrady seemed to suggest he was every bit an equal with Kobe Bryant, going as far to say he and Shaquille O'Neal would've gotten along better. 
"Numbers don't lie. I was in the conversation of being one of the best in the league," McGrady said. "Whether I was better than Kobe, or he was better than me … I was in the conversation and it didn't matter at the time. I was playing at a high level and was very confident when I was on the court.

[...]

"We would have had a great run," McGrady said when asked about Shaq. "I don't know how many but, I know it would have never ended like it did with he and Kobe. I have a great relationship with Shaq. We would have never clashed heads like that. Two Alpha dogs going at there will always be (something going on)."
To recap: Shaq and Kobe won three championships together with the Lakers before the duo had a falling out then resulted in Shaq being traded to the Heat... where he then won another championship with Dwyane Wade. 
Would McGrady's skills have meshed with Shaq's? Would they have been able to experience similar success? There's no way to ever know. That's why you can say things after you retire. Because we can't know. 
What would do know if McGrady's career was destroyed but unfortunate injuries but when he had it rolling from 2000-2008, he was as elite as any player in the game. Pair him with the most dominant big man of this era and yeah, they probably would've won some games. 
The inaugural BIG3 season comes to a close Sunday with the championship game

Thomas was traded to Cleveland yet some fans are taking it out on him ... and his jerseys

The Celtics dealt the No. 1 pick to Cleveland as part of the Kyrie Irving-Isaiah Thomas tr...
Thompson was rumored to have been a point of discussion with the Cavs regarding Kyrie Irvi...

What the Celtics and Cavs look like after the Eastern Conference powers swap point men

Simmons was the No. 1 pick in the 2016 NBA Draft but did not play last season