Tracy McGrady to consider retirement after the season
The great career of Tracy McGrady could come to an end after this season. The seven-time All-Star is considering retirement.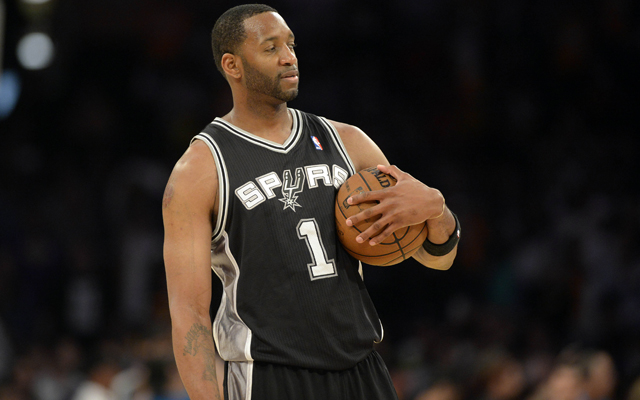 If this is Tracy McGrady's last season in professional basketball, at least no one can say anymore he never won a playoff series. 
Via Yahoo Sports, McGrady said he'll consider retirement after the season finishes. If you weren't aware, or maybe forgot, McGrady has a chance to win a ring "playing" for the Spurs in the NBA Finals. 
McGrady, 34, joined the Spurs late in the season after San Antonio surprisingly released Stephen Jackson. McGrady didn't appear in a single regular-season game for the Spurs after being signed in mid-April but did make his debut in Game 4 against the Lakers in the opening round. 
McGrady's career kind of faded out in 2010 when he was traded to the Knicks, and then assuming a bench role for the Pistons in 2010-11, and then again with the Hawks in 2011-12. Before joining the Spurs, he played for the Qingdao Eagles in China, averaging 25.0 points, 7.2 rebounds and 5.1 assists. 
McGrady is actually a year younger than Kobe Bryant but has struggled with back and knee problems the last five or six years. Injuries robbed him of his explosiveness and essentially, maybe the prime years of his career.  
If McGrady does indeed hang up his sneakers after this season -- joining Grant Hill and Jason Kidd -- he would appear to be a lock on Hall of Fame inclusion. He notoriously struggled in the postseason, never finding his way out of the opening round until this season. But he's one of the NBA's purest scorers ever, making seven All-Star teams and winning two scoring titles. 
And who knows? Like Adam Morrison, maybe he'll forever be known as an NBA champion, too. 
Oklahoma City has reportedly offered the MVP a five-year extension worth over $200 million

The big man was a big part of the Warriors' championship run last season

The Cavs jokes were out in full force after Golden State reportedly agreed to sign Antonius...
New York seems to be at the top of Irving's list of preferred destinations

Is it just a normal workout, or is LeBron continuing his recruiting efforts?

Chris Bosh answered on the spot about the LeBron James and Kyrie Irving situation