Trade Buzz: Teams trudge cautiously toward deadline
The usual trade deadline frenzy might yet be upon us before 3 p.m. ET Thursday. But for now, team executives believe the new trade and financial rules have had a chilling effect on the discussions.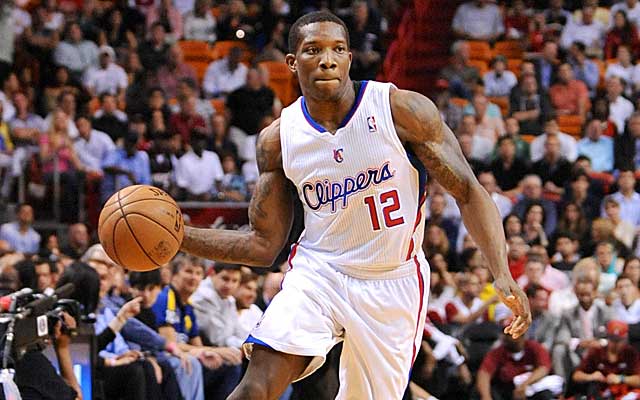 The Clippers will have to decide this week whether to trade guard Eric Bledsoe. (US Presswire)
UPDATED 4:28 p.m. ET, Feb. 19
The usual trade deadline frenzy might yet be upon us before 3 p.m. ET Thursday. But for now, team executives believe the new trade and financial rules have had a chilling effect on the discussions.
Teams have become hypersensitive to the enhanced luxury-tax penalties and looming repeater tax, so the days of easily dumping long-term salary in exchange for a draft pick are effectively over. Plenty of teams are seeking draft picks and young talent, but those teams possessing such prized commodities aren't willing to easily give them up. 
Teams that have used their full mid-level exception this season (Boston) or bi-annual exception (Chicago) are hard-capped at $74 million. Without a third team to absorb salary, it's going to be challenging for such teams to pull off a blockbuster trade. A team like Brooklyn is allowed to exceed the $74 million hard cap because it has not used one of those exceptions, so the Nets have more room to maneuver.
More on NBA trade deadline
Related links
More NBA coverage
The only area of increased urgency to complete trades by Thursday's deadline as opposed to this summer would be deals involving prospective free agents. With players like Al Jefferson and Josh Smith, Utah and Atlanta, respectively, might want to consider moving them now because there will be far fewer potential trade partners in July. Why? Starting this summer, teams whose post-trade payrolls exceed the luxury-tax line by more than $4 million will not be permitted to acquire a player in a sign-and-trade. So if the Nets want Dwight Howard, for example, it would be much easier to acquire him now. Getting him in July would require them to shed approximately $28 million in salary -- and getting Howard to agree to a four-year deal as opposed to the five he could get from the Lakers.
So with that backdrop, here's the latest trade buzz culled from conversations with front-office executives, agents and others in the know:
• The Hawks are believed to be seeking a combination of expiring contracts, young players and draft picks in exchange for Smith, whose expressed desire for a five-year, approximately $90 million max contract has cooled the market for him. Rival executives continue to believe that the Suns have been aggressive in their pursuit of Smith and other trades. But even with a potential lottery pick from the Lakers in the Steve Nash deal, execs are skeptical that Phoenix has enough attractive young players to complete the deal. The Nets and Celtics have inquired about Smith, but it's too early to say where those talks are going.
• Another team linked to Smith is the Bucks, who are "definitely active," according to a rival exec. Milwaukee has to decide whether it will make prospective restricted free agent Brandon Jennings available, though sources say the Bucks like their chances of being able to match any offer sheet this summer; their books are relatively clean after this season. If Milwaukee gets involved in discussion of a larger deal involving Smith or one of their own starting guards, Jennings or Monta Ellis, one valuable piece who could be added to the mix is Luc Mbah a Moute. Teams like his defensive versatility, rebounding and a reasonable contract that declines from $4.8 million this season to $4.4 million in 2014-15, which coincides with the NBA's next big free-agent frenzy. One deal that has been proposed is Mbah a Moute and a first-round pick to Orlando for J.J. Redick, who will be a free agent this summer, multiple league sources say. The belief is that Milwaukee would only do that deal if they moved Ellis first.
• There's widespread belief among league execs that the Lakers will not trade Dwight Howard, who is an unrestricted free agent after the season and has had an inauspicious stay in L.A., to say the least. But several teams believe the Hawks will make a serious push for Howard before the deadline. If Howard is dertermined to leave the Lakers as a free agent, the Hawks would have room to sign him, but only for a four-year deal. If they were able to trade for him now, Howard could re-sign for a full, five-year max deal in his hometown.
• The Raptors would move Andrea Bargnani in the right deal, but rival execs have detected no urgency from Tornoto's front office.
• The Clippers are willing to listen to offers for Eric Bledsoe but are by no means determined or even necessarily willing to deal him. Though it's all but a foregone conclusion that Chris Paul will re-sign with the Clippers this summer, rival execs are skeptical that the Clips would risk trading Bledsoe if there's even the slightest doubt about CP3's future -- not to mention the slightest possibility of an injury to the All-Star MVP that would derail their push to contend for a title this season. Conversations with the Celtics about Kevin Garnett are dormant for now as both teams evaluate their options.
• Garnett's strong comments during All-Star weekend about not waiving his no-trade clause -- "I bleed green; I die green," he said -- have resonated with the Celtics' front office and around the league. Rival execs believe Celtics president Danny Ainge understands that if he trades Garnett, he must also trade Paul Pierce, and vice versa. It's not clear yet in league circles whether the Celtics are ready for such a sudden and irreversible cultural change. Short of a full-blown purge of the Big Three era, rival execs believe the Celtics would consider moving a contract (such as Jason Terry's $5 million) to get under the luxury tax in what essentially is a lost season due to injuries.
• The Bulls are in the same boat with the tax line. Although they planned to be over the tax for the first time this season, Derrick Rose's stated reluctance to return from ACL surgery before he's "110 percent" presents a dilemma. Why pay the tax and burn a year on the clock that begins ticking this season toward massive repeater-tax penalties for a less-than-championship season? For that reason, sources say the Bulls are open to moving Rip Hamilton in a deal that makes sense and saves them a year on the repeater-tax rolls.
• Similarly, rival execs would be surprised if the Warriors remained above the tax line, which they exceed by less than $1 million. Golden State has three minimum-salary players -- Jeremy Tyler, Charles Jenkins and Kent Bazemore -- and moving two of them would forestall the repeater-tax clock.
• The Thunder are listening to offers for backup point guard Eric Maynor, who is eager for more playing time. Maynor will be a restricted free agent this summer. Utah needs a backup point guard and would be a good fit, but sources say the Jazz front office is consumed with the dilemma of whether to trade Jefferson or Paul Millsap.
• Minnesota is aggressively offering draft picks for established wing help, but the Wolves have yet to find anyone ready to deal.
We've got all the scores, top plays and news from a busy NBA Friday

Butler didn't put any pressure on his right leg as he was helped to the locker room on Fri...

Our advanced computer model simulated Saturday's Magic vs. 76ers game 10,000 times
Several playoff contenders could use the services of Ilyasova, who's nearing a buyout agre...

Durant says he probably wouldn't have gone to college because he 'needed the money'

Ball, who has missed the last 15 games with a sprained MCL, will be on a minutes restricti...