Trade Buzz: The Suns' Goran Dragic dilemma and other trade news
The Suns have a decision to make with prospective free agent Goran Dragic, one of the many scenarios playing out as the NBA trade season heats up.
NEW YORK -- With the Mavericks opening trade season with a bang by acquiring Rajon Rondo from the Celtics, the countdown to the Feb. 19 deadline is officially underway. Here's the latest from around the league:
• The Phoenix Suns, who beat the lowly Knicks 99-90 on Saturday, are in a bit of a quagmire with free agent-to-be Goran Dragic, rival executives say. Multiple teams already are inquiring as to what it would take to break up the Suns' three-guard rotation of Dragic, Eric Bledsoe and Isaiah Thomas -- with Dragic, a prospective free agent, garnering the most attention. Coincidentally, executives have gotten the impression that Dragic is the one Phoenix would most like to keep if they do, indeed, decide to make a move. 
From the Suns' perspective, they're 11-6 when all three guards play, validating coach Jeff Hornacek's strategy to play fast with at least two of them on the floor at the same time -- an approach that resulted in 48 wins and a near-miss for a playoff spot last season.
"That's what the guards are here for, to be a three-headed monster," said Bledsoe, who had 25 points and 10 assists against New York.
The West is every bit as tough, if not tougher, this season. The anticipated rise in the salary cap resulting from the NBA's $24 billion TV deal has bolstered Phoenix's hopes of re-signing Dragic, which they fully intend to do, a league source said. But in the meantime, they'll listen to offers as they try to establish his value on the open market and what it will cost to pay him.
"Right now, I'm going to be 100 percent focused on the team and helping the team," said Dragic, who had 10 points on 4-for-11 shooting in his second game back after missing two with a strained lower back. "... If it's going to happen, then it happens. The only thing that I can do is be professional and try to be ready every game and help my teammates. In the end, we're going to see."
The team to watch here is Houston, which has been after Dragic since he left as a free agent in 2012. Dragic can, and will, opt out of his $7.5 million contract for next season.
• The Hornets aren't having much luck drumming up quality offers for Lance Stephenson, who they signed to a three-year, $27.4 million deal this past summer. After winning 43 games last season and making the playoffs, Charlotte is an abysmal 7-19 -- and chemistry, or lack of it, is a big part of the problem. The Pacers have had high-level internal talks about making a play for Stephenson, sources say, but there's a lot of hesitation -- and for good reason.
First, if anyone understands the upside and downside to Stephenson, it's the Pacers. Second, they're starting to play better and want to see where they stand once George Hill returns from a knee and quad injury that has kept him out all season. Perhaps most important, it's unlikely that the Pacers would surrender any significant assets to get Stephenson back given that superstar Paul George is out for the season. What does a team that has been to the Eastern Conference finals two years in a row gain from giving up assets to bring back a player who may or may not help them secure the eighth seed?
As for Charlotte, one scout who saw them recently noted that their team-wide defensive intensity has taken a major step back from last season, when they were sixth in the NBA in points allowed per 100 possessions. They're 22nd in defensive rating this season.
"I'm perplexed by it, because when I watch them, they're not that bad," the scout said. "Kemba [Walker] is playing OK, Al [Jefferson] is playing OK, and Lance obviously hasn't played very well."
• An interesting aspect of the Rondo deal was how Celtics president Danny Ainge hedged his bets with sandwich protection on the first-round pick that comes over from Dallas. The Celtics only get it in 2015 if it falls in the 4-14 range, which most likely will push the pick to 2016, when it's top-7 protected. One of the key stumbling blocks in early trade talks around the league is placing a value on first-round picks since lottery reform is coming and no one is sure what form it's going to take. Ainge also learned from last year's trade deadline, when not a single first-round pick was exchanged for an expiring contract, and shrewdly decided to get one while the market for Rondo was hot.
The highest price paid for an expiring contract at last year's trade deadline was two second-round picks, which the Sixers got from Cleveland for Spencer Hawes. By completing the deal before Dec. 19, Ainge also can re-package Brandan Wright, Jameer Nelson and/or Jae Crowder in another trade at the deadline if need be.
• The Nets also are active in the trade market, and have engaged Sacramento in talks about a deal centered around point guard Deron Williams, league sources confirmed. Though a reunion with former Jazz assistant Tyrone Corbin is logical, there's no significant traction in the Kings-Nets talks -- largely due to the Nets' reluctance to part with forward Mason Plumlee, one person familiar with the talks said. Yahoo first reported the discussions.
Williams, who has two years and $43 million left on his contract, and Joe Johnson, who has one year and $24.9 million left, will be difficult for the Nets to move, rival executives said.
"Those contracts are hard to swallow," one exec said.
Brooklyn might have better luck unloading Brook Lopez on a rebuilding team willing to take a chance on the injury-prone center, who has one year and $16.8 million left. In any scenario, the Nets have indicated no willingness to take on contracts that go beyond next season, as they are positioned to have $50 million in cap room when the new TV deal kicks in and won't jeopardize it for a short-term fix, league sources said.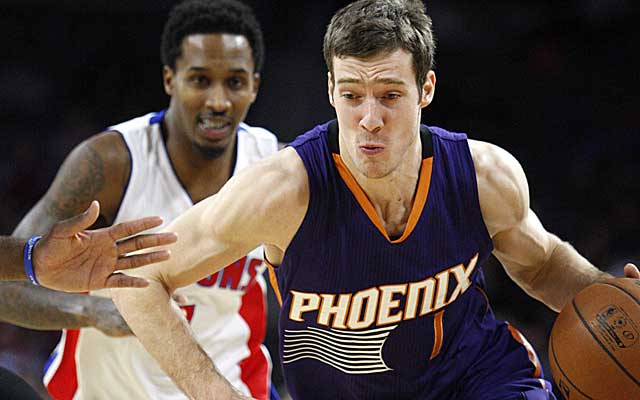 The younger Ball brothers are heading to BC Prienai, but that could spell trouble

Keep it right here for all of the news, notes, scores, and highlights from around the Asso...

SportsLine's advanced computer model simulated Tuesday night's Lakers-Knicks game 10,000 t...
The Reno Aces are concerned about the new WNBA franchise stealing their thunder

Hinkie parted ways with the 76ers in 2016 after drastically changing the direction of the...

SportsLine's Mike McClure, a DFS pro with more than $1M in winnings, gives optimal lineup...