Trade Deadine Report: Clippers, Jazz talked Bledsoe-for-Millsap trade
The Clippers and Jazz have reportedly had conversations about a Bledsoe-for-Millsap trade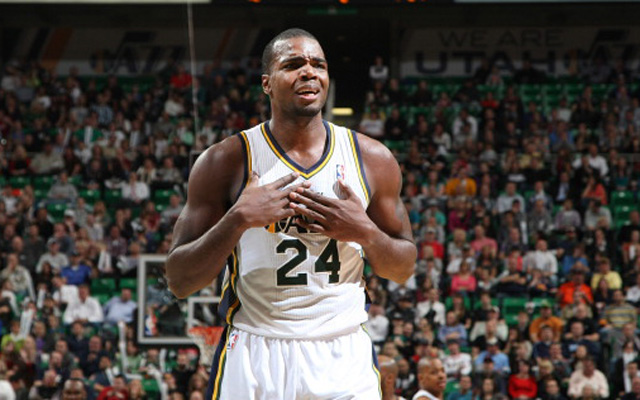 'You sure you want to do this?'
(Getty Images)
ESPN reports that the Jazz and Clippers have a "mutual interest" in a deal involving backup PG Eric Bledsoe for forward Paul Millsap. 
Sources with knowledge of the situation told ESPN.com late Saturday there is a level of mutual interest between the Clippers and Utah Jazz in exploring a deal that would feature Bledsoe as the headliner in a trade package for Jazz forward Paul Millsap.

Although two sources with knowledge of the Clippers' thinking insisted during All-Star Weekend that Bledsoe would not be moved in coming days and strongly predicted L.A. would stand pat, two other sources indicated the Clippers and Jazz will at least discuss the feasibility of a trade headlined by Bledsoe and Millsap before the deadline.
(via Los Angeles Clippers, utah Jazz to talk Eric Bledsoe for Paul Millsap, sources say - ESPN Los Angeles)
This is weird. 
For starters, Millsap isn't a center. Under any circumstances. He's 6-8. He can play a little at small forward, but you're going to get in trouble against anyone fast. In reality, he's a very good power forward, able to stretch the defense and play inside. But one problem there for the Clippers ...
Blake Griffin. That kind of causes an issue. Theoretically the Clippers could be aiming to play small, like so many teams have opted to this season, but let's run through a brief list of teams the Clippers are likely to face in the playoffs: Grizzlies (two bigs), San Antonio (two bigs), Oklahoma City (two bigs), Golden State (two bigs if Andrew Bogut is healthy). This isn't the East. 
And they're certainly not trading Griffin, you have to assume. 
So like I said, kind of weird. 
Then there's Utah's side. It makes sense for the Jazz, in many ways. Bledsoe's young and on a rookie contract with some time on it. They need to clear space out of their logjam down low. And they desperately need a point guard of the future. You could argue that the Clippers would be selling low on him with this deal, and that's saying something considering how good Millsap is. 
We'll keep an eye on it, but the big takeaway? 
The Clippers are making calls.
A look at the context of the schedule and who plays who when, and how far they travel during...

Durant took on rapper Lil Dicky and actually might have lost

A report that James would once again be leaving Cleveland made the rounds on Wednesday
Known for his 'take that for data' rant, the Grizzlies coach touched on a number of important...

Wade's days with the Chicago Bulls appear to be numbered

Misty Suri will reportedly keep his job with the New Orleans Pelicans