Trade deadline hindsight: 2013 deadline deals revisited
With so many reactions to this trade deadline, let's go back to last year's trade deadline and re-evaluate the deals made.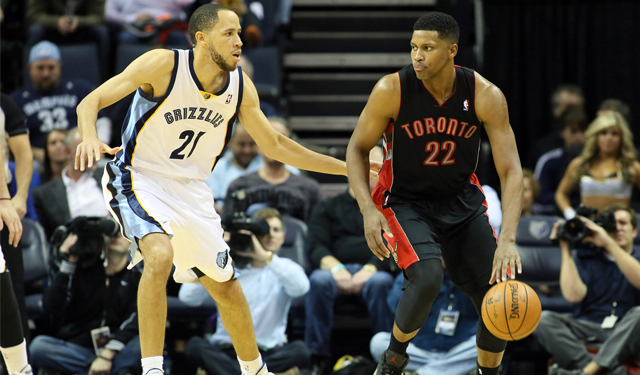 It can take very long for a trade to truly play out.
We've seen trades show immediate impacts like when the Detroit Pistons acquired Rasheed Wallace before the trade deadline and went on to win the title a couple months later. We've seen trades take years to fully play out because of draft picks involved and pick protections that delay the inevitable. Because of this, it's important to look back on how trades look with a bit of breathing room from when they happen.
After the 2013 trade deadline, I took a look at the 2012 trade deadline moves to see if our opinion had changed about the big and small trades that went down. You never know when a small trade will become a lot more significant in the following years. We had some big deals to revisit from 2012. We don't necessarily have that luxury from 2013 but there were still some decent trades. We're also going to use the month leading up to the trade deadline as our window because it affected how things went down at the deadline.
Let's use some hindsight to re-evaluate what went down a year ago and take stock of how it's worked out. 
What we said at the time: The question is, is this a move to create a little flexibility for more future moves, or one to prevent them? The trade brings the Grizzlies right down to the tax line and saves them roughly $6 million. They have reportedly been exploring trades involvingRudy Gay and Zach Randolph recently to try and help themselves financially.
But by moving Selby, Ellington and Speights, the Grizzlies have allieved their financial concerns without moving a big piece. Then again, open up extra roster spots and shifting around some money could be a signal that the Grizzlies plan on being dealers at the trade deadline. -- Royce Young on Memphis
Looking back on the trade now: Royce was correct in thinking this trade could lead to more dealing at the deadline. The Grizzlies created some luxury tax breathing room with this deal and ended up adding a pretty nice role player in Leuer. The players they gave up in the deal didn't end up meaning much to the Cavaliers. Ellington moved on to the Mavericks, Speights is with the Warriors, and Selby is playing in the Croatian League. The 2015 pick is the tricky part of this deal. It's protected 1-5 and 15-30 in 2015 and 2016. 2017 and 2018 are just top 5 protected and 2019 is unprotected.
This was a bench and salary clearing move to allow them to make an even bigger move at the deadline.
Raptors, Grizzlies, Pistons three-team deal
RAPTORS RECEIVE:
GRIZZLIES RECEIVE:
PISTONS RECEIVE:

F Rudy Gay
C Hamed Haddadi 

F Tayshaun Prince
PF Ed Davis
2013 2nd Rd Pick 
PG Jose Calderon
What we said at the time: It's mostly that the Raptors spent their best trade chip to get Rudy Gay, which is kind of like breaking open your piggy bank you've been saving for three years to buy the mid-size luxury car. 

I like the boldness of making the move, I like the player and his fit with coach Dwane Casey. I like not getting stuck and having to waste Calderon's trade potential. But you just can't look at this move as anything but sideways, unless Gay is able to blow up and live up to his contract. If that happens... -- Matt Moore on the Raptors
Looking back on the trade now: This was the big trade that set the internet on fire as we all watched it burn. The Rudy Gay trade became a referendum on how we judge advanced stats (or really just basic shot location stats) vs. the eye test. There wasn't any room for both or any place for middle ground on the subject. Gay was a star quality talent that couldn't hit a jumper consistently and he needed a change of scenery. The change helped too. He played a little better, his team played well with him on the floor, and they were bad enough and the salary cap situation was constipated enough that a front office regime change came in.
Within the first two months of this season, the Raptors shed his giant contract and began fielding a more competitive team. The Grizzlies have used Prince and Davis as nice role players, and Jamaal Franklin was the second round pick they got in the trade. The Pistons got some nice shooting out of Calderon, but he moved on to the Mavericks in free agency. This was a gamble by Colangelo that didn't exactly work, but it led to an overhaul in the front office that was much-needed.
What we said at the time: The Bucks get a good guard upgrade for a playoff run, but Redick will be behind Monta Ellis in minutes, and is an expiring contract. Without a deal for Ellis, all they've really done is turn a logjam down low into two logjams, even after sending the two guards out. But Redick is a quality player and should the Bucks not re-sign Ellis in free agency, Redick can be re-signed at a quality price. -- Matt Moore on Milwaukee
Looking back on the trade now: The two big pieces in this trade were Redick and Harris. Harris went straight to Orlando and starting playing fantastic basketball. He's struggled through some injuries this season but he looks to be a decent asset for the Magic either to develop or to use in a trade. Redick was supposed to provide some support and spacing for Brandon Jennings and Monta Ellis last season, and that didn't happen as planned. He shot just 31.8 percent from 3-point range, by far the worst of his career.
Redick was sort of an insurance policy in case the Bucks didn't keep Ellis and they ended up losing both in free agency. Now that their backup plan of O.J. Mayo hasn't helped them return to a playoff position in the East, they can take the worst record in the league and start rebuilding.
Blazers, Thunder deal
BLAZERS RECEIVE:
THUNDER RECEIVE:
PG Eric Maynor
Trade exception
PF Georgios Printezis 
What we said at the time: With the Trail Blazers desperate for some production and depth off the bench, acquiring Maynor -- who is about 13 months removed from ACL surgery -- seems like a solid move. Before this move, Portland was trying to find some kind of consistency with either Nolan Smith or Ronnie Price playing backup point to Damian Lillard. Now they have someone who can continue to get stronger from his knee injury and get back to being one of the better backup point guards in the league, like he was before the injury. -- Zach Harper on Portland
Looking back on the trade now: You know what Eric Maynor hasn't done? Regain any kind of prior form of successful play. He's been a horrendous player since tearing his ACL a couple years ago and was just traded to the Sixers in a deal to bring Andre Miller to the Wizards, where Maynor was struggling to get minutes. Unless he can have a breakthrough, it's hard to see Maynor sticking around very long.
What we said at the time: He does give the Thunder another defender to throw at wings, though, when Thabo Sefolosha is otherwise occupied and they want to keep Kevin Durant out of foul trouble. Not a bad pickup, but he's also unlikely to make a big impact for them this season. -- Matt Moore on Oklahoma City Thunder
Looking back on the trade now: Ronnie Brewer got into just 14 regular season games and one playoff game with the Thunder. He signed with the Rockets back in August and the Knicks are waiting to botch wherever this second round pick ends up.
What we said at the time: With so many injuries to the Celtics' backcourt (Rajon Rondo, Barbosa), Boston could really use some scoring punch in the backcourt and a guard who can handle the ball. Crawford is technically that type of player. He's having the best season of his short career, averaging 13.2 points, 3.7 assists and 3.1 rebounds. He's shooting just 41.5 percent from the field and only 34.5 percent from the 3-point line, but both of those numbers are career highs. -- Zach Harper on Boston
Looking back on the trade now: Jordan Crawford finally began to emerge as a productive role player that isn't just putting up totally empty stats. He didn't do much last season in Boston but he was so good as the lead guard to help the Celtics try to manage life without Rajon Rondo that he ended up winning an Eastern Conference Player of the Week in December. Since then, he's been moved to the Warriors. Barbosa and Collins didn't provide anything to the Wizards last season but Collins did make big news shortly after the season.
What we said at the time: Warrick and McRoberts have both played limited minutes. The Magic likely wanted to give McRoberts an opportunity where he could earn more minutes and see what Warrick can offer. We'll wait to see if there's more included in the deal as an incentive to Orlando. -- Matt Moore on Charlotte
Looking back on the trade now: Josh McRoberts has actually become a solid rotation player for a Bobcats team that is in a nice position to make the playoffs. McBob has bounced around the league quite a bit in his seven seasons, but he's found a real niche with Charlotte in his full year there. He's averaging a very Boris Diaw-like 8.4 points, 5.1 rebounds, and 4.1 assists while giving them a decent perimeter presence. Warrick has been playing in China since 2013. 
What we said at the time: The acquisition of the 32-year-old Jones gives Atlanta a little more athleticism on the perimeter and a much better defender than Morrow. Jones has had the worst season of his career since his rookie season. He's shooting just 35.7 percent from the field and 21.6 percent from the 3-point line. -- Zach Harper on Atlanta
Looking back on the trade now: Jones was pretty awful when it came to his time with the Hawks last season but he did have the memorable moment of having Kobe Bryant come down on his foot after a late-game jumper. It sparked the big discussion about whether or not Jones is a dirty player and it was a precursor to Bryant tearing his Achilles' tendon later in the season. As for Morrow, he barely played with the Mavericks the rest of the season and signed with the Pelicans this past summer.
76ers, Warriors deal
76ERS RECEIVE:
WARRIORS RECEIVE:
G Charles Jenkins
Future 2nd Rd pick
What we said at the time: We didn't; it was Charles Jenkins for a future second round pick.
Looking back on the trade now: Charles Jenkings is now in the Serbian League and the Warriors don't get to cash in on this second round pick any time soon. But other than that, it was a pretty significant move.
Hawks, Warriors deal
HAWKS RECEIVE:
WARRIORS RECEIVE:
C Jeremy Tyler
Cash
Future Considerations 
What we said at the time: We didn't; it was Jeremy Tyler for cash and whatever future considerations are.
Looking back on the trade now: The Hawks don't have Jeremy Tyler anymore. He's now on the Knicks. The Warriors probably spent that cash making the Pharrell "Happy" video and the future considerations probably just mean they would consider doing a meaningless trade with each other again in the future.
Raptors, Suns deal
RAPTORS RECEIVE:
SUNS RECEIVE:
PG Sebastian Telfair
C Hamed Haddadi
2014 2nd Rd Pick 
What we said at the time: It's good that Phoenix is committing to cutting salary and clearing money for the young players. You'd just think they would have made more moves with their veterans. But this is a good, small deal for both sides to accomplish some basic goals. -- Matt Moore on Phoenix
Looking back on the trade now: Have you seen "Through The Fire" about Telfair's rise in high school? You haven't? Do that by the end of June. It won't have any influence on what this trade ends up being but we'll at least know who the second round pick is by then.
Grizzlies, Heat deal
GRIZZLIES RECEIVE:
HEAT RECEIVE:
C Dexter Pittman
Cash
2nd Rd Pick 
Rights to C Ricky Sanchez
What we said at the time: Pittman's a big body at 6-11 and 285 pounds but has never materialized into anything more than that. He's a raw player who hasn't found a way to really contribute. The Grizzlies have a little extra room in their frontcourt for depth security and probably don't mind trying him out to develop behind Marc Gasol. -- Matt Moore on Memphis
Looking back on the trade now: Pittman is currently in the D-League, not as an affiliate of the Grizzlies, and Ricky Sanchez is playing in Puerto Rico. The second round pick in the deal was Janis Timma, the 60th pick in the 2013 draft. He's playing in Latvia. Hopefully the cash went toward sprucing up the bike lanes in Memphis so John Hollinger can feel more like he's in Portland.
What we said at the time: It feels like the Rockets are priming themselves for another big move. It's probably not going to come Thursday before the 3 p.m. ET deadline, but it could come once the free agency moratorium has run its course this summer. Is that move trying to land both Dwight Howardand Josh Smith this summer to pair with James Harden? Possibly. Only time will tell if these dreams of Daryl Morey bringing one of the biggest stars in the NBA willingly to the Rockets' organization will come to fruition. -- Zach Harper on Houston
Looking back on the trade now: Thomas Robinson did become somewhat significant for the Houston Rockets. He was practically given away to the Portland Trail Blazers for two European prospects and two future second round picks. The cap space helped the Rockets lure Dwight Howard to town, and now the Rockets have championship aspirations. Francisco Garcia also has become a nice role player for the Rockets, emerging in the 2013 playoffs as an annoyance to Kevin Durant. Honeycutt moved on to the Israeli Super League.
As for the Kings, they don't have any of the players from this trade. Aldrich is on the Knicks after signing as a free agent, and Toney Douglas signed with the Warriors before being traded to the Heat. Patterson struggled a bit this season with the Kings but was part of a package to bring Rudy Gay to Sacramento. Gay has worked out well with the Kings so far.
Suns, Rockets deal
SUNS RECEIVE:
ROCKETS RECEIVE:
F Marcus Morris
2013 2nd Rd Pick
What we said at the time: 
Marcus was taken 14th overall by the Rockets in 2011, with Markieff going one spot ahead to the Suns. The deal was part of a larger shuffling the Rockets did Wednesday as they also moved Cole Aldrich, Patrick Patterson and Toney Douglas to Sacramento for Thomas Robinson, Francisco Garcia, Tyler Honeycutt and a future second-round pick. -- Royce Young on Phoenix
Looking back on the trade now: This is a trade that will probably work out nicely for both parties. Marcus Morris got to team up with Markieff Morris and they've been a pretty nice combination on the court together for the Suns. The draft pick the Suns gave up became Isaiah Canaan out of Murray State. Canaan has been fantastic in the D-League and will be the third point guard in the rotation for the Rockets now that Aaron Brooks has been traded for Denver. 
The Raptors will try to continue their run of dominance.

The Rockets are still the NBA's hottest team, but don't sleep on the Spurs now that Leonard...

Kevin Garnett has no interest in working with Glen Taylor, but he'd gladly buy the Timberwolves...
LaVar Ball formed a pop up shop in New York to sell Big Baller Brand merchandise. The results...

The Cavaliers players took a stand against bullying on social media

The Rockets are gunning for their 10th consecutive win