Trade Deadline: Morey says not to expect any big moves for Houston
Daryl Morey says not to expect any big trades from the Rockets.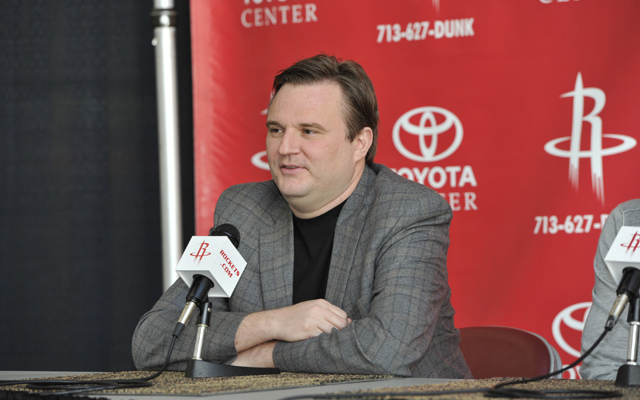 No moves this year? Not likely, says Rockets GM Daryl Morey.
(Getty Images)
The Rockets are always movers and shakers at the deadline under general manager Daryl Morey. Even if they don't pull off a deal, they're talking and maneuvering. But with some cap room left, and James Harden, their star, finally under their belt, Daryl Morey told USA Today not to expect the usual wizardry we've come to expect. 
"Most likely, it's not going to be through trade," Morey told USA TODAY Sports on Wednesday. "Most likely, it's going to be through the use of our cap room where we have max room this summer.

"I think (the time between now and the deadline) is going to be quiet. Of course a year ago, if you would've said, 'James Harden -- what about him?' I would've said, 'No way. They won't trade him.' You never know. You stay opportunistic. But I would guess that this trade deadline is going to be quiet."
via Houston Rockets GM: Another big trade unlikely.
The Rockets still have a lot of ways to get an upgrade if something comes available. They have three good rookies left, especially with Royce White's situation resolved, Carlos Delfino and Patrick Patterson on movable contracts with good production, and some inventive ways to use their space. But the Rockets have been good enough, and anyone they'd want (Josh Smith, Paul Millsap, Dwight Howard) will be available this summer in free agency anyway, most likely. 
There's no upside to clearing space and no upside to stocking up on role players. Standing pat's the best option.
But I don't trust Daryl Morey not to be hunting for something smart. Seen too much maneuvering over the years to think he'll have a quiet day next Thursday.
The Nets get their shooter a year later, and the Blazers reportedly will waive Nicholson

The All-Star point guard has requested a trade away from the Cavs

Chappelle laid down the 'ceremonial first bricks' at the Target Center back in 2013
Billups was offered a job to take over the basketball operations in Cleveland but turned it...

The Lakers power forward invited her as a guest to an NBA game in Los Angeles

LeBron called a report that he would beat up Kyrie Irving 'not facts'