Trail Blazers-Spurs Game 3 Preview: The edge of silver and black oblivion
Can the Blazers make this a series? Can they make it a game? Can they make it a quarter? Half-a-quarter? Something?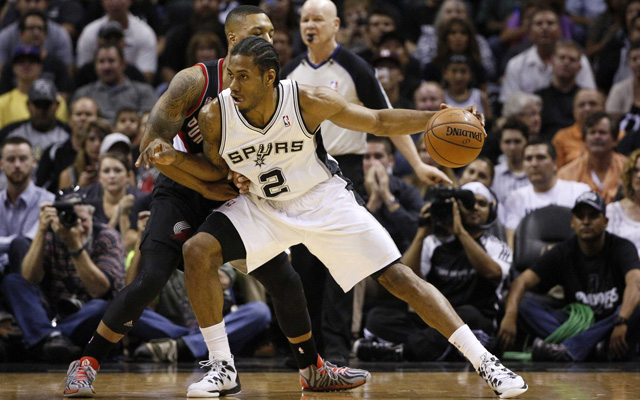 More postseason coverage: Playoff schedule, results | Latest news, notes
Previewing Game 3 of the Blazers-Spurs first-round series.
1. Where We Are: The Trail Blazers are pretty much looking at oblivion. They've been outscored by 25.8 points per 100 possessions in this series, and the closest they've come in the second half through two games was a brief moment of being within 10 in Game 2 before the Spurs hit the afterburners. 
The mighty Blazers' offense, truly one of the best this season, has been held to 94.5 points per game (94.5 points per 100 possessions), shooting 40.6 percent from the field. Well, OK, they can't score at all, but at least they're getting gouged defensively, unable to string together anything resembling a stop. 
Tim Duncan has averaged 11 points per game, Manu Ginobili just nine. But Tony Parker is averaging more than 24 ppg. Oh, and the Spurs' bench, which was awful in the first round? It's averaging 50 ppg. 
Terry Stotts needs a sabbatical to go figure out what Popovich is doing to him. The Blazers' comments resemble Memphis' from last year's Western Conference Finals. They know how much better the Spurs are. It's not, "We're going to get back into this series, we know we can do this." It's, "Gee, I hope our home crowd gets us back in this thing."
The Spurs are angry, they are motivated, and they are ready. The Blazers need to pull a big ol' rabbit out of their hat to get back in this thing. 
2. The Big Number: Five. That's the number of Spurs with an effective field goal percentage above 50 percent in this series (playing at least ten minutes a game -- sorry Aron Baynes and Jeff Ayres). For reference, anything over 50 percent is pretty good. Four of them have eFG percentages over 75 percent, which is just ... insane. 
This is a massacre. That Portland defense we worried about all year and then were pleasantly surprised when it showed up vs. Houston? Yeah, it's back. 
3. Key Adjustment: No X's and O's here. You're not going to beat the Spurs with X's and O's. 
The Blazers need to pick a fight. The only way to get yourself into a high-enough frenzy to beat San Antonio is to get past how much you respect their coach, their organization, their players and their professionalism. You have to drag them out of their comfort zone into a tough, physical, at times overly physical battle. I'm not suggesting playing dirty. I'm suggesting acting like the Spurs are. Thomas Robinson has to get in someone's face. Damian Lillard needs to take objection to a Tiago Splitter foul. 
They have to take this thing out of the cerebral and into the emotional. It's the only plane where they have an advantage.
4. The Big Story: Are the Blazers for real, or were the Rockets just that bad?
That's who looks really bad right now. It's hard to imagine the Rockets, who actually outscored the Blazers in their six-game series loss to Portland, would play this badly, be this outclassed by San Antonio. The fact that Houston had so much trouble against the Portland defense does not say great things about Houston. 
If the Blazers can't get a win in Game 3, the series is effectively over. It may be a sweep, and the Blazers will look like a team that just managed to get past the ineptitude of the Rockets, no matter how great Dame's final shot was. 
5. The Facts: 10:30 p.m. ET. Mo Williams is likely out with a groin injury. 
DH12 is picked for free throws after a teammate gets ejected. He makes both, and lets Scott...

Bell was injured defending a Robin Lopez dunk and had to be taken off the floor in a wheel...

Trevor Ariza and Gerald Green are reportedly both suspended two games
We've got all the scores, highlights and news from the night's games

Jonah Keri talks with NFL and NBA broadcaster Ian Eagle

SportsLine simulated Wednesday's Nuggets-Clippers game 10,000 times